This story contains images of breast cancer survivors after reconstructive surgery, and may not be suitable for all audiences.
A year after her mastectomy and seven months after her last surgery to slip silicone implants into her reconstructed breasts, Jennifer Bohling disrobes down to her pants and stands up. She takes off the paper drape covering her bare torso and turns to face the man she has met just minutes earlier.
"How do they look?" she asked.
Vinnie Myers stares carefully at each of Bohling's breasts. He gently pinches the skin in some spots and taps other areas with a gloved finger before giving his initial assessment.
"They look good. They look really good," he said, calling the shape of her new breasts "fantastic." But not so good, he informs her, are the scars running horizontally through each one.
"The incision is exactly where I have to work, which isn't good. It's going to make it more tricky," he said.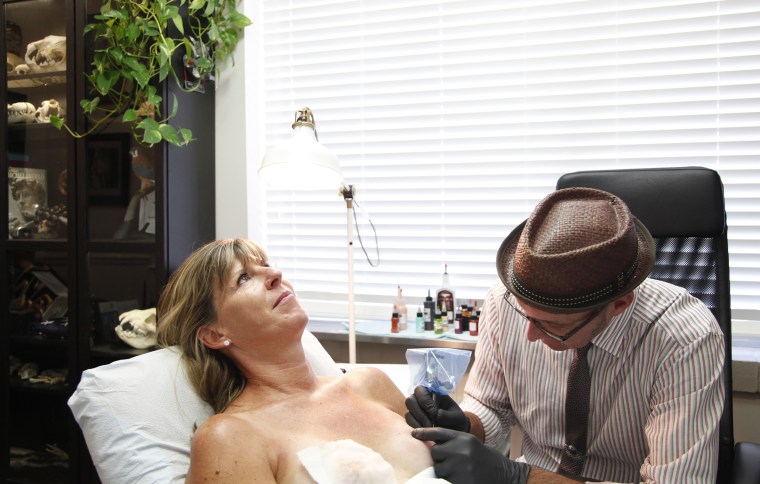 Like the top medical specialists he often works with, Myers is in high demand, but not as a doctor.
Once internationally renowned for his tattoo artistry, Myers is now a legend in breast cancer circles for what has become his exclusive specialty: inking areolas and nipples so realistic they seem like the genuine articles.
"I want them to feel good"
About 231,800 women will be diagnosed this year with breast cancer. A portion of them will end up having mastectomies. During most mastectomies, doctors remove the diseased tissue inside a breast, often taking the nipples and areolas in the process. Women who undergo breast reconstruction often get permanent coloring applied to where the nipples would be, but they have long complained that the flat, off-color results are unrealistic.
Myers, 53, said surgeons have long overlooked the significance of this final step for women, many of whom view their reconstructed breasts as a reminder of pain and disease.
"When you're looking at those breasts, all you see are the scars, and all you're reminded of is cancer," Myers said. "So when you put this finishing touch on there, it distracts your eye from all those other imperfections because you have something to look at that's very pleasing, and it's an incredibly emotional finishing touch."
Like Bohling, most women who have undergone mastectomies come to Myers hoping their meeting will be the last stop in a long, arduous journey battling breast cancer.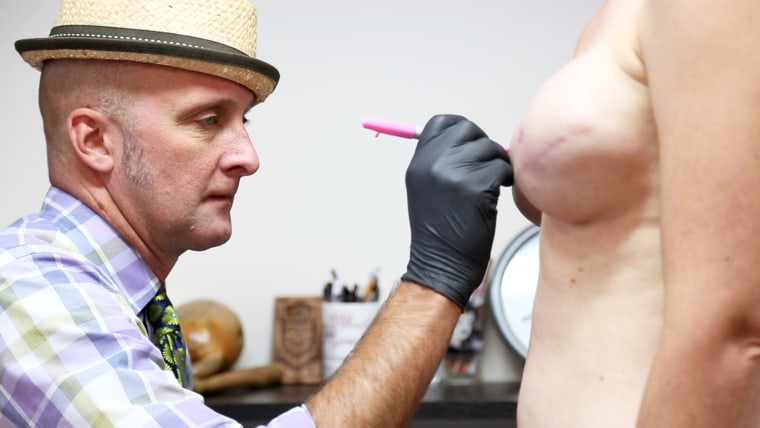 The women arrive baring their breasts, along with a piece of their soul, and Myers, a former Army medic with a relaxed, wise-cracking bedside manner, has both the skillset and stories to put them at ease as he drills indelible ink into their skin.
Combining shadowing and highlight techniques, in the right variations of color, Myers creates the illusion of protrusions from flat surfaces.
"My mission is to make women look good in the mirror, naked. I want them to feel good when they're looking at themselves," he said. "So I tattoo the nipple and areola to look like a real nipple and areola, not like a brownish pink disc."
A breakthrough — and a "sign"
Myers first began tattooing three-dimensional nipples in 2001 after meeting a woman who worked for a Baltimore plastic surgeon, unhappy with the results of his own efforts to ink. He started working with the doctor out of the surgeon's practice. Soon, other doctors reached out wanting him to work on their patients, too. Eventually, he started having doctors simply send patients to his shop.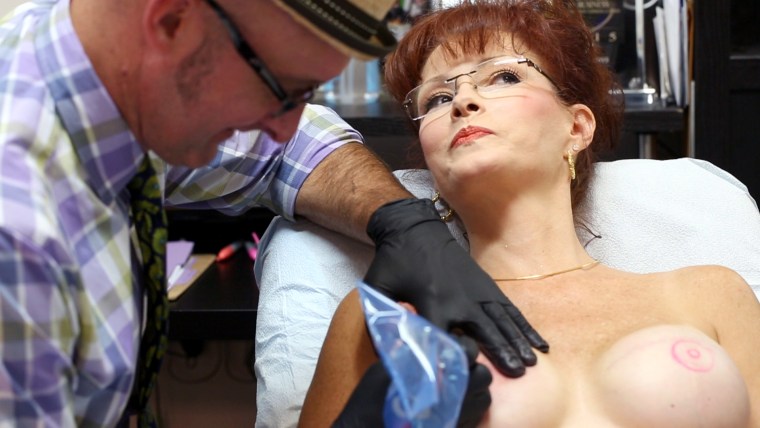 The real breakthrough came in 2004 when Lillie Shockney caught wind of Myers' talent.
The administrative director of the Johns Hopkins Breast Center, and a two-time breast cancer survivor, Shockney paid Myers a visit after seeing his work on one of her clients.
"They looked like the real thing," she remembers thinking. Shockney left her hour-long meeting with Myers so impressed with the man and his work that she booked an appointment to get her own nipples done.
She returned two weeks later with her husband. As Myers went to work on her chest, Shockney averted her eyes until the big reveal, a moment that still gets her emotionally worked up more than 10 years later.
"When he finished, he turned my chair so I could face the mirror, and I burst into tears," says Shockney, 62, her voice suddenly filling with emotion. "I said, 'Oh my God, these look real,' and my husband said, 'They sure do. I haven't seen these for almost 20 years.'"
Shockney then made it a point to make sure other women could have the same option. With her influence, reach and recommendations among Johns Hopkins patients and survivors, word spread quickly about Myers. His schedule filled up with nipple tattoo appointments.
"It got super busy, busier than I really wanted it to be," he recalled. Then, about five years ago, he felt he reached a tipping point.
"That's when I kind of decided I wasn't going to do it anymore. And the day that I decided to stop is the day my sister called me and told me she had breast cancer," he said.
"That was on a Monday. I decided, 'This is a sign that I've got to keep doing this."
Myers made a decision to devote his career entirely to nipple and areola tattooing.
"And from that point, it just went completely ballistic."
Walking a "fine line" with his visitors
Myers does not bear any visible tattoos. Every morning he arrives to work in a dress shirt and tie, wing tip shoes, and what has become his signature, a pork pie hat. He has about 150 of them, and the low-rise, short-brim hats help cap his long face and 6-foot-4 frame.
Human and animal skulls and face masks from Asia, Africa and the South Pacific decorate his office shelves and wall, along with breast cancer-related posters and family photographs. A photo frame filled with autographed concert memorabilia from the Grateful Dead, with whom he used to travel as the band's tattoo artist, hangs by the door.
"We wanted it to look more like an anthropologist's office than a tattoo shop," he said. "I didn't want it to be too soft, but we did take away the more edgy, harder décor that we had. We just wanted to soften things a little bit to make it easier on the ladies, because they can be very apprehensive coming in here."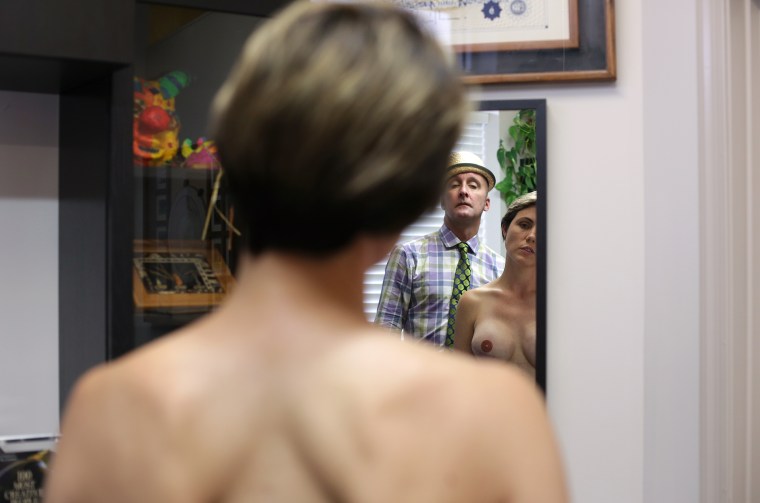 For most of those ladies, their visit to Myers also will be their first inside a tattoo parlor.
Little Vinnie's Tattoo sits at the end of a modest strip mall next to a vet practice and liquor store in Finksburg, Maryland, about a 40-minute drive from Baltimore. Women from all 50 states and about 40 countries — including Brazil, Kuwait, Japan and New Zealand — have travelled to get tattoos from Myers. Many heard about him from friends with breast cancer and, increasingly, from plastic surgeons who have seen his work.
"The way I talk to patients about it is, you would not want a tattoo artist to do your surgery, and you probably wouldn't want a surgeon to do your tattoo," said plastic surgeon Frank DellaCroce, co-founder of the Center for Restorative Breast Surgery, the New Orleans hospital where Myers spends one week each month.
In turn, after spending the past 14 years working on reconstructed breasts, Myers has seen a wide range of work from surgeons — from the best to the less talented.
He has seen poor incisions resulting in jagged scars, oddly placed reconstructed nipples and, simply put, thousands of misshapen breasts. Sometimes the inferior work he sees not only makes his job difficult — like finding the right place to put the tattoo on a breast several times smaller or larger than its mate — it makes him angry.
"I have to walk that fine line, because if you say one thing wrong, you can really crush someone's feelings," he said. Sometimes, a woman doesn't realize the poor work that has been done. Or, she is keenly aware and sensitive about it.
But keeping quiet could also mean failing to enlighten a client about possible surgical corrections she could get, Myers said.
He has only refused to tattoo about five or six women out of the roughly 8,000 cancer survivors who have come through his door, although he sometimes can talk women into postponing their tattoos until after they go back to their surgeons for additional work.
"The women who have done that, 100 percent of them have been thrilled with the final result because they actually had that concern in the back of their head," he said.
"What I'm doing is final. It's permanent. It's there forever. So if I put the tattoo on and then they have the revisions, all bets are off," he said. "But once that woman comes here and she's from California or Alaska, thinking she's going to be complete today, she doesn't want to go back home and talk about revisions. She wants to get the tattoos and be done, today."
"For the nipples!"
By the time most of the women reach Myers, they have finished dozens of visits to oncologists, surgeons, chemo technicians and radiologists. They also have gone through an emotional roller coaster of dealing with new breasts that don't feel like their predecessors, much less look like them. By the time they get to Myers, they are ready to return to their old lives, to a "new normal."
When Mina Greenfield came for her appointment last month, it had been more than two and a half years since her bilateral mastectomy. She had gone through chemotherapy and radiation treatments, as well as a long and painful breast reconstruction process.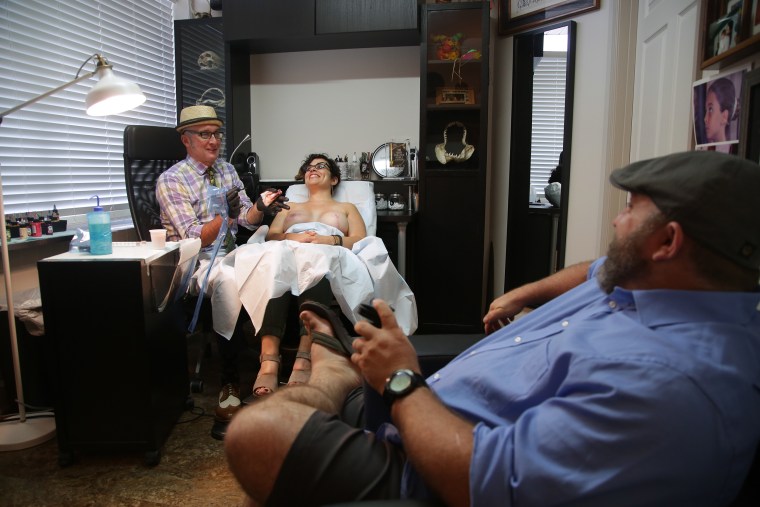 Greenfield arrived at Little Vinnie's with her boyfriend and mother in tow. At the end of her appointment, her boyfriend surprised the group by pulling out a bottle of champagne. Even her mother, who doesn't drink, took a sip. "For the nipples!" she reasoned at the time.
The celebration was two and a half years in the making, said Greenfield, a speech-language pathologist from Kensington, Maryland.
"After I got home, I pretty much passed out. I was absolutely exhausted, just cumulatively exhausted," she says. "It wasn't because of the procedure. It was from the build-up. This had been a much longer process than I expected."
Comparatively, there were only nine months between the time when Karen Scotchlas of Morrisville, North Carolina, got her mastectomy and her nipples tattooed. But she felt her confidence chipping away every day until her appointment with Myers.
"The cancer diagnosis didn't terrify me. I was more worried about my life afterward — after the mastectomies, how I was going to look?" said the single mother of three, who feared her lack of looking "normal" would affect her ability to find intimacy with a future partner. After her mastectomy, Scotchlas says she had a hard time even making eye contact with men.
"I had all the faith we were going to get rid of the cancer, but I'm single and don't have someone in my life, so it was really important to me to know that I was going to be whole again."
Most of the women who seek out Myers arrive feeling nervous, yet completely willing to putting their faith, and their bodies, in his skilled hands. That trust is why Bohling asked Myers about her own reconstruction job, the one he described as "fantastic," despite having to work around the location of her scars.
"They're new to me and he sees enough of them, so I wanted his opinion. He's more of the expert than I would be," she said.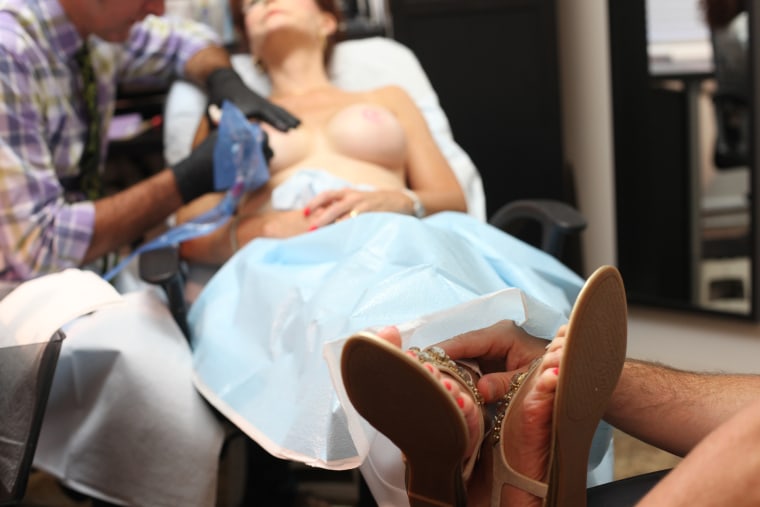 Bohling and her husband drove to see Myers from Hoboken, New Jersey, on the recommendation of two people: Her sister, who had her nipples done by Myers, and her oncologist, who was insistent she see him.
Of the resulting work, Bohling said, "I'm very happy, especially, it seems, since mine were a little more complicated. And it was worth waiting for him than chancing it with someone else. You're only going to do this once."
"He's a perfectionist"
Shockney, the administrative director of the Johns Hopkins Breast Center, said Myers has the perfect personality for his current line of work but has no doubt it's taken an emotional toll.
"He has become an old soul from listening to women's stories," she said.
On average, Myers sees about six or seven women a day. The cost averages about $600, but ranges from $400-$800, depending on what gets done. By law, insurance is supposed to cover the procedure, he said, because the Women's Health and Breast Cancer Right Act of 1990 requires coverage of all aspects of breast reconstruction.
Myers starts off each appointment with a formal set of questions about medical history and list of procedures. He then puts on a set of gloves and takes a closer look at his live canvas, assessing its tone and density before taking a pink Sharpie and drawing two bull's eye-like circles on the breast. He then plops a prosthetic nipple on top so the woman can better envision its placement.
Then Myers begins squeezing about five or six tubes of ink colors into a line of individual pots that look like the small toothpaste containers used by dental hygienists during teeth cleanings. He starts mixing the hues until he has found the perfect combination that will complement the woman's skin tone.
"He's a perfectionist. He's not going to be happy until they look perfect," Shockney said.
She should know. Before going to Myers, Shockney received what she calls "organic tattoos" on her reconstructed breasts by a nurse practitioner.
"It was one solid color and it kind of looked like a little baby pancake," she says. The tattoos had faded considerably by the time Myers redid them.
Adrienne Peres had a similar experience when she went to Little Vinnie's, where she got her nipples tattooed by Trent Wyczawski, one of the two other tattoo artists handpicked by Myers to work with him on nipples.
Peres originally had her nipples tattooed in 2009 at the hospital where she had her reconstructive surgery.
"That was when they sort of give you the paint chips, as though you're going to pick out a color for your kitchen. 'Okay, what color would you like them to be?'" she said, still in disbelief over the question. "I just sort of pointed to one. I was on the spot, I wasn't really sure, and I picked a color that was probably too light for my skin tone."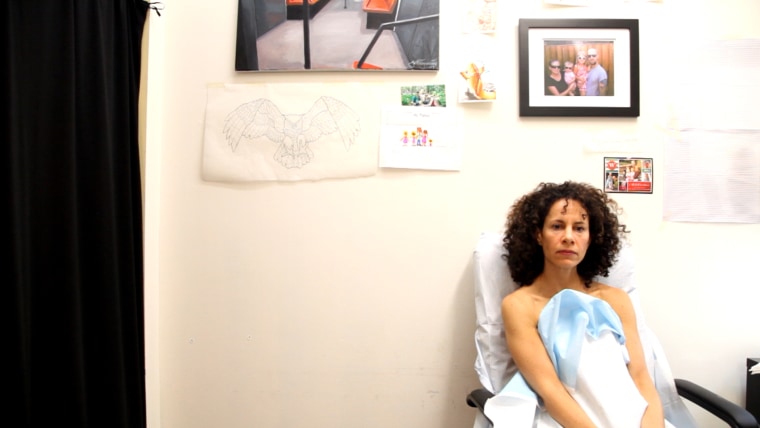 After Peres returned to get her nipples redone, she says there was "no comparison" between the two jobs.
"It's like comparing a Porsche to a Yugo. It's really that significantly different. I feel totally different. And it looks so much better," she says. "It's really amazing. It feels complete. Psychologically, it feels like everything is complete."
Scotchlas, the single mother from North Carolina, jokes she couldn't stop telling her friends about her tattoos after getting them.
"They're fabulous. I cannot stop looking in the mirror at myself. It's ridiculous," she said. "But it's such an incredible feeling to look in the mirror and you feel like you're whole and you're a woman again. It completely gave me my confidence back."
DellaCroce says that before his center's partnership with Myers, the surgeons found that the tattoos their staff applied faded quickly or into an odd shade.
"We end up being the sculptors in the studio, and he's a painter. And when you combine those two things together, it produces a result that is better the sum of its parts," he said. "And that's what we want to deliver to women as a long-term outcome, so that they don't feel injured anymore."
In reality, Myers is a painter and his art work — particularly fish paintings and tattoo flash art — can be seen throughout his shop. But the father of four, including a 21-year-old daughter who eventually plans to follow in her dad's footsteps, rarely has time for painting anymore.
Myers is in high demand, with a waiting list. It's why several years ago he hand-picked two artists for their skills and bedside manner to help share his specialty.
"As far as artistic satisfaction is concerned, there really isn't," he said about his career path. "The challenge comes in making sure you're doing a safe job, a good job on compromised tissue. Obviously, the reaction you get from the women is where the satisfaction comes in."
Myers and his team receive a steady stream of thank-you cards that inevitably express gratitude for the same thing: Changing the way women feel about themselves.
"So it's not just about the artistic satisfaction. You get the reward from just seeing these women's faces, or maybe the tears that let you know you've done something very special for them," Myers said. "So you lose one thing, but you gain something else and that's one of the rewards I get, just knowing you've done something to really make this person feel better about themselves. And that's an incredible thing."
EDITOR'S NOTE: The Society for Features Journalism honored this feature in its 2016 Excellence-in-Features Awards contest. It placed third in the Video Storytelling category for large publications with a circulation of 200,000 and up.
EDITOR'S NOTE, AUG. 8, 2017: This article has been changed to remove a reference to one of Myer's clients who asked to remain unnamed.
Follow TODAY.com writer Eun Kyung Kim on Twitter.