Cameron Scott, 8, loves superheroes like Batman who use their brain and strong will in the place of superhuman powers.
He has emulated his favorite cartoon character in the last year by showing his own toughness and strength after being diagnosed with a rare form of brain cancer.
"He's my hero,'' his father, Wendell Scott, told TODAY's Kerry Sanders.
Cameron is now remarkably cancer-free after being treated at St. Jude Children's Research Hospital, a journey his family shared as part of TODAY's "Thanks and Giving" series that highlights the lifesaving work at St. Jude.
He and his family enjoyed a day in the Florida sunshine at the Legoland Florida Resort in Winter Haven this week following an emotional and grueling year.
"I feel amazing now,'' Cameron told Sanders. "I feel like I've been through everything."
The youngest of six children, Cameron's ordeal began last year when he fell down the stairs and started experiencing back pain.
"It was like an out-of-body experience,'' his mother, Tamika Scott, told Sanders. "They initially showed us the back and his spine, and the doctor looking at the pictures turned to the other doctors and said, 'I need another MRI. I need you to scan upward.'''
A second MRI revealed a tumor at the base of his brain known as medulloblastoma that soon spread to his spine in what was considered high-risk, stage 4 cancer.
"I'm dad, and I have to be strong for everybody,'' Wendell said about his reaction to the news. "I just felt we're gonna fight."
Cameron underwent a four-hour surgery to remove the tumors and then went to St. Jude for follow-up treatment.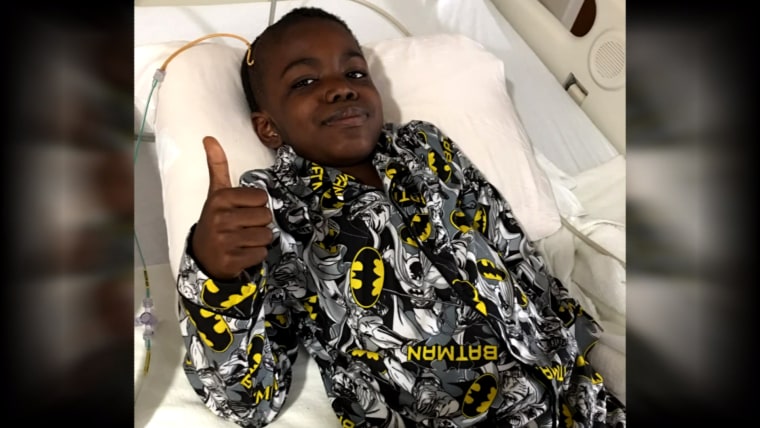 The hospital has pioneered gene sequencing of Cameron's cancer, which allowed them to prescribe a highly-targeted treatment. They had discovered it was not a single disease, but four different types.
The 53-pound boy went through six months of chemotherapy and radiation. The entire process from beginning to end was covered financially by St. Jude.
The little superhero and his family are now forever grateful for the work done by St. Jude.
"I stay humble and thankful,'' an emotional Wendell said. "Today (at Legoland) means a lot. I think (Cameron) said, 'It makes me feel like everybody loves me, I'm special.'"
Follow TODAY.com writer Scott Stump on Twitter.