Shark Week is coming to an end, leaving us with plenty to remember from the 26th year of this annual TV institution ... much of which wasn't even aired on the Discovery Channel. 
There was the subway shark that rode the New York City N train. There was backlash over the ample-jawed Megalodon, extinct for more than 2.5 million years, but nevertheless cast in a Discovery "documentary" as if it still swims the high seas.
But the biggest star this Shark Week isn't even a shark. It's a cat — a cat wearing a shark costume, riding a Roomba, chasing a duck.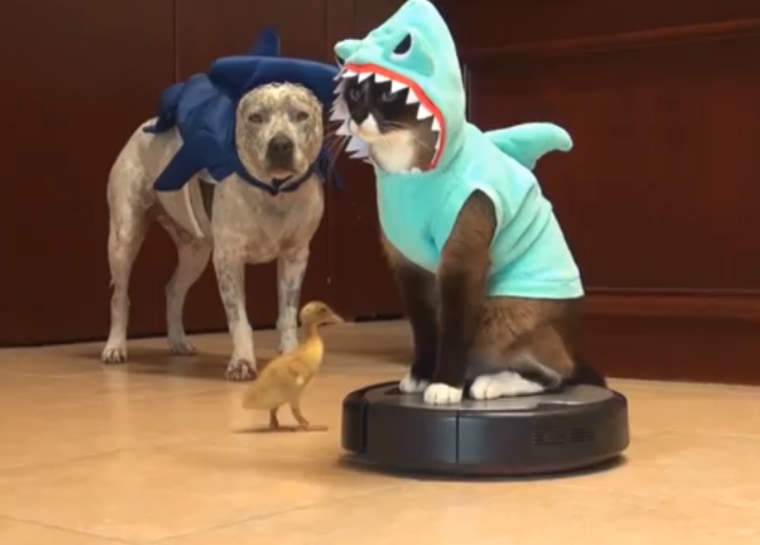 If you haven't seen the video on YouTube, you've seen it on Facebook, or you've seen the GIF: Max the Roomba cat sits on a robotic vacuum cleaner and chases a duckling around a kitchen while dressed as an electric-blue shark. Sharky the pit bull, also in shark-drag, joins duck and cat at about 1:17. They hang out.
In a previous video, Max wears a pair of costume butterfly wings. Also on the floor, sidekick Sharky balances a family of chicks on his back while wearing a canary-yellow duck costume.  
Either of these is likely to stir a bit of interest even among kitten-hardened skeptics, long bored by the cutesy antics of pets on YouTube. (As if that's possible.) But for Max the Roomba Cat, YouTube's recent viral star, this is just "regular, daily stuff," Helen Arnold, 33, from Houston, Texas, and Max's owner told NBC News, 
Max, who is 12, became a YouTube hit after "Cat In A Shark Costume Chases A Duck While Riding A Roomba" went viral shortly after it was posted in November 2012. So he made comeback for Shark Week 2013 with a fresh series of videos that have been steadily picking up views and feedback. 
Arnold, who is TexasGirly1979 on YouTube, posted six new Cat-Shark videos this week, including "#SharkCat and Sexy Silky Chick," "Grumpy Cat is Everywhere," "SHARK Cat WEEK by Max-Arthur the Roomba driver Shark-CAT," "SharkCat cleaning Kitchen!" and "Scary Nighttime #SharkCat Attacks." Altogether, they've been seen almost 3.5 million times. 
Max's love affair with the Roomba began moments after it was unwrapped at Arnold's home in December 2008. "He was staring at it in the bathroom and got on it the same day," Arnold said. "It's been five years [and] every time it's around he gets on it and he wants to ride."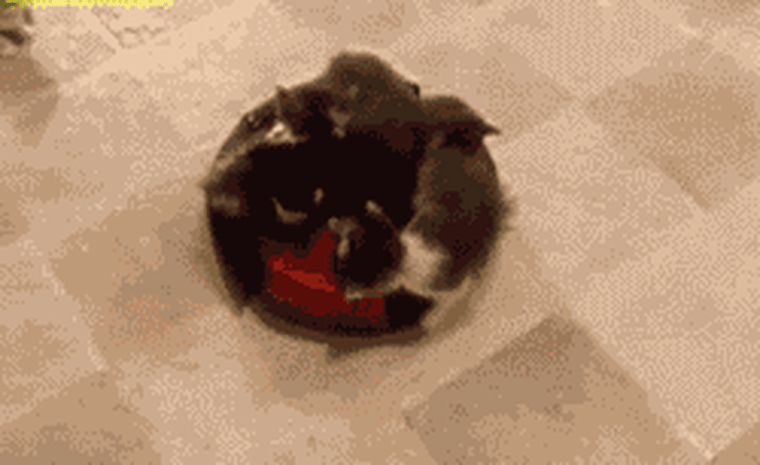 If Max has had time to practice, it shows. Unlike other, sloppier Internet cats who can barely stay on their Roombas, Max cruises like a pro. 
The Roomba isn't Max's only perch. He sits on Arnold's bathroom weighing scales, even if they doesn't go anywhere. He sits in the dishwasher. Sometimes he sits on Sharky the pit bull. 
Several videos show Max the Roomba cat swatting Sharky, sometimes while Roomba-coasting, but the gentle pit bull is the one that really sets the tone around the house. 

When Sharky the pit bull was six months old, Arnold got a litter of chicks. "Sharky was really protective, and mother instincts came out [even though] he's a boy," Arnold said. Since then, he's tried to mother hen litters of chicks, a rabbit, a guinea pig, and will rarely pass up a chance to cuddle with Max. 
It's probably just as well. Arnold's pet collection currently includes "ducks, geese, chickens, roosters, one rabbit, and a couple of baby chicks," who often share screen time with the Sharky and Max, the Shark-Cat. 
Nidhi Subbaraman writes about technology and science. Follow her on Facebook, Twitter and Google+.