Mariah Carey revealed in a new interview this week that she has been struggling with bipolar disorder for more than 15 years.
The five-time Grammy winner told People magazine she was first diagnosed a week after an incident of erratic behavior on MTV's "Total Request Live" in 2001, hosted then by TODAY anchor Carson Daly.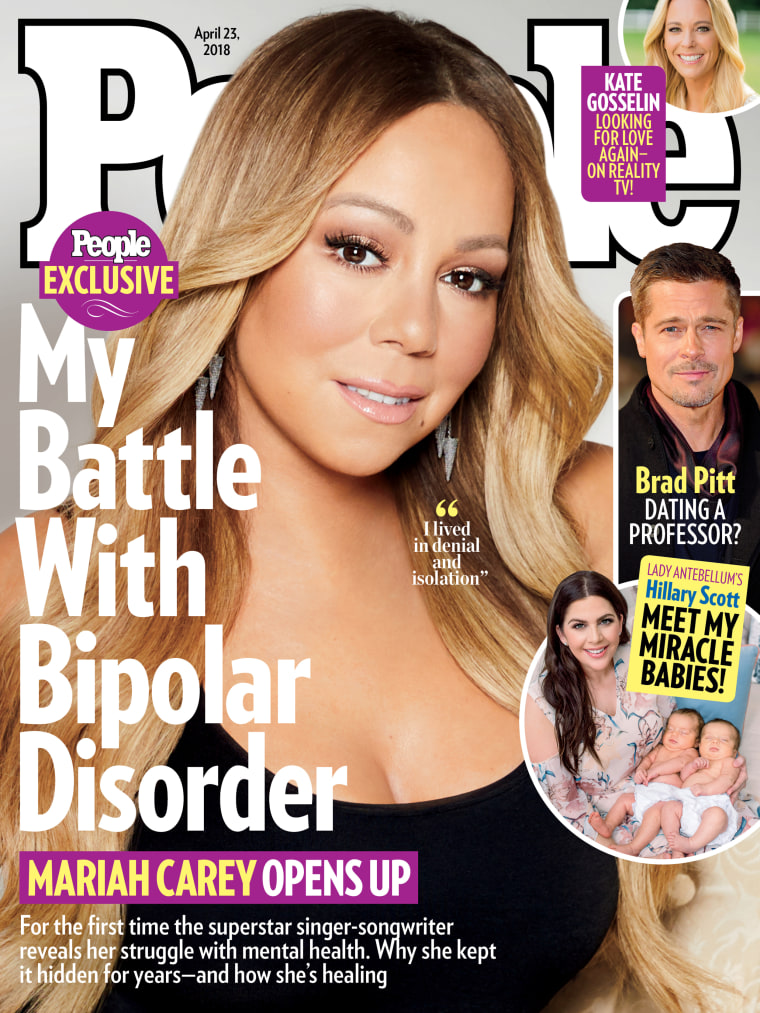 "I'm hopeful we can get to a place where the stigma is lifted from people going through anything alone,'' Carey told People in an issue that hits newsstands on Friday.
"It can be incredibly isolating. It does not have to define you, and I refuse to allow it to define me or control me."
Carey admitted that for many years she was not only going untreated for bipolar disorder, she also was living in fear that someone would expose that she was suffering from mental illness.
"I was so terrified of losing everything,'' she told People. "I convinced myself the only way to deal with this was to not deal with this."
The pop star suffers from bipolar II disorder, which is characterized by periods of depression, mood swings and hypomania.
"I thought working and promoting for days in a row without sleeping was just part of my life,'' she said. "I was irritable and in constant fear of letting people down.
"It turns out that I was experiencing a form of mania. Eventually I would just hit a wall."
That lack of energy was a characteristic of her depressive episodes.
"I would feel so tired, lonely and sad, even guilty that I wasn't doing what I needed to be doing for my career,'' she said.
Carey said she was inspired by several stars who have stepped forward recently to talk about their struggles with mental illness, including Demi Lovato, Dwayne "The Rock" Johnson, Lady Gaga and NBA star Kevin Love. Daly also revealed his own struggle with anxiety on TODAY last month.
On Wednesday the singer tweeted the People story along with a message to fans: "I'm grateful to be sharing this part of my journey with you."
Carey said she has been getting the necessary medical treatment for her condition as well as exercising, eating right, spending time with her children, and getting acupuncture treatments.
"Finally telling this story and being in treatment is going to free her up to really focus on the thing that makes her happiest, and that is making music,'' People's Jess Cagle said on TODAY Wednesday.
Follow TODAY.com writer Scott Stump on Twitter.