Adam Richman has once again risen to the challenge of "Man v. Food." But this time, instead of scarfing down a platter-sized hamburger or going solo on a pizza for eight, Richman has beaten back overeating and shed 70 pounds in the process.
The former host of the Travel Channel series shows off the dramatic weight loss in dramatic fashion — by posing nearly nude for Cosmopolitan UK. Richman, 40, is wearing nothing but cleats, socks and a well-placed soccer ball in the new photo.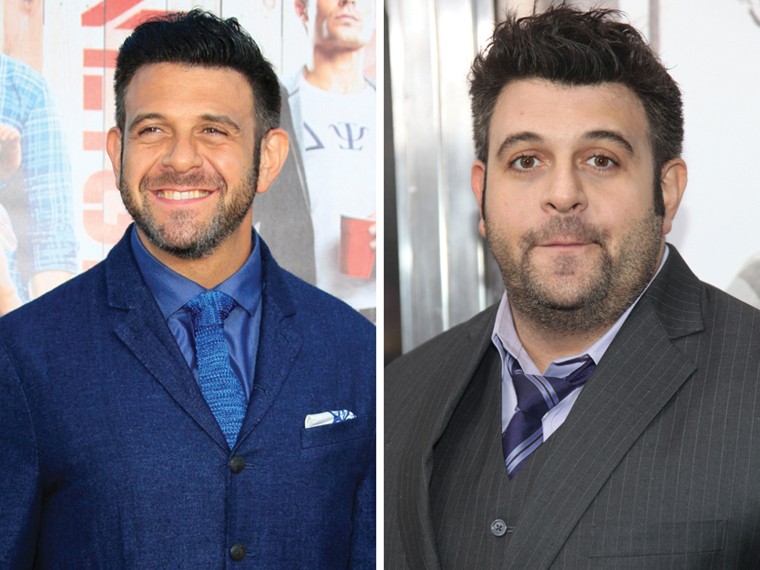 "To go from hating the way I looked to being a Cosmo centerfold is a profound honor," Richman told the magazine. "If you're a guy who's always been the fun-to-be-around teddy bear, then all of a sudden people are viewing you as sexy, it's nice."
Richman's soccer pose for Cosmo ties into the exercise routine he adopted to get into shape and to the fact that he's participating in a charity soccer event in England this weekend called Soccer Aid, to aid UNICEF.
In December, the TV host wrote about his weight and health struggles for Men's Health magazine in an article titled "Man vs. Flab." He said he knew what he was getting into when he took on a show that required eating 72-ounce steaks.
"Off the set, I exercised and ate healthy," Richman wrote. "I figured that as long as my blood work and heart were good, I was good. But those efforts were no match for the thousands of calories I'd eat over the course of a shoot.
"It wasn't the 2 1/2-pound pastrami sandwiches or the yard-long bratwursts that did me in. It was all the extras. I was logging 15-hour days, sampling food every minute. I had access to these amazing dishes, and it was easy to lose sight of how quickly the bites added up."
Richman called his appearance "depressing" and said he had less energy. "I went in for a checkup, and when my doctor had me stand on the scale, even he was surprised. Seeing that number (which I'll take to the grave) was a turning point. I knew I needed to make a change."
The New York native said it was tough to watch the "Man v. Food" crew "eating pizza while I had almonds and yogurt." He admits to missing the food, but said, "Not as much as I enjoy the benefits of being at a healthy weight."
More proof of Richman's 10-month transformation can be found by scanning his Instagram feed — which, thanks to diet and exercise, is no longer an overfeed.
Follow Kurt Schlosser on Google+