After years of trying to slim down, Brian Bolduc suddenly had a powerful motivation to lose weight: his mother's life depended on it.
Rose Bolduc needed a new liver, but when Brian offered to be a living donor, he was stunned to find out he was too obese to qualify. Determined to help her — even as doctors were skeptical he could do it — Brian set out to become lighter and healthier, losing 80 pounds within a year and allowing the surgery to take place this month.
"This whole thing has saved two lives: I was able to save my mother's life… and I saved my own," Bolduc, 38, who lives in Northbridge, Massachusetts, told TODAY. "My mother gave me life and now I'm able to give it back to her."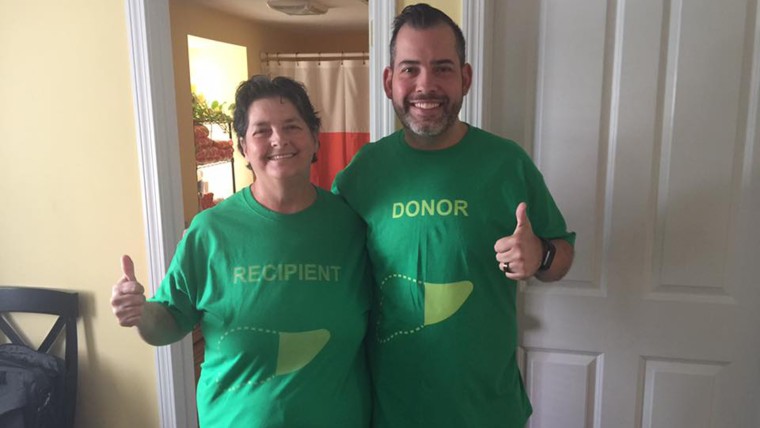 The mother-and-son medical journey started almost three years ago, when Rose, who is now 68, began to feel tired. Blood tests led to a liver biopsy, which revealed she had cirrhosis, or scarring of the liver. She was added to the organ transplant list, but as the family anxiously waited for a cadaver liver to become available, Rose's condition grew worse.
In 20 years, you'll have cirrhosis
That's when Brian found out a person could be a living donor since the liver is the only organ that has the ability to regenerate. In July 2016, he went in for a week of testing at UMass Memorial Medical Center in Worcester, Massachusetts, to see if he would qualify, and that's when a doctor broke the news.
"He took me into his office and basically told me I was too fat," Bolduc recalled. "They said, 'Brian, you're marching, slowly running, to exactly where your mother is. Give it another 20-some odd years and you'll have cirrhosis.' My mother's cirrhosis developed from a fatty liver and they were basically telling me I had a fatty liver."
At 5 feet, 10 inches tall, Brian weighed 276 pounds, with a BMI of almost 40, which firmly put him in the obese category. To qualify to be a donor, doctors told him he'd have to have a BMI under 30.
"I came home that day and it was probably the worst day of my life," Bolduc said. "I was so depressed. Not only could I not donate to my mother, but I had to tell her that and I had to deal with the fact that I might be getting what my mother had."
Losing the 80-100 pounds doctors advised seemed impossible. But right around that time, Brian noticed a coworker dramatically slimming down. When she recommended a weight-loss clinic, he was skeptical, but decided to join last December when he found out his health insurance would pay for it.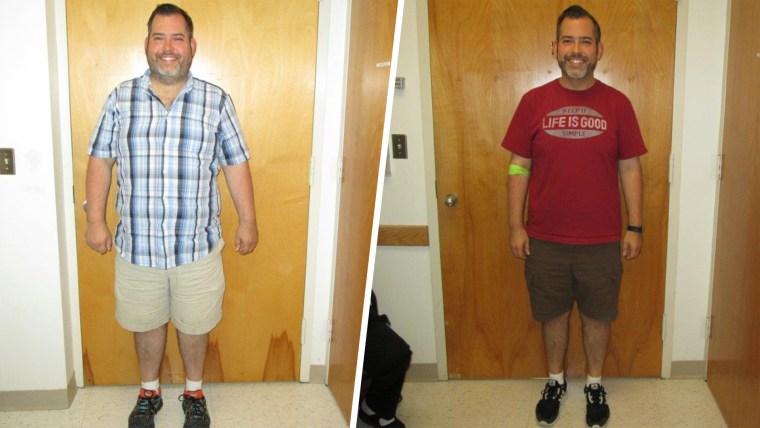 Here's how he lost 80 pounds by the summer:
Calorie restriction
Tests of Brian's resting metabolic rate indicated he'd have to eat 1,200 calories or fewer a day to lose any weight. He tracked his calories with an app and planned ahead to make sure he'd stay within that limit. He also restricted his daily carb intake to 60 grams. For the first few months, Brian opted to consume meal replacement shakes for breakfast and lunch, and have a regular dinner. When going out to eat, he'd study the menu beforehand to figure out acceptable options.
Brian also searched for healthier versions of his favorite foods. One app suggested cauliflower crust pizza instead of the regular version, for example. His partner, who does all the cooking, was on board with the eating modifications. He ended up losing 40 pounds.
"We indulged, but in a healthy way," Bolduc said.
Exercise
Brian joined a gym near his work and exercised three to four times a week. For his workouts, he'd spend one hour on the treadmill and one hour on the weight circuit. He'd also make an effort to move more overall, taking the stairs instead of the elevator; and parking far away from a store to walk.
Motivation
Knowing he could help his mother was a powerful motivator. So was improving his own health and getting off the road that led to his mom's liver problems.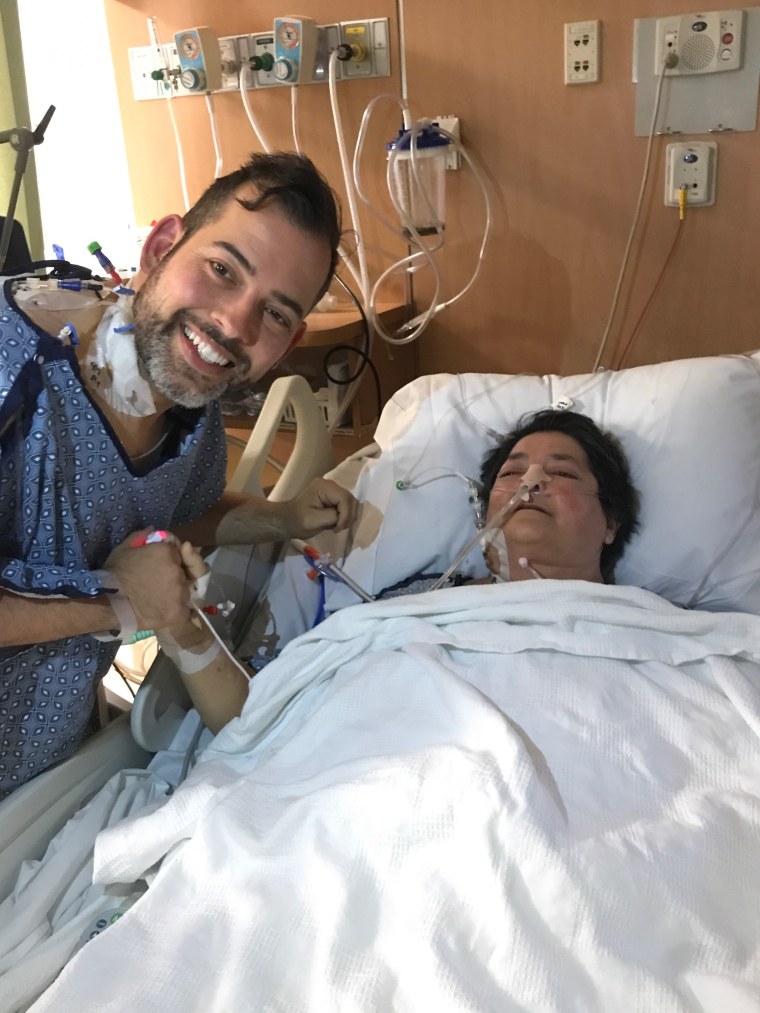 One year after his first tests, Brian qualified. He found out he was the first living donor candidate at UMass Memorial Medical Center to be told to lose weight who actually did it, "which blew my mind," he said.
The surgeries took place Sept. 6, with Rose receiving half of Brian's liver. His organ will regenerate to full size within months. Both mom and son are recovering well.
"I feel so good that my son was able to save my life," Rose Bolduc said. "I will never forget what he did. I was trying to come to terms that I would never receive a liver. I truly believe angels were looking out for us and made it a huge success."