Through illness and recovery, Debbie Lewis captured both of Bill Corey's hearts.
The couple met and fell in love at a hospital — not exactly a romantic spot to find a mate and the last thing both expected at this stage in their lives.
Bill, 56, was suffering from heart failure and needed a mechanical pump to survive as he awaited a heart transplant.
Debbie, 58, was a patient care technician at Nebraska Medicine in Omaha, helping people walk around and move about as they recovered from their surgeries.
Their lives first intersected in 2014, the first of Bill's four stays at Nebraska Medicine. Today, they're engaged and planning their wedding in September.
"I'm totally surprised, but I couldn't be happier," Debbie told TODAY. "I had no intentions of ever getting married again, ever, and I think he felt the same way."
"It is a whole new chapter," Bill added.
Doctors weren't sure what caused Bill's heart to fail, but it was deteriorating to the point where he was advised to get his affairs in order. To keep the blood circulating in his body, a mechanical pump — called a left ventricular assist device (LVAD) — was implanted to help his heart work until a donor organ became available. It helped keep him alive for more than two years.
Debbie remembers that Bill was very sick when she first met him. She helped him walk around the hospital to keep his muscles moving and they would talk.
"She was very nice," Bill recalled.
They became friends and whenever Bill returned to the hospital for an appointment or another stay, he'd always seek her out and they'd talk more. She was divorced, he was widowed, and they both had adult kids.
"I always enjoyed spending time with her," Bill said, admiring her "love of her family. She was very much family oriented."
In August 2016, Bill finally received a new heart. It looked like his last hospital stay, so three of Debbie's daughters, who also work at the hospital, pressed her to give him her phone number. Debbie was reluctant, but her daughters joked that if she didn't do it, they would, so she cautiously went ahead, casually mentioning it might be helpful if he ever wanted to visit.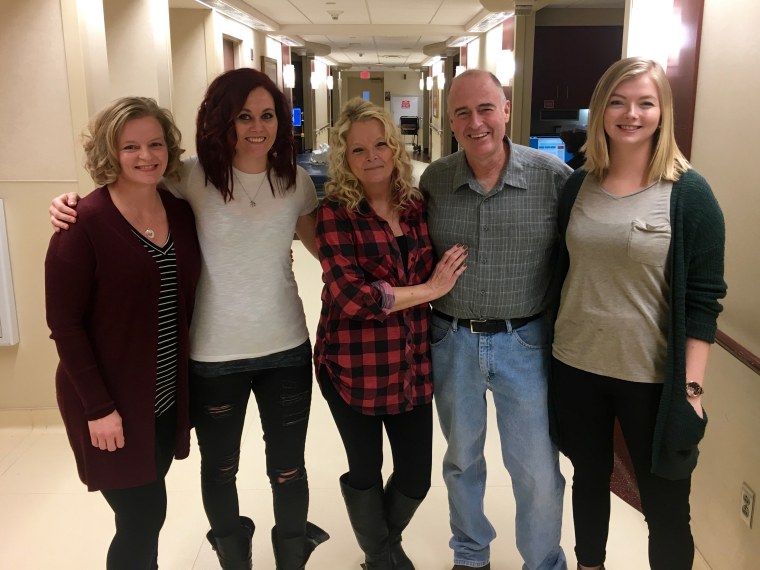 It turned out Bill's new heart liked Debbie as much as his old one. They started dating before Thanksgiving 2016 and became engaged last year. They plan to get married this fall. Bill feels well and is enjoying being in love.
"It's pretty damn good," he said.
Debbie just wants him to take care of himself so that he doesn't have to go back to the hospital and sticks around for her.
"You owe me 50 years. That's what I want," she told him.
"I'll give them to her if I can," he replied.