It may say November on your calendar, but more and more people know it as "Movember" — a month dedicated to raising money for men's health.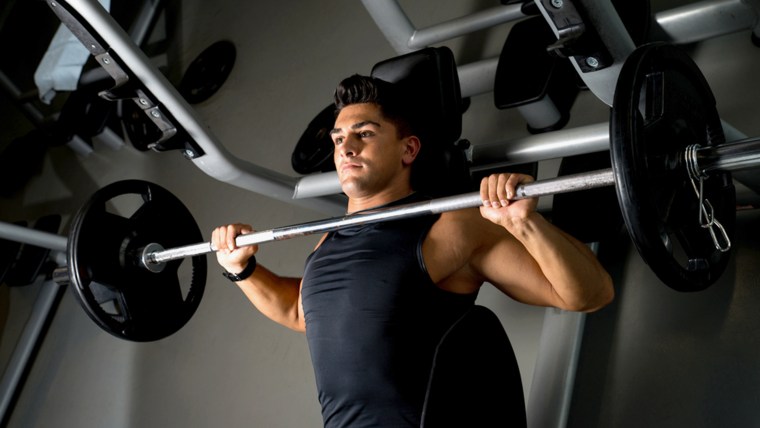 Lots of guys are growing out their mustaches or facial hair to raise awareness for the effort, but there is so much more you can do to make "Movember" — or any month— a picture of wellness. We've got advice from some of the leading medical experts on how men can lead longer, healthier and happier lives.
General health 
1. Men in their 40s and 50s most commonly see a doctor for urinary health, sexual health and cancer screenings. But these shouldn't be the only reasons to make an appointment, said Dr. Steven A. Kaplan, a urologist and director of the Iris Cantor Men's Health Center at New York-Presbyterian/Weill Cornell. Go to the doctor as an opportunity to talk about overall health, he advised. Let doctors educate you so that you can be empowered. 
2. Many men don't make the association that what they eat or drink can impact their overall health, Kaplan noted. When you're sitting back on Sunday, watching football, eating chips and drinking beer, that behavior is setting you up for problems like lower sex drive, sleep apnea, more frequent urination and obesity, he added.
The older you get, the greater the risk of gaining belly fat— and that's the worst kind of fat, Kaplan said. Think about losing inches off your waist rather than total pounds. Losing just two inches off of your waist is a great start to improved health. One way to do it: Chew slowly! When you're stressed you eat fast and consume too much. Gastroesophageal reflux disease (GERD) might be avoided if you simply slow down while eating. 
Many men over 50 miss this important medical test, new study finds
Heart health

3. As men age, high blood pressure becomes common and often goes unrecognized. Dr. Eric J. Topol, a cardiologist at Scripps Health, suggests using a smartphone app -- such as Withings or iHealth -- to monitor your blood pressure in traffic, during an argument or other stressful situations to see how well you have it controlled. The benefit: it will be graphed and archived in your phone. This is one way to take control of your health and be your own advocate. 
4. Are you taking a statin drug like Lipitor or Crestor to prevent heart disease? Make sure that you are not showing early signs of diabetes (high-fasting glucose), which could be caused by the statin drugs in one of every 100-150 men, Topol said.
Cancer
5. Don't get a PSA test unless you have a strong family history of aggressive prostate cancer, or if it is being used to follow up treatment for prostate cancer, Topol said. The false positive rate is extremely high and could lead to unnecessary procedures.
6. If your doctor recommends a scan—one that uses ionized radiation, such as PET or CT scan — demand to know how many chest X-rays the amount of radiation exposure will equate to, Topol said. Cumulative radiation is a risk for cancer. A nuclear stress test for heart patients, for example, is the equivalent of between 1,000-2,000 chest X-rays and is of high risk. Avoid such scans unless absolutely necessary, he advised.
7. When it comes to sunlight it's important to get enough, but not too much. Be careful and wear sunscreen to prevent skin cancer, particularly if you're balding, Kaplan said. Remember, it can happen to anyone: actor Hugh Jackman, 46, recently had his third surgery for skin cancer. 
Sexual health

8. Testosterone hits a high around age 20 and declines 1 percent a year starting at age 40, said Dr. Jordan Metzl at the Hospital for Special Surgery. Some men even describe a period of "male menopause" during steep drops, but there is great data that lifting heavy objects and weight training two to three times per week causes testosterone levels to rise, he added. The effect is natural — no drugs needed.
9. Erectile dysfunction is a common problem but most men are surprised to find out you don't need any fancy drugs to fix it. Lower body exercise, like running, brisk walking, hiking and calisthenics, are great first line treatment strategies, Metzl said.
Exercise
10. For back pain: Eighty percent of men will experience back pain in their lifetime, with or without apparent cause. It feels like resting is your best option, but it's actually the opposite. Prevent back pain with the right exercise: low resistance, high repetition exercises directed at the core and low back, Metzl noted.
11. To ease arthritis pain: The weight-bearing joints tend to wear down over the age of 60, but that can happen as early as in the 20s for some men, Metzl said. Besides age, risk factors include obesity and injury to the affected area. Use aerobic exercise to reduce weight and strengthening to decrease stress on the joints.  
Diet and nutrition

TODAY health and diet editor Madelyn Fernstrom offers these tips: 
12. Be a healthy drinker and follow national guidelines for alcohol: up to two servings daily. That's a shot and a half, a 12-ounce beer, or 5 ounces of wine.
13. Lose some health-damaging belly fat by swapping your morning doughnut for a whole wheat English muffin. You'll drop about 2 pounds in a month.
14. Red meat lovers can still be heart healthy. Look for lean cuts like sirloin, round, and flank steak — all are high in protein and low in artery-clogging fat.
15. Animal and plant proteins build muscle the same way. Try going meat-free once or twice a week and choose beans or tofu.
16. Protein fuels muscle maintenance and brain function. Calculate your daily need by dividing your weight by two — the result is the rough number of protein grams you should consume per day. So a 180-pound man would need about 90 grams of protein.
17. Reduce your diabetes risk by losing a few pounds. If you're overweight, just a 5-10 percent weight loss helps protect you. For a 200 pound man, that's as little as 10 pounds.
18. Cut down on processed foods to trim added sugars, salt, and fat. More than 70 percent of daily salt intake comes from prepared and processed foods, not the salt shaker. Eat real food!
From Pitt to Clooney, McConaughey to Galifianakis, many actors have shunned the razor to grow bushy or neatly-trimmed beards. Here are some of the most famous.
NBC News associate producer Stacey Naggiar contributed to this report