It's 2 a.m. The baby is sick and crying. You sleepily reach for the liquid medicine — in your rushed, blurry-eyed state, are you sure you're giving the right amount?
Even under supervision, more than 80 percent of parents made a mistake when measuring out doses of liquid medicines for their children, a surprising new study finds.
Of the 2,110 parents participating in the study, most made at least one dosing error — and that was while they were being monitored by researchers.
"We were surprised to see how many parents made errors," said the report's lead author, Dr. Shonna Yin, an associate professor of pediatrics and population health at the New York University School of Medicine. "It's possible that parents may be making even more mistakes at home."
The experiment was looking for possible flaws in the way drug labels and dispensing tools such as oral syringes and measuring cups are designed. The study, which was published online in Pediatrics on Monday, was funded by the National Institutes of Health.
Most of the mistakes — 68 percent — involved measuring out too much medicine. If an oral syringe was used instead of a dosing cup, parents were less likely to make mistakes, the researchers found.
RELATED: Are child safety caps enough to keep kids out of medicines
Syringe vs cup
Each parent was asked to measure out nine doses of the antibiotic amoxicillin after reading labeling instructions, while being monitored by one of the researchers.
The three possible doses — 2.5 ml, 5 ml and 7.5 ml — were to be given with one of three possible measuring devices: an oral dosing syringe marked in 2mL increments; an oral dosing syringe marked in 5 mL increments; and a measuring cup of the type that often comes with medications.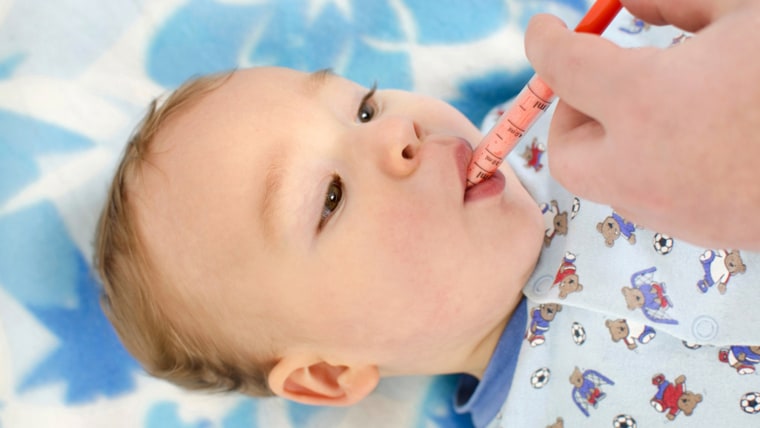 Overall, 83 percent of the parents made at least one mistake in their nine measurements, giving a dose that was 20 percent more or less than the correct one.
One in five, or 21 percent of the parents, made very large mistakes, measuring out two or more times the intended dose.
The problem with the little measuring cups is that "even if you make what looks like a small error on a cup that translates into more volume than it would on a syringe," Yin said.
Also, sometimes the cups are large enough that they can contain twice the recommended dosage.
How serious are dosing errors?
A study that examined records from 2002 to 2012 found that every 8 minutes a child younger than 6 experiences an out-of-hospital medication error, according to Safe Kids Worldwide. That's an average of 63,358 children annually. And 10 percent of medication-related emergency department visits by children under the age of 12 are due to errors.
RELATED: Child poisoned by medicine almost every minute
"We've known for years that this was a possible concern, but this is perhaps the most rigorous assessment of how parents can go astray," said Dr. Carlos Lerner, medical director and general pediatrician at the University of California, Los Angeles, Mattel Children's Hospital. "We know because each year we have tens of thousands of children go to emergency departments because of an unintentional overdose."
Unless absolutely sure they are measuring correctly, parents should check with their doctor, Lerner said.
The new results are "very dramatic," said Dr. Elizabeth Powell, a pediatric emergency medicine physician at the Lurie Children's Hospital of Chicago. "It's capturing people in real time using a drug that is often used in children as a first line therapy for ear infections and pneumonia."
Parents should ask for an oral syringe any time they pick up a medicine for their children, Powell suggests.
It won't necessarily prevent all mistakes, but it would certainly cut back on them. "It's my tool of choice," she said.