Editor's note: This story contains images of breast cancer survivors after reconstructive surgery, and may not be suitable for all audiences.
On average, it takes about an hour to tattoo a pair of nipples if there aren't any complicating factors with a woman's breast reconstruction.
But on a recent Friday morning, Paul Bessette's appointment took twice as long, not because of the actual procedure, but because Bessette couldn't stop talking.
"She was particularly nervous. I'm pretty verbose," he says simply. "If you're really nervous, I'm going to talk you off the ledge, and then all of a sudden you're done. That tattoo is done and all you know is that I was chewing your ear off the whole time."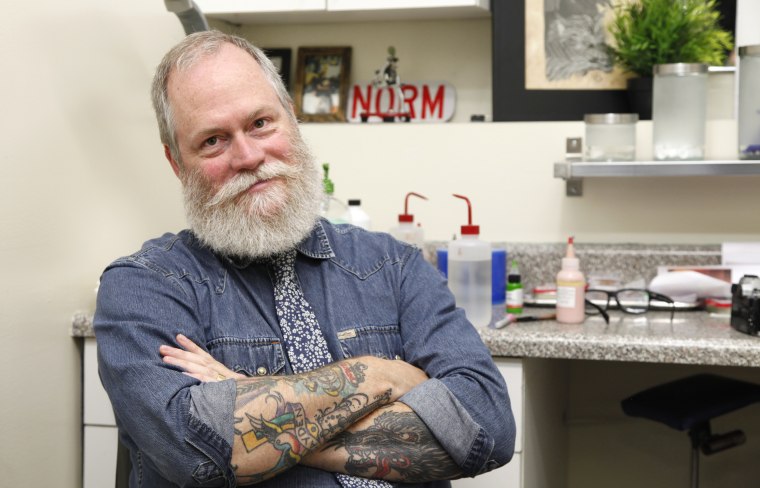 By the time the woman left his work station, she could be heard talking, sounding relaxed and laughing loudly at Bessette's jokes, including one taking a jab at Trent Wyczawski, working on another woman in the booth next door.
"Seriously, if you have any questions, call me no matter how late," Bessette told her. "And if it's really late, call Trent."
Bessette and Wyczawski are the only two artists at Little Vinnie's Tattoos outside of the shop's owner who devote their entire schedules to women who have had mastectomies. Vinnie Myers hand-picked the artists several years ago to help meet a growing demand for creating three-dimensional nipples.
'They're just compassionate people'
"Those two were just a good fit. I know them individually as people. I know them as artists and tattooists," he says.
He also knew they both possess personalities that could easily transition into a specialty that most tattoo artists, a typically eccentric bunch, could not handle.
"Those are guys who are both family men, which was a big plus for me. They speak really well, they're both educated, they're both very artistic. And they're just compassionate people," Myers says.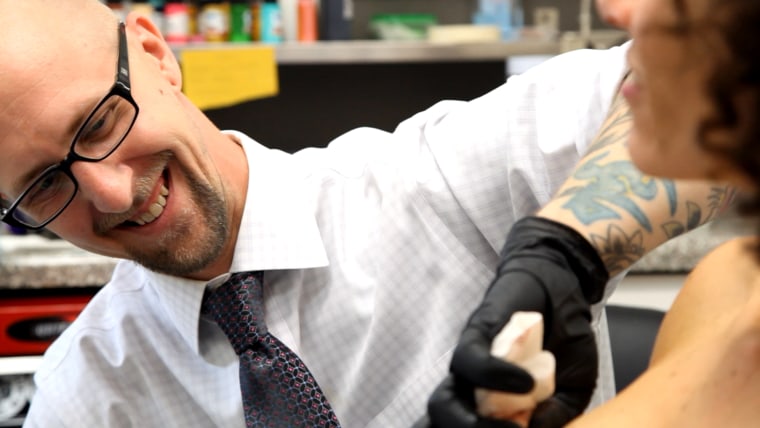 Office manager Richie France says while some people call specifically asking for Myers, a growing number end up scheduling appointments with Bessette and Wyczawski.
"Some are realizing that the standard we have as a team is just that. We set the bar very high," he says.
RELATED: Meet the tattoo artist making breast cancer survivors feel 'whole again'
Many of the shop's clients are used to dealing with a medical system where there is a lead surgeon or specialist, and then several associates and assistants working under him.
"We're not like that. It's not Vinnie at the top — and then Paul and Trent," French says. "It's Vinnie, Paul and Trent. And that's it.There's not a tiered thing."
The more gregarious Besssette, 51, actually learned how to tattoo from Myers nearly two decades ago, leaving behind an office job as a graphic designer and illustrator.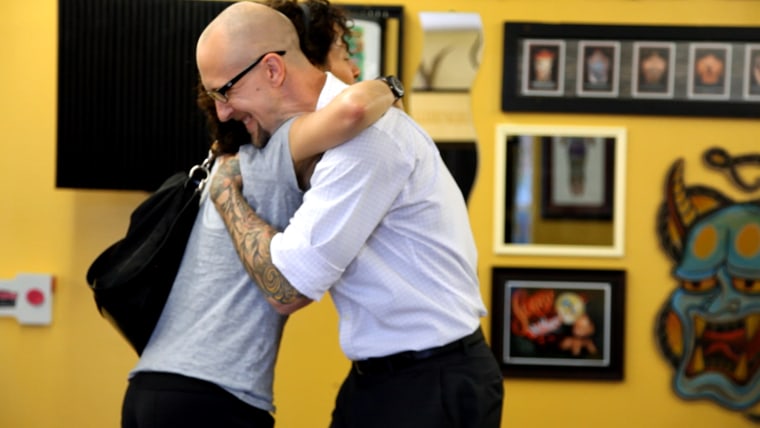 The more soft-spoken Wyczawski, 36, started working for Myers about seven years ago, although he has been a tattoo artist for nearly twice that long. He also spent several years as a country club bartender, a job he feels prepared him well for his current role.
"You've got to be able to talk to everybody. You've got to be able to relate to everyone, make people feel comfortable in a close environment," he says. "I've always just enjoyed the one-on-one."
'You can really mess things up'
Both he and Bessette began tattooing nipples about two years ago after sitting in for months with Myers on countless appointments, discussing color, skin tone, flap thickness, and how different scars should be approached. They also talked about layout and placement of the nipples, particularly when dealing with asymmetrical breasts.
Myers says that's why not anyone can be trained on how to tattoo a reconstructed breast, the least of whom the nurses or physician's assistants who usually perform them.
"If you just see a couple, that's not enough, because the first 10 you saw last week are nothing like the next 10 you'll see. You've got to commit months of sitting in and watching and doing this," he says. "You have to see this every day in order to really get comfortable. If you approach it like a regular tattoo, you can really mess things up."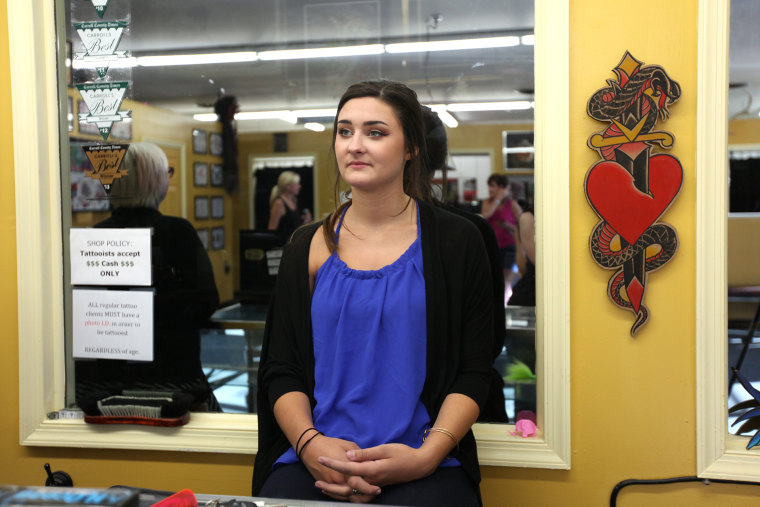 Anna Myers has started making that commitment. The 21-year-old fine arts senior at Towson University plans to follow in her father's footsteps and be a nipple tattoo artist.
In addition to helping answer phones at the shop, she often provides post-treatment care instructions to the women her father treats. Anna also has started an actual apprenticeship, sitting in on appointments, listening to her dad's explanations and watching him work. Lately, she has been practicing with the tattoo pen, working on fruit and, more recently, on the leg of a colleague. ("He's covered in a lot of tattoos anyway, so he didn't mind getting a random nipple on his leg," she says.)
"I think this is a perfect fit," she says of her career choice. "Because I've always been so interested in art, and this adds a really rewarding factor to it."
'You're changing someone's life permanently'
Bessette says to outsiders, it may appear easy to do one type of tattooing multiple times a day, every day.
"But there's a completely different stress level. There's a lot more at stake here than in a lot of cases, psychologically and physically," he says. "All tattoos are pretty stressful because you're changing someone's life permanently, and it should be taken that seriously. In this case, there's something substantially more spiritual."
That kind of attitude is why Myers chose Bessette and Wyczawski. "I'd like to do this for the rest of my career," says Wyczawski, who loves the uniqueness of his craft.
Traditional tattooing — which he has wanted to do since he was a young teenager — has become more conventional with the advent of cable television reality shows about tattoo shops.
"This wasn't something on television," he says. "It's something special and it has magic. It's not something you can simply find anywhere else."
Follow TODAY.com writer Eun Kyung Kim on Twitter.