Ida Keeling is a world record-setting runner — an athlete with a great deal of passion, a top-notch personality and a century of living under her belt.
That's right ... she's 100 years old!
Keeling stopped by Studio 1A to share a few of her secrets with Kathie Lee Gifford and Hoda Kotb — and even demonstrated (multiple!) perfect-form push-ups for the ladies.
Keeling made headlines recently for setting the world record for the fastest 100M by a woman 100 years or older — clocking a time of one minute and 17 seconds.
RELATED: Nyad's not alone: 7 senior citizens with superhuman strength
But that's not the runner's only feat, as she also holds the title for the fastest 60M dash (ages 95-99) and has competed (and placed) in international meets.
Surprisingly, though, racing isn't something Keeling has done all of her life.
"The competing started when she was 67 years old," her daughter, Shelley explained, adding that Keeling's introduction to running "came on the heels of a tragedy."
RELATED: How the world's oldest yoga teacher keeps me young
When Keeling lost both of her sons, Shelley, who is a long-time high school track coach, knew she had to do something to help her mother fight through the painful time and ensuing depression.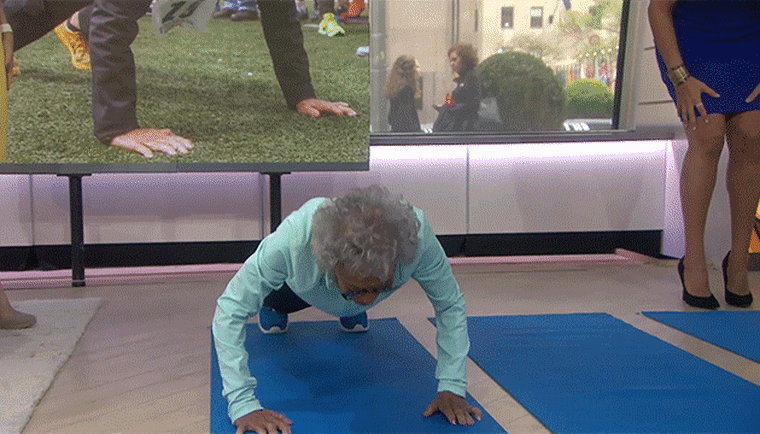 Shelley explained: "She was distressed, really distressed... So one day I called her, I said, 'I'm taking you for a run' ... It was a 3.1 mile run... And that was the beginning of her running career... It was a great medicine for her." That "medicine" has since kept Keeling happy, healthy and full of life.
So, just how did she feel crossing that finish line to set a world record?
RELATED: 'I just love it!' Meet 15 senior athletes who will blow your mind
"So happy!" Keeling exclaimed. "I said, 'I didn't come out here to be a loser.' Even though I felt tired, I just push on the best I can, and that was at my pace... and when I passed that finish line I said, 'Thank you God, thank you for everything and all of your blessings.'"
And if you're wondering about her secrets to health and longevity, Keeling had a few tips to offer.
"Love yourself," she said. "Also, eat for nutrition, not for taste. Do what you need to do, not what you want to do," and "get some kind of exercise... every day."