Exhausted but happy may be the new face of the North American workforce.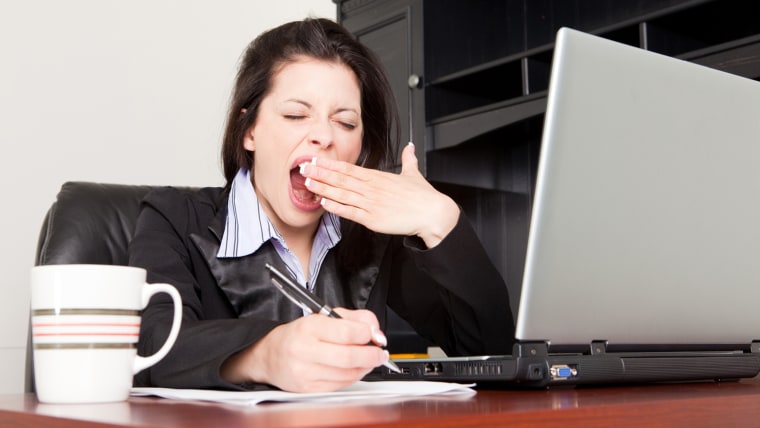 In a new study of an estimated 2,600 workers in the United States and Canada, more than half of employees reported feeling overworked. But surprisingly more than 85 percent are happy at their jobs and motivated to get ahead in their organization, according to results released Monday from the Workplace Index conducted by Staples Advantage, the business-to-business division of Staples, Inc.
Today's employees are faced with huge workloads, sometimes stagnant wages and, for some, a 24/7 need to stay connected to their employers and clients.
This is the new reality for much of the millennial workforce. But some are just fine with it.
"My parents wanted a work-life balance, I want a work-life blend," says Ali Martillotta, a 25-year-old account executive in New York City-based public relations firm who works about 60 hours a week. "It's just a millennial thing since I grew up with computers and instant communication. I absolutely love my work, but it is really integrated into my life."
To combat her own potential for burnout, Martillotta exercises every day at 6 a.m., and sometimes after work, too. "You have to try to do something to get the endorphins going so you can make it through the day," she laughs. "That's just the reality."
Indeed, employees like Martillotta are working longer days, and about a quarter of them regularly work after the standard workday is done, according to the study.
More than 30 percent of employees participating in the research say the driving force behind the "always on" work culture is the need to complete work they don't have time to do during the day, followed by a desire to get ahead on their work for the following day. Nearly two-thirds of respondents see themselves as managers in the next five years.
"The new reality of the workplace is that if you're not putting in more hours, you can quickly become replaceable by someone who is more willing to sacrifice their personal life to get ahead," said Dan Schawbel, founder of WorkplaceTrends.com, a research and advisory membership service for HR professionals. "Employees more than ever before are requesting more flexibility from their employers to cope with this new reality."
The research showed that 37 percent of employees said that if employers provide more flexibility it will increase their happiness.
That was the case for Renee Froerer, a 35-year-old graphic designer from Akron, Ohio, who took a job that allowed her to work four days a week. The time-off means she can work on her fine art and "have a life," coupled with the security of a full-time job that she also happens to really like, she says.
"No matter what field you're in, everyone is doing more work with fewer resources, but happiness is always important," says Froerer, who believes that "flexibility is a deal breaker" when it comes to work. "Smart employers with driven employees will work with those employees to find a sweet spot of balance," she says.
Other steps employers can take to improve happiness include:
Add more office perks (34 percent). That number rises to nearly half for millennials.
Improve office technology (18 percent), which jumps to 23 percent for millennials
Provide better office design (12 percent), peaks at 19 percent for millennials.
Although he is not a millennial worker, Mike Vanni, a 52-year-old real estate appraiser, knows the benefits of better office design.
"I work about 60 hours a week and my company made a huge effort to make sure our work areas are designed to keep everyone productive and happy."
How to stop losing sleep over money
Employees thrive in offices with high-ceilings, lots of windows, and a laid-out break room designed to promote collaboration and rest.
The right workplace, employees say, also features an employee wellness committee that not only brings healthy foods for employees to snack on, but also promotes walking and running together.
"If you love your job you don't think about the hours, you think about the work and how to do it better and more efficiently," says Vanni, who does not subscribe to the 24/7 work philosophy. His secret to staying sane: loving his work but turning it off when he gets home.
"I stay at the office to do my job and when I get home I have family time and relax," he says. "I think that's the real key to being not only a happy and productive employee, but also a happy person, no matter what age you are."