It was February 14, Valentine's Day, 2005 when Leslie Abreu received the devastating diagnosis that would change her life, forever. Hospitalized for painful recurring migraines, the young Bronx mother was given a number of tests to determine the cause.
"I remember it like it was yesterday," Leslie said, recalling the nervous social worker who came into her hospital room in the Bronx, a borough of New York City, with results from the tests.
"You came out positive for HIV."
Leslie was 23 years old and a single mother of an 18-month-old boy. After years of a wild life, being addicted to cocaine and working as a prostitute since age 13, Leslie was exhausted. The diagnosis was a wake-up call that she needed to change her life.
"It was a punch in the stomach," Leslie told TODAY. "I had no information when I was diagnosed, I didn't know too much about the virus. I thought, I'm gonna die."
Leslie, now 34, believes she had contracted the human immunodeficiency virus from the father of her young son. Frightened and alone in her hospital room, she immediately thought of her baby boy and her mother, who is a long-time survivor of HIV since her own diagnosis in 1991. Like Leslie, her mother had contracted the virus through heterosexual sex, which is still the most common way women in the U.S. are infected with HIV.
At the time of her diagnosis, HIV infection rates were still climbing in the U.S., but the success of antiretroviral medications meant more people were living with the virus that causes acquired immunodeficiency syndrome, or AIDS. What once would have been a death sentence for the young Bronx mother, could be treated.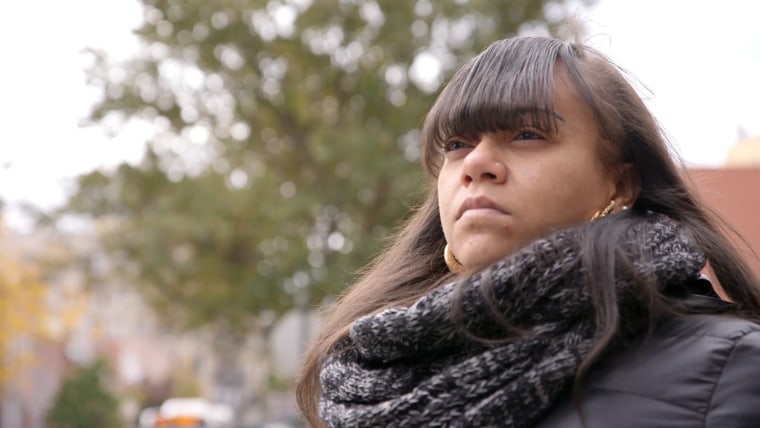 With the help of her mother, Lisette Gonzales, along with health workers from New York Presbyterian Hospital, Leslie was able to find support through the New York-based Alliance for Positive Change, a nonprofit that helps people diagnosed with HIV and other chronic diseases like hepatitis C.
Currently, just over 1 million Americans ages 13 and older are living with HIV. Nearly one-quarter of people infected with HIV are women. The vast majority — 60 percent — of women with HIV are African American, with 17 percent Hispanic/Latina and 17 percent white. But in the decades since the AIDS crisis first erupted in the 1980s, the new infection rates have fallen. Education programs, distribution of condoms and programs promoting safe sex have helped reverse the epidemic in the U.S.
Since Leslie was diagnosed twelve years ago, there's been incredible progress against HIV/AIDS. New cocktails of HIV can keep patients healthy and work so well that patients who have access to the drugs can expect almost the same life expectancy as uninfected Americans.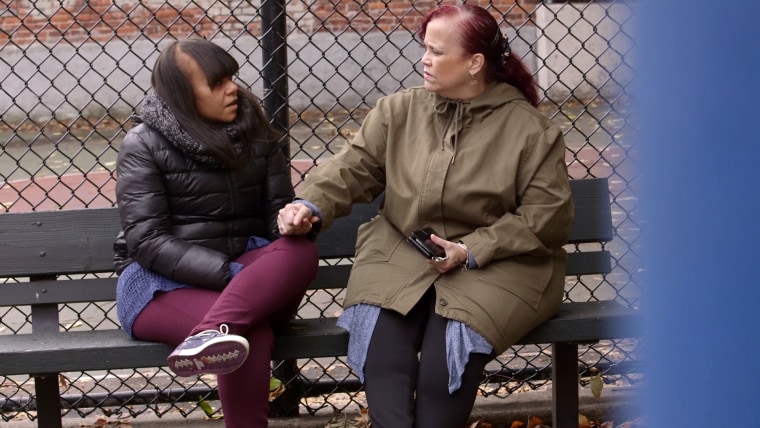 For Leslie, survival meant getting off drugs and staying away from the negative influences of the street. She found that help and education through the Alliance. She got her GED certificate and eventually became a counselor and HIV tester.
A few years after the diagnosis, she felt healthy enough and confident enough to become pregnant. She gave birth to her youngest son, Gabriel, now four. For six weeks after his birth, the baby was given HIV medication to prevent any infection that may have passed during childbirth.
Neither of her children is infected with HIV.
Now, Leslie manages her health with a medication called Stirbild, a single dose medication that was approved by the Food and Drug Administration in 2012. She walks, does yoga, writes poetry and does "anything that is not harming my mind and body."
She also builds her inner strength by helping others living with HIV and the stigma of diagnosis.
"The stigma is high," she said. "I do every little thing to let them know they're not alone and it is possible to get treatment and you can live with HIV."
Leslie knows her medication is not a cure and that she'll need to stay on a healthy path so she can raise her children. But she is optimistic about her future.
"Being diagnosed with HIV literally saved my life," said Leslie. "I felt it was a second chance in life. I was weak. And the HIV virus made me stronger."