Breaking up is hard to do, as the song goes, but it's even harder when you've signed a lease or taken out a mortgage with the dreaded ex and find yourself trapped with them once the relationship's done.
Reality TV star Bethenny Frankel is the latest celeb to speak out about the situation: she's still sharing her New York City apartment with estranged husband Jason Hoppy, though the pair are getting a divorce. "My living situation is very, very stressful," Frankel told PEOPLE Magazine last week. "I don't think it's very healthy for anyone involved. It's very upsetting. You just have to endure it."
She's not alone in her predicament — Real Housewives of Atlanta star Portia Williams recently revealed she and her soon-to-be-ex-husband are also still living together while they sort out their divorce, and fellow Bravo reality star Vicki Gunvalson remained roommates with her ex-husband long after their split. Frankel's comments put a spotlight on the fact that more and more couples who move in together have been forced to maintain their living situation after a breakup, usually for financial reasons.
Andriana Gilroy and her boyfriend are still living in the same apartment, despite ending their relationship two months ago.
"We are both on the lease so it's just as much his apartment as it is mine," she told TODAY.com. "When we broke up, we didn't really have any other options or exit strategies. With New York City rent as high as it is, it's not very easy to just walk away from a great apartment at a decent price and move into a sub-par apartment with complete strangers."
Gilroy and her ex are stuck together until their lease runs out, in a little over a month. "Needless to say, seeing your ex on a daily basis is really hard, especially if you still have feelings for him or her," she said. "The worst is having to act normal, calm, cool, and collected when everything in reality is falling apart."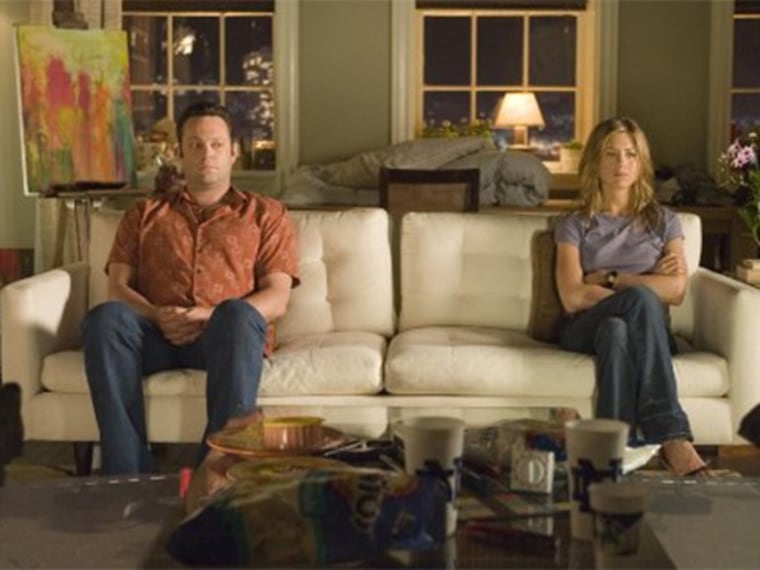 Rachel Sussman, a relationship therapist and author of "The Breakup Bible: The Smart Woman's Guide to Healing from a Breakup or Divorce", says she started seeing more instances of ex-couples co-habitating when the recession started back in 2008.
"It's not a new phenomenon, but it's really, really toxic when it happens," she told TODAY. "The best way to avoid something like that is to be fiscally conservative and responsible. If you're unhappy in a relationship and you think potentially it will end, pay attention to your bank account."
Maryjane Fahey and Caryn Rosenthal, authors of breakup advice book "Dumped," agree that it's key to establish fiscal independence before moving in together, so you can be proactive after a breakup.
"Somebody needs to move out," Fahey told TODAY. "You cannot live together after your romance has fallen apart, or you cannot live together for very long."
Even if one person can't afford to move out, Sussman recommends working together since both halves of a former couple benefit from being able to live separately. "Sometimes it takes both people pooling their resources to come up with the finances," she said. "Both people need to chip in and start an account."
That's something Liz Gannon might wish she had done, instead of living with her ex-boyfriend for three more months after they split because he couldn't find another apartment he could afford.
"I was trying to move on and date other people and he was trying to sabotage that," she told TODAY. "I would go on dates and hide it from him, but he knew me well enough to know I was hiding something from him. He would look through my phone and Facebook which he had frequent access to since we were still living together in order to find out who I was seeing. One time he texted a guy I was dating from my phone and made a series of strange statements, including a marriage proposal."
The situation just went from bad to worse. "Our fighting intensified and we were both miserable," she said. "In short, it was all the negatives of being in a relationship without the benefits."

For couples who simply can't find another option than living together after a break-up, Fahey and Rosenthal stress that setting rules can help during the moving-on process.
"One: Set a schedule and stick with it. Give yourselves a certain amount of months to get resettled: three months tops," Fahey said. "Two: no sex with the ex. That will kill the healing process. Three: He is also not your best friend. He is your ex. Don't confide in him or you will be tempted to break rule #2."
Despite all the caveats, close living quarters aren't always disastrous. Joshua Gaylord and his then-wife purchased the apartment above their own pad in Queens with plans to turn it into an office. When they ended their 13-year marriage two months later, Gaylord moved upstairs.
"I liked it that way because I felt like it was kind of an intermediary stage," Gaylord told TODAY. "I'm not the kind of person who likes an immediate and permanent separation. Your mind just runs wild."

And Mike Byhoff, who lived with his ex for three weeks after breaking up, said they ended up becoming good friends as a result. "We slept in the same bed for three weeks, had dinner together, and told each other about our days," he told TODAY. "Since we knew it was only a temporary situation, we kind of avoided the elephant in the room that we were broken up but still living together."
For couples hitting a rocky road, Sussman recommends preemptive action such as seeing a counselor to avoid an awkward living arrangement entirely.
"If you go at the right time, there's a very good chance that the relationship can be saved," she said. "If not, at least you've got a third party to help you with logistics, like who moves out and when."