Editor's note: This story is part of a series, Hooked: America's Heroin Epidemic, featured on NBC News from April 7-9.

There was a time when Anne had never heard of a life-saving antidote to heroin, when she thought addiction was something that happened to other people's kids.
Now the mother, who did not want TODAY to use her full name, doesn't leave home without that anti-overdose medication, Narcan. She keeps a dose in her purse.
Anne's son was 21 when he became addicted to painkillers. And then, when he couldn't afford to buy the medications, he switched to a cheaper substitute: heroin.
"I had preconceptions about drug users before this all started — until it happened to my own family," Anne told NBC News' Kate Snow. "It isn't just this strange person under the bridge. It's your regular kids."
Heroin overdoses killed more than 28,000 Americans from 1996 to 2010, according to the Centers for Disease Control and Prevention — and that staggering death toll would have been even higher if not for an emergency antidote that more and more first responders, and worried parents, are keeping close by.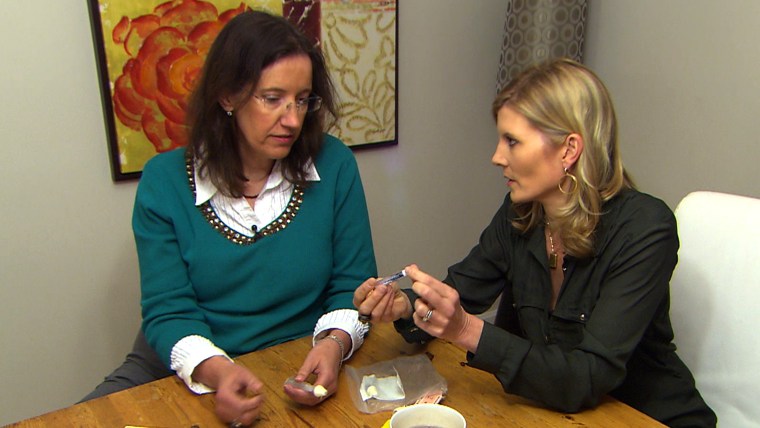 The antidote, named naloxone hydrochloride and marketed as Narcan, has saved more than 10,000 lives already, according to the CDC. Last week the Food and Drug Administration approved a handheld device that can quickly deliver the antidote to addicts who have overdosed on heroin or other opioid drugs.
Once her son admitted to Anne that he was addicted, she found a support group that taught her about addiction — and gave her several Narcan kits, just in case.
Just three months later Anne's husband found their son unconscious in his bedroom.
"All of a sudden my husband came into the room and he screamed, 'He's not breathing. He's not breathing,'" Anne recalled. "I ran downstairs to get my package of Narcan. I administered that in his nostrils. I was so nervous. I was shaking really bad. It . . . it was just horrible."
Though their son looked like he was dead, Anne and her husband kept giving him chest compressions until the EMTs arrived.
"I was screaming at them, 'Don't give up on my son," she recalled. "And they didn't."
At the hospital, doctors told Anne that she had saved her son from permanent brain damage.
Anne was one of 23 parents who have saved their children's lives after receiving the antidote from Learn-2-Cope support groups in Massachusetts, according to founder Joanne Peterson. At least five have been saved since January.
Narcan works by locking on to the very same receptors that spark a sense of euphoria in people taking heroin and certain other drugs, including alcohol, said Charles P. O'Brien, a professor of psychiatry and founding director of the Center for Studies of Addiction at the University of Pennsylvania. With the receptor occupied, there is no high, he explained.
"It's used all over the world," O'Brien said. "It's one of the best, if not the best, antidotes. I've been using it since 1973."
One of the best things about Narcan is that it's exceedingly safe, O'Brien said. "If you give it to someone who is unconscious because of bleeding in the brain, it won't help, but it also won't hurt them. But if you give it to the right person, it can save lives. It's a really wonderful medicine."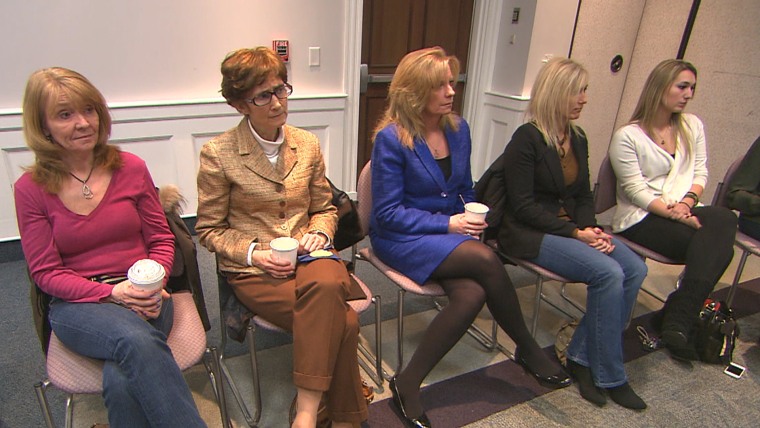 Because Narcan is so safe, O'Brien is in favor of families like Anne's having access to it. Some states have adopted "naloxone access" laws to make it easier for family and friends to get the drug. Others have given the drug to emergency medical technicians and police, who can provide treatment more quickly instead of waiting for a hospital setting.
Not everyone has been so enthusiastic about the medication.
At a press conference on Maine's drug problem, the governor was adamant that only medical professionals should have access to Narcan.
"It's an escape," Gov. Paul LePage told NBC News. "It's an excuse to stay addicted. I think we need to deal with the treatment, the proper treatment and not be saying, "go overdose and oh, by the way, if you do, I'll be there to save you."
But in a stunning reversal, on Tuesday the governor's office told NBC News he will support proposed legislation to allow immediate family members to have access to Narcan.
For Anne's son, Narcan made rehab possible. He has a good job now and Anne says he's sober.
"What we did with the Narcan was the most crucial part in this," she said. "Without the Narcan, everything else would have fallen by the wayside. It's just nice. I have a son."
Anne still carries the Narcan around, just in case — though now it's not only for him, but for the others who might one day need it.