James Lauricella and Kimberly Mikucki were married on Saturday in an intimate ceremony at Stony Brook University Hospital on Long Island, but if you'd asked them three weeks ago about their wedding, they'd have described a very different plan.
Lauricella was diagnosed with Acute lymphoblastic leukemia (ALL) in late July after a routine physical revealed a high white blood cell count.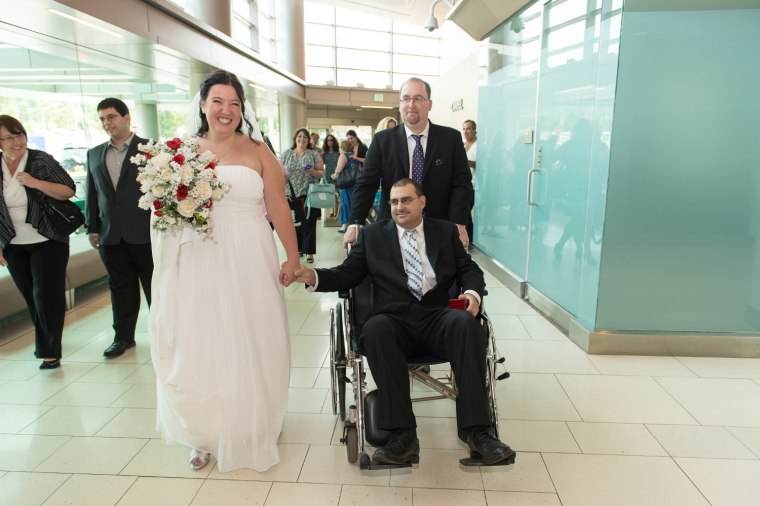 He'd been working at Lowe's home improvement store and planned to re-enter the local volunteer fire department, but in a matter of just four days, he went from his doctor's office to the hospital's Oncology Bone Marrow Unit.
"It seems like one day our lives were just turned upside down," Mikucki, 41, told TODAY.com.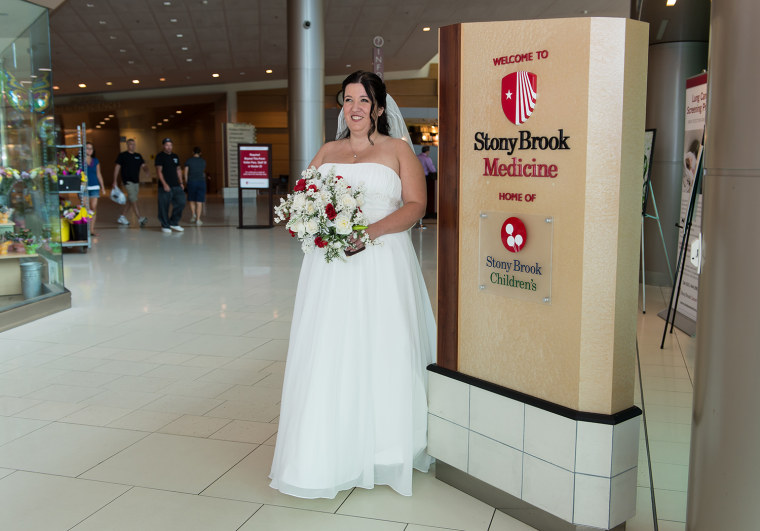 The two met last year at Lowe's, where Mikucki also works, and their friendship quickly turned into a romance. "We honestly don't even remember when we officially started dating," Lauricella, 37, told TODAY.com. "Everything just happened for a reason and I'm glad it did."
A few months after meeting, they took a trip up to Marist College so Lauricella could meet Mikucki's 21-year-old son Thomas, who was a student there. Mikucki had no idea that Lauricella also planned to ask for Thomas's permission to propose.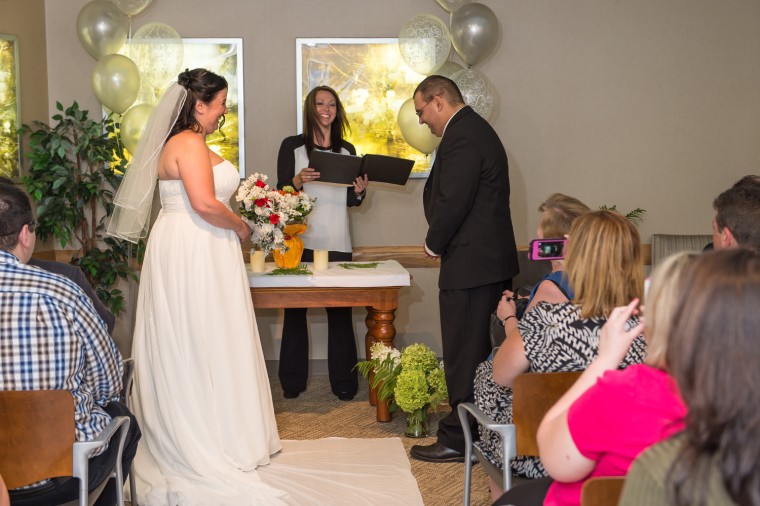 The next morning, before they left the hotel to go back home, Lauricella gave Mikucki a ring and popped the question. The couple set the date for December 6, 2014 at Villa Lombardi's in Holbrook, New York, and planned to celebrate with a big group of family and friends.
But when they got the news about Lauricella's health, they decided to overhaul their plans. Though his prognosis was very good, they didn't want to waste any time.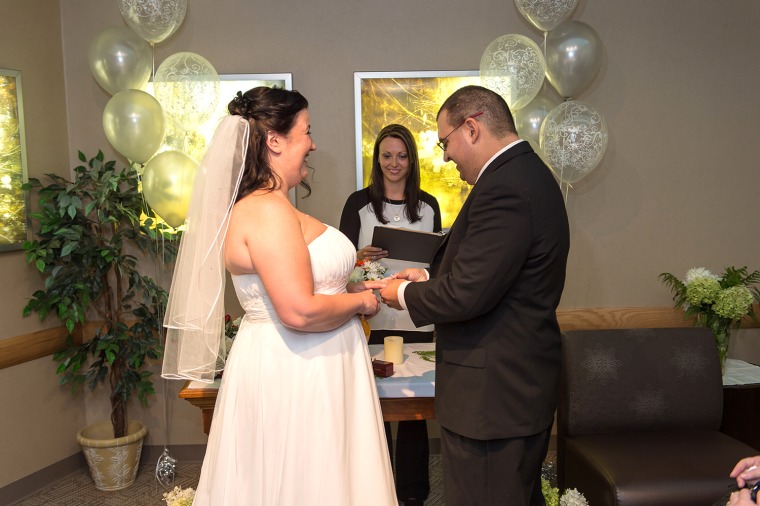 "We both said, why were we waiting when we saw what one day can do?" Mikucki recalls. "We know we're going to be together forever."
They thought they'd have a simple ceremony in Lauricella's hospital room, but thanks to the kindness of a group of nurses and a social worker, they got something a little more elaborate.
They were married in the hospital chapel in a ceremony officiated by family friend Christina Hogan with 25 of their closest friends and family in attendance. Afterwards, they had a reception in the visitor's lounge, generously catered free of charge by their original venue, Villa Lombardi's. Reinwald's Bakery of Huntington provided a cake and a local Costco provided paper goods.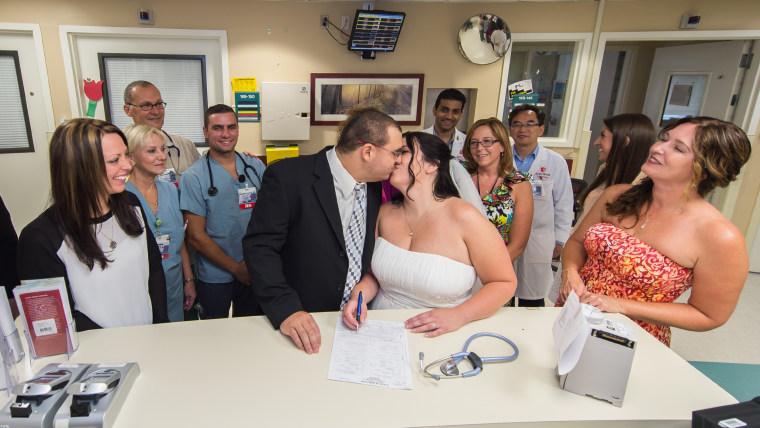 "My day was incredible," Mikucki said. "My ceremony could not have been better if it was in December when we planned it and when [Lauricella] was well."
Lauricella calls the last few weeks "mind-boggling" but says he's feeling very strong, especially with his new wife at his side. For the next eight months, he'll spend five days out of the month in the hospital undergoing chemotherapy. In between hospital stays, he'll have frequent check-ups.

He'll be unable to work during chemo, leaving the couple with one income and many hospital bills. The nurses at Stony Brook have set up a donation page for those who want to help out the newlyweds.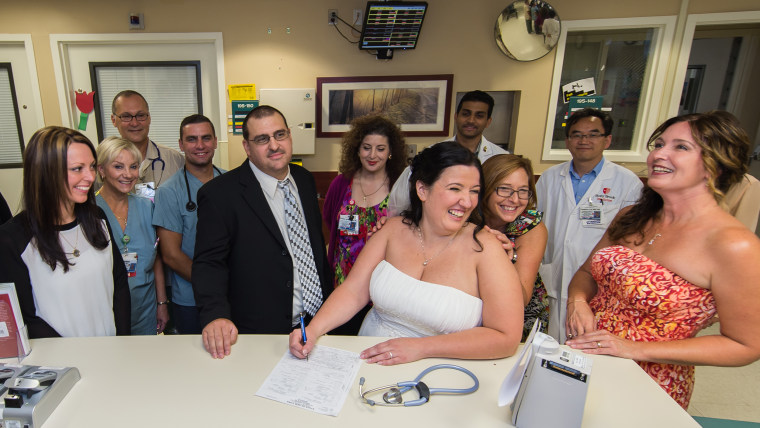 "We do feel blessed that this is something that we know he's going to beat," Mikucki said. "He's a very stubborn man. He's not gonna let this beat him. But we know we have rough road ahead."
And Lauricella has some advice for others who might find themselves in a similar situation: "Take it one day at a time. Fight for what you know is gonna happen. You'll get through it. Not every day is easy, but I'll get through, and so will you."