Cases of leprosy, also known as Hansen's disease, are on the rise in Florida, and the infectious disease may be endemic in the Southeastern United States, a new report suggests.
Despite its biblical-sounding name, leprosy not a disease of the past. Leprosy still occurs in more than 120 countries, and there are over 200,000 new cases reported every year, according to the World Health Organization.
Leprosy is a chronic infectious disease caused by the bacteria Mycobacterium leprae, which affects the skin and nervous system.
"Leprosy is a pretty unusual infection in the United States, and cases had been dropping very steadily over a long period of time, but then recently, there's been a bit of a slow uptick," Dr. William Schaffner, professor of infectious diseases at Vanderbilt University Medical Center, tells TODAY.com.
Are there cases of leprosy in Florida?
Yes, there are cases of leprosy in Florida. So far this year, there have been 15 cases of leprosy in Florida, NBC affiliate WESH reported.
In 2020, 159 new leprosy cases were reported in the U.S., and Florida was among the top states reporting cases, according to a research letter in the journal Emerging Infectious Diseases, published by the U.S. Centers for Disease Control and Prevention.
There has been a drastic reduction in cases in the U.S. since the 1980s, per the CDC, but the number of cases of leprosy has more than doubled in Southeastern states over the last decade.
Why is leprosy spreading in Florida?
The short answer it's still not known why leprosy is spreading in Florida or why it's happening now. "Frankly, these cases are still are a bit of a mystery," says Schaffner, adding that further public health investigation is needed.
Previously, leprosy in the U.S. affected people who had immigrated from leprosy-endemic countries, per the CDC. "Most of the cases we've seen in the past have been in people who came from their homeland where there was much more leprosy," says Schaffner.
But more recently, the rate of new diagnoses in people born outside of the U.S. has been declining, even though the incidence of leprosy in the U.S. has been increasing overall, the CDC said in its report.
About 34% of new cases between 2015 and 2020 appear to have been acquired locally, per the CDC report. In other words, more and more people are being infected with leprosy in the U.S., Schaffner adds — and Florida may be a hotspot.
Additionally, the CDC said several of the recent cases in Florida showed no evidence of traditional risk factors. The report highlights a case of leprosy in a 54-year-old Florida man who reported that he had no known contact with an infected person, no exposure to armadillos (a known animal reservoir for the bacteria that causes leprosy), and no travel history to leprosy-endemic countries.
The CDC report noted that many Florida residents, like the 54-year-old, spend time a lot of time outdoors, so "environmental reservoirs" should be investigated "as a potential source of transmission."
Where is leprosy in Florida?
Central Florida seems to be where most of the cases of leprosy in the state are located, based on recent data. Of the 15 cases reported so far this year, most were in Brevard County, in East Central Florida.
Of the 2020 data analyzed in the CDC report, Central Florida accounted for about 81% of the cases reported in the state in 2020 and nearly one-fifth of cases reported nationwide, according to the CDC report. The agency did not specify where in Central Florida had the most leprosy cases.
By most definitions, Central Florida includes the Greater Orlando area and sometimes the Tampa Bay area. Other major cities in Central Florida, according to VisitFlorida.com, include St. Petersburg, Clearwater, Palm Bay, Lakeland and Deltona.
How common is leprosy in Florida?
The rate of leprosy in Florida overall is low, as is the case in all of the U.S. So far this year, only 15 cases have been reported in the state. With a population of 22 million across the whole state, that's a very low risk of coming in contact with someone with leprosy.
That said, the recent trends and cases add to a growing body of evidence that leprosy is endemic in the Southeastern U.S., namely in Florida. Endemic means a virus is consistently present in a population within a geographic area, according to Medline Plus.
"I keep my fingers on the pulse of communicable diseases in this country, and that number (159 cases in the U.S.) surprised me. It was higher than I thought," says Schaffner.
There are no Leprosy-related travel warnings for Florida, but the CDC said in its report that travel to Florida should be considered during contact tracing for leprosy in any state.
It's also important to keep in mind that leprosy is "usually difficult to acquire and requires close, persistent, prolonged contact with a person who has leprosy," says Schaffner. You cannot get leprosy from casual contact like hugging, shaking hands, or sitting next to someone who has leprosy, per the CDC.
"Leprosy is not communicable in the classic sense the way influenza or COVID-19 is," says Schaffner. According to the CDC, the risk of getting Leprosy is very low because more than 95% of people have natural immunity.
It's not fully understood how leprosy is spread, per the CDC, but it is thought to be spread through respiratory droplets produced when an infected person coughs or sneezes. There is also evidence humans can contract leprosy from armadillos, a known animal reservoir for the bacteria, says Schaffner. In this case, transmission would also require prolonged contact with the animal — fortunately most people aren't getting that close to armadillos, he adds.
Is there a cure for leprosy?
"We used to think it was untreatable, but we can treat and cure this disease now," says Schaffner. Leprosy is typically treated with a combination of antibiotics and treatment usually lasts one to two years, per the CDC.
"It is a very slowly multiplying bacteria in the body, so you have to take the appropriate antibiotics for a long period of time," says Schaffner.
If left untreated, leprosy can cause permanent damage to the nerves, skin, hands, feet and eyes, which may result in paralysis or blindness, per the CDC. Early diagnosis is important to avoid long-term disfigurement and disability from the disease.
Previously, leprosy was thought of to be highly contagious and patients were isolated in remote areas, Schaffner explains, but today the disease can be safely managed at home.
Pictures of leprosy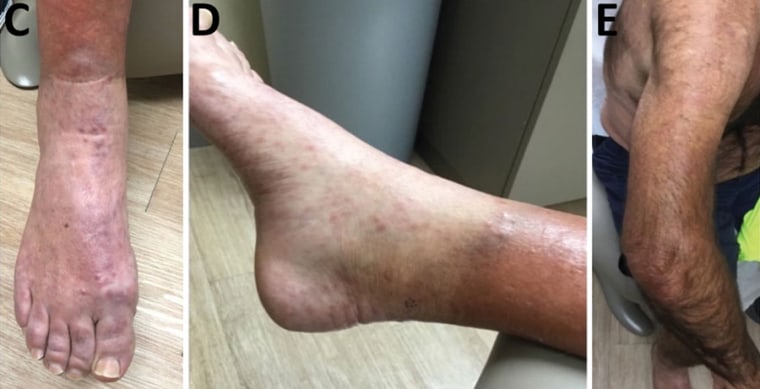 Leprosy can cause skin symptoms, including lesions, discolored or flat rashes, thick or stiff patches of skin, growths and painless ulcers (often on the feet) that do not heal over time, according to the CDC.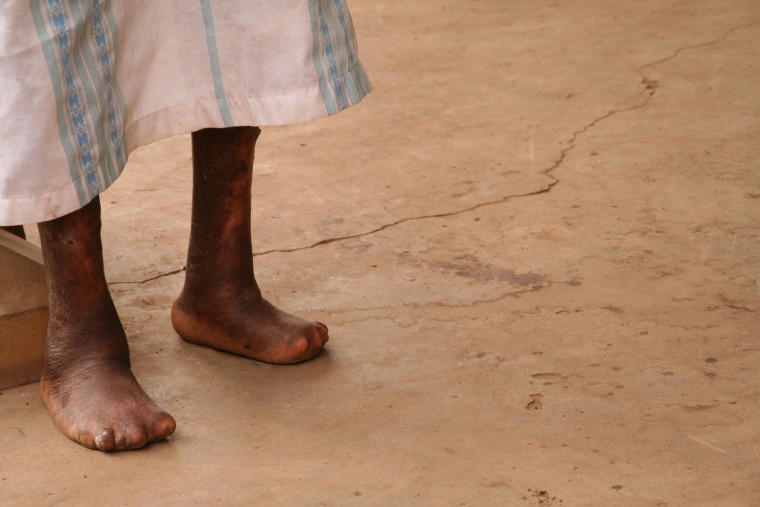 Symptoms affecting the nerves include numbness in the affected areas of the skin, muscle weakness, nerve pain, paralysis and eye issues. Leprosy can also affect the mucous membranes lining the nose, mouth, and inside of the eyes and cause bleeding, tissue damage, impaired speech and vision loss, per Medline Plus.