Lena Dunham arrived to this week's Met Gala in a stunning single-shoulder dress, but by night's end she was wearing a hospital gown.
The "Girls" star was rushed from the famed fashion ball to the emergency room due to complications from her endometriosis surgery in April.
On Thursday, Dunham shared an update about her recovery, with heartfelt thanks to fans for their support.
"Thank you for all the love & concern that's been pouring in since Tuesday. Although I'm much healthier than I was a year ago, complications arose from my most recent endometriosis surgery," Dunham, 30, wrote next to a selfie in her hospital bed.
The actress and writer went on to say she was in a "privileged spot" because she has access to healthcare when so many other American women don't. "I am lucky to be in the position to seek help when I'm in pain," she wrote, urging fans to support Planned Parenthood and other clinics, including those that cater to the LGBTQ community.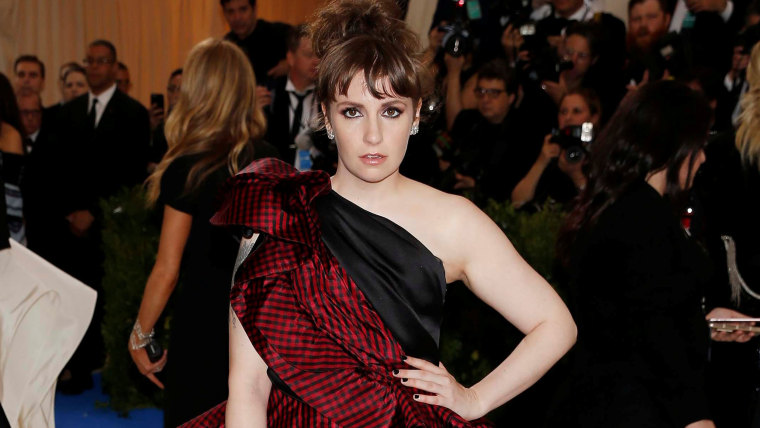 Dunham, who's been candid about her struggle with endometriosis, went on to give a shoutout to all women who suffer with chronic diseases.
"I also want to remind all the women suffering from chronic illness that we aren't weak — quite the opposite, actually. We do our jobs with skill even when we're struggling. We care families even when we can hardly care for ourselves," she wrote.
"We serve major face on a red carpet when we feel like lying face down would be more appropriate. I'll always be proud of those Met Gala pics — not just because I felt beautiful, surrounded by art and magic, hugging my best friend tightly, but because they're evidence that women contain steely multitudes," wrote the star.
RELATED: Lena Dunham bows out of 'Girls' press tour to battle endometriosis
Dunham also praised former Fox news anchor Diana Falzone, who's suing Fox for allegedly cutting her air-time after she revealed her battle with endometriosis.
Endometriosis occurs when cells that line the uterus spread to other parts of the body creating implants and adhesions, or internal scar tissue.
The often painful disease affects approximately 1 in 10 women.
Despite this week's complications, Dunham wrote in Lenny Letter that the April surgery — her fifth — was a success, and she was now endometriosis-free, reports People.