When you've been dumped at the altar and forced to share a series of honeymoon suites with your brother, it's fair to say you could learn a thing or two about love. That's what Franz Wisner sets out to do in "How the World Makes Love," traveling around the world on a mission to glean the planet's most important love lessons. An excerpt.
The professional dumpee
Only in America can a person get dumped at the altar and turn it into a career. I discovered this verity thanks to Jennifer Wilbanks, the wild-eyed Georgia bride-to-be who chose to put a twist on traditional prewedding festivities by shunning a simple rehearsal dinner in favor of a faked abduction and a cross-country road trip. The arctic-footed fiancée was picked up by New Mexico police after a nationwide manhunt and countless television stories featuring Runaway Bride's Julia Roberts on a galloping horse. I was one of millions of Americans mumbling to Jennifer's fiancé, "You lucky SOB."
Then the phone started to ring. We want you on our morning show to speak on behalf of jilted grooms, the television schedulers begged. Can you be in New York City tomorrow?
"Why me?"
"Franz," said one earnest producer. "You don't understand. You're the world's number-one authority on getting dumped."
My parents must be so proud. Four years of Tufts University, tutors and science kits and that thirty-volume set of encyclopedias my father lugged home — all so I could comment on failed engagements.
But so it was. The producer's words confirmed my fate. I had become a professional dumpee.
You see, several years prior, my fiancée had fled as well. She decided to do so just days before our large wedding at the remote coastal community of Sea Ranch, California. With guests en route and the wine on location, I decided to go ahead and enjoy all the festivities of the weekend, pretending, with zero success, to forget about the whole bride part.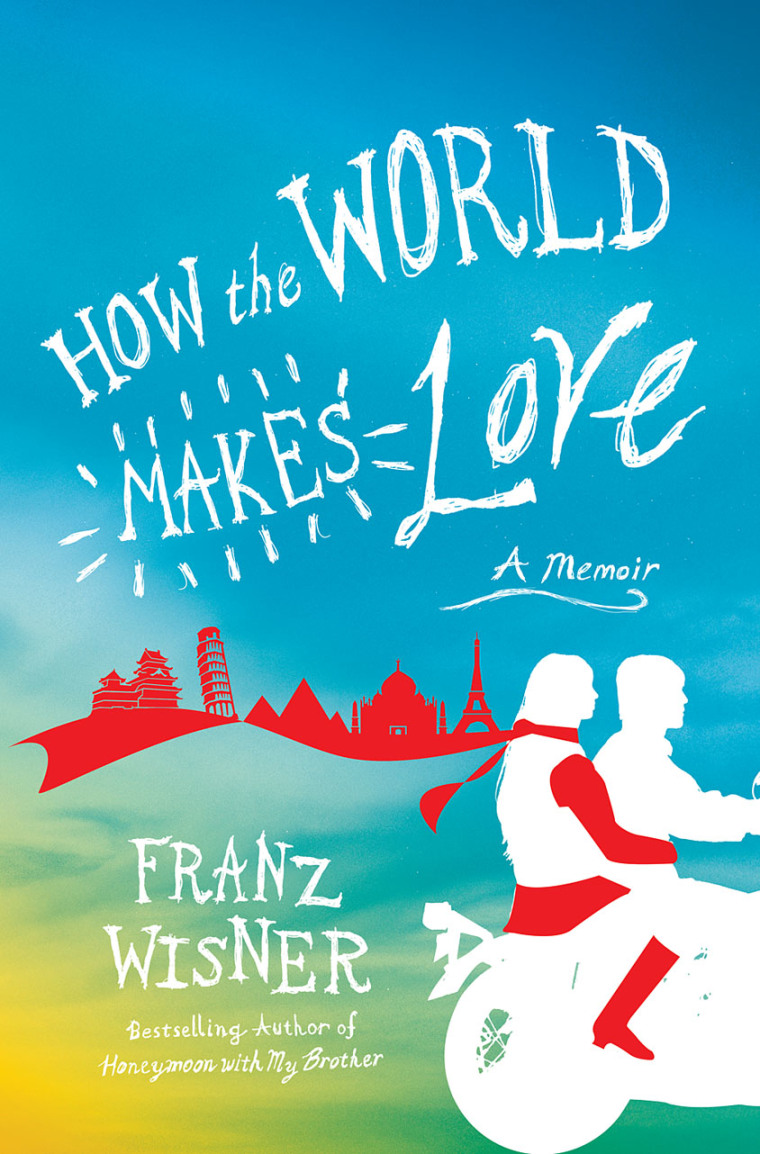 Of the 150 people invited, 75 showed up — my entire side of the aisle. We had the golf tournament on Friday, the rehearsal dinner on Saturday, and even a mock wedding ceremony on Sunday, complete with a seaweed-clad friend who filled in for my absentee bride.
And you know what? It felt all right, even meaningful at times. Okay, for the other twenty-three hours and fifty-seven minutes it felt like somebody took a battering ram to my stomach and unleashed a martini hangover typhoon in my brain. I was humiliated and miserable and shocked enough to know the feelings had yet to fully sink in.
The meaningful part was having everyone who meant something to me in the same place for a long weekend. I realized then how few times we gather our entire group of friends and family in one setting — twice, in fact: your wedding and your funeral. And it's tough to enjoy the latter. Sure, we speak of their importance in monotone: "My friends mean everything to me." Really? Do we really feel their depth or embrace their warmth until we need them? That weekend, I needed them. My brother, Kurt, two years my junior, led the festivities. He jumped on the first plane from Seattle to California after I gave him the news.
When my fiancée dumped me, I pledged to marry my job, to become the workaholic's workaholic. Then, shortly after the nonwedding wedding, they demoted me. The two loves of my life, gone.
So I opted for the rational course — take Kurt with me on my prepaid honeymoon to Costa Rica. I told him about it the night before.
"C'mon," I said. "We're going on a honeymoon."
"With whom?" he replied.
"I have first-class plane tickets. I have honeymoon suites. I have champagne."
"Whoa, whoa. I love you, man. And I really want to help you out. But honeymoon suites have one bed. And it's usually heart-shaped. And I'm sorry you got dumped and all, but there ain't no way I'm going to spend two weeks in a heart-shaped bed with you in Costa Rica."
After I assured him I'd sleep on the floor, Kurt and I took off. He was a year out of a divorce. He hated his job. So there we were, two brothers, both dumped, both in dead-end jobs, on my honeymoon in the tropics.
Now, honeymoons are a big deal in Costa Rica. Those hotel managers have their places spiffed up and flower-laden, eager to hand room keys and PRIVACY PLEASE signs to happy couples for a week of tropical bliss. One owner took pains to meet us curbside.
"Meeester and ... Meeester Wisner?" he said with a scrunched face.
"You're not half as surprised as I am," I said.
That lump of gray matter I used to call my head continued to swirl with guilt and regret and embarrassment and a gnawing question of whether she'd cheated on me. Aha! The other man grew in stature and riches each day. He must be a model. A Hilton heir. A tango expert with an American Express Black Card. I'll kill him.
I hurt. I was in a deep, dark hole, gasping for air, praying only to stop the fall, far from the day when I could even envision pulling up to level ground. Snap out of it, I scolded myself before realizing nobody snaps out of pain. Instead, I struggled with equally devastating forces —attempting to figure out where our relationship went astray and realizing I'd never be able to do anything about it.
Meanwhile, Kurt and I did something we hadn't done in years — we talked. It wasn't as if there had been a big issue that separated us. It was simply that we'd drifted apart, like so many brothers and sisters in our society. We went to different colleges, moved to separate towns to begin careers, began love lives, and shoved our relationship to the bottom of the priority list. I believed the occasional phone calls and tidbits passed from Mom were enough. I was wrong.
I discovered this in Costa Rica, somewhere between the Arenal volcano and Tamarindo sunsets. Maybe it was better to take a honeymoon with a brother I barely knew than with a woman who obviously didn't love me the way I loved her. I wanted the conversations to continue, wanted to learn more about Kurt. I also longed for a change of scenery to clear my head and thought the road may be a potential healer. So after two weeks of brotherly bonding, I suggested to Kurt we lengthen the trip.
"Great idea," he said. "There's a golf course nearby. We could stay there for a couple days, play a few rounds, eat some more fish."
"You have no idea what I'm talking about," I said.
Over dinner that night I convinced Kurt to extend the honeymoon for two years and fifty-three countries. Now, this was not exactly how I dreamed my honeymoon would go. But the two years offered a world of discovery, enlightenment, and renewal, as well as a strengthened relationship with a long-lost best friend who just happened to be my brother. The planet made me a believer in many things — optimism amid chaos, soccer as a legitimate sport despite the grade-school playacting, green tea, siestas, the power of faith beyond the pulpit, Eastern medicine, a father's right to improve the lives of his children across all borders.
The world showed me the importance of living life with my heart rather than just my brain, the need in all of us to follow passion wherever it takes us. It made me prouder than I'd ever been to hold a passport with the words UNITED STATES OF AMERICA etched in gold, ever more so each time I met an aid worker with a Southern drawl or a villager whose dreams were fueled by a place he'd never see, a land I was lucky enough to call home.
This was the honeymoon of a lifetime ... if you overlooked that whole runaway bride aspect.
There was one small problem. Herculean, as far as my mother was concerned. I'd spent two years traipsing around the world's most romantic destinations — Rio and Prague, African safaris and exotic islands — meeting affable women at every port of call, with ample time to invest in friendship and conversation and love. Somehow I'd managed to take this dream setup, one so laden with options even Borat could have filled a black book full of numbers, and come back single.
"Man, you're lucky," said my friends, most of them married. "You had the whole world to choose from."
"Are you kidding me?" I'd reply. "Have you been in the singles game in, say, the last decade? Don't you know how impossible it is to fall in love in our own country, let alone connect with someone in a place where everything is foreign — language, culture, fashion don'ts, political insults, or even what to order from the menu?" How on earth do you meet someone? How, on this earth, do you fall in love? The questions rumbled around throughout the honeymoon with my brother, especially when we found ourselves in a romantic setting, at sunset, as real couples strode off for their sidewalk café dinners. I'd go to sleep in, say, Lake Como or Los Roques, look over at Kurt in the other bed, and think,
"What in God's name am I doing here with you?"
As the honeymoon ended and I came back to California, I concluded love was unreachable for the masses, and especially for a sap who ate his wedding cake alone. Their love stories were just that, stories.
It's not that I didn't believe in love. I just didn't believe in the odds. It's like Powerball. We see people who win the mega-jackpots on television. They wear muumuus or cowboy hats. Played the same numbers for thirty-eight years. They hold five-foot checks and promise to buy houses for their children.
We see them, but we don't know them. And we certainly aren't one of them. I'd been afforded my single shot at love. I'd blown it. Just the way it is. I'd invested a decade. Not all investments pay off.
Truth is, I can't say my life was completely devoid in this arena. Humans are a creative species. Bedouins can sense water under a sea of sand. Pacific Islanders know when storms are coming despite cloudless skies. So, too, with love. If one source dries up, we'll find it elsewhere. The mind convinces itself time with friends and family will suffice. We get creative. We get pets.
Excerpted from "How the World Makes Love" by Franz Wisner. Copyright (c) 2009, reprinted with permission from St. Martin's Press.