People looking for an alternative to soda often turn to juice, especially those promising "super food" ingredients, such as kale, açaí berries, and spinach. But a lawsuit filed this week alleges that labels on Naked Juice bottles — touting no sugar added and claiming to be packed with nutritious ingredients — mislead consumers.
"It's not unlawful to sell a beverage that is not healthy. The issue here is people think they are doing something good for themselves by drinking this," Maia Kats, director of litigation for the Center for Science in the Public Interest (CSPI), who filed the class action lawsuit, told TODAY. "Therein, lies the problem."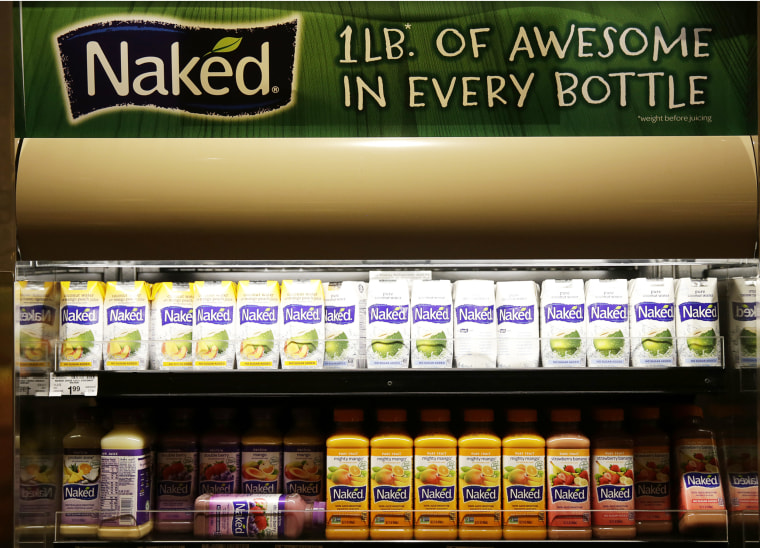 Related: Not so natural? Naked Juice no longer labeled natural
Andrea Theodore, vice president and general manager of Naked Juice, owned by PepsiCo told TODAY: "We believe this lawsuit is baseless. I think we're extremely transparent about what's in the product."
The organization filed the suit Tuesday on behalf of Dina Lipkind of Brooklyn, Lyle Takeshita of Los Angeles, and Chad Fenwick of Chatsworth, California, who say they feel duped by Naked Juice. The "no sugar added" labels downplay less nutritious ingredients, the lawsuit claims.
"They are offering something that has as much sugar as a can of Pepsi, which is something we would never imagine from looking at the label," said Kats.
A 15-ounce bottle of Kale Blazer has 8 teaspoons of sugar fruits and vegetables, while a 12-ounce bottle of Pepsi contains 10 teaspoons of added sugar, said a CSPI statement.
Naked Juice's Theodore said: "We have made an effort to make sure that consumers are clear that we don't add any sugars and they all come from natural fruits and vegetables."
RELATED: Juice cleanses for kids are a fad — why they are a bad idea
The lawsuit claims the label oversells certain ingredients like kale, which are not the premium ingredients, and are included in smaller amounts and blended with apple or orange juice.
For example, the number one ingredient listed on the Kale Blazer bottle is orange juice — with kale and apple juice listed second and third, said Kats.
"There is a disconnect between the label and the product," she said.
Apple and orange juices are chosen for the products because of the taste, said Theodore. "Naked is all about providing both nutritious and also delicious juices and smoothies."
RELATED: Trying a cleanse? Stay healthy with these alternatives to juice
Check the label!
People think juices are healthy, but may not realize they also contain loads of sugar.
A 4-ounce serving of juice, for example, takes two to three apples to make. "That is how much sugar is in it," said Cassie Vanderwall, a clinical nutritionist at University of Wisconsin Health.
Also, people can be confused about nutritional labels, believing that "no sugar added" means sugar free.
"The label ... can have a very strong influence if the consumer looks further at the nutritional information," said Vanderwall.
RELATED: What NOT to eat: 5 foods nutritionists avoid
Kristin Kirkpatrick, manager of wellness nutrition services at Cleveland Clinic, urges patients to check how many grams of sugar are listed on the label.
Even if a juice has kale or spinach in it, the juicing process strips away the healthy parts of fruits and vegetables —such as fiber — making those nutrient-packed foods less powerful, while leaving the sugar.
If a drink has more than 4 grams of sugar, "that is not a drink you should have," said Kirkpatrick.