Lauren Wasser was on her death bed in the fall of 2012 when she was diagnosed with toxic shock syndrome. Because doctors had to amputate her right leg below the knee, Wasser said, she thought her rising modeling career was over.
But now, nearly four years after the tragic event, the 28-year-old model proved even herself wrong. Wasser made her New York Fashion Week debut, proudly sporting her prosthetic leg on the runway.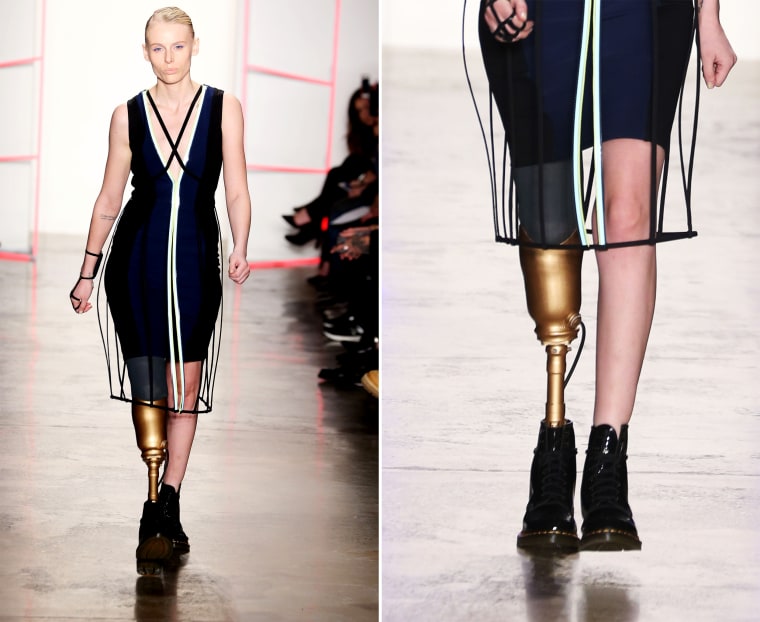 "Great day with great people," Wasser wrote in an Instagram photo caption backstage at the Chromat show Saturday, wearing the structural black dress she walked down the runway in.
The journey to Fashion Week has been an emotional one for Wasser, who in 2012 laid lifeless in bed, with most of her organs beginning to fail.
"I literally was laying there, thinking my life was over. That I would never be accepted again, I could never model again. No one would look at me the same," she told TODAY in July 2015.
She broke back into the fashion world in 2015, telling Instagram fans that both her and her mom cried the day she was on set shooting for Nordstrom's Holiday Catalog.
RELATED: Model reflects after losing leg to toxic shock syndrome, says she's 'more beautiful'
It was the last-minute diagnosis from an infectious disease specialist that saved her life, diagnosing her with the illness, a rare complication caused by toxins produced by some bacterial infections, including Staphylococcus aureus and A streptococcus bacteria. TSS is most commonly linked to use of superabsorbent tampons.
When an increased amount of women began dying of the infection in the 80s, the FDA was forced to better regulate the feminine product. Today, warning labels specifically address the amount of time tampons should be worn for, and the absorbency that's safest for their bodies.
RELATED: Toxic shock syndrome linked to tampon use nearly kills Michigan teen girl
We can't help but be excited for Wasser, who has truly embraced the person she's become.
"I'm more beautiful than I've ever been because I've experienced so many things, and I can relate to so many different people," she told TODAY. "And you know, it's just made me a better person."