For over a century, the New York Yankees and their 27 World Series championships have inspired countless young ballplayers around the world. But who, exactly, inspires them?
Alex Rodriguez, arguably one of the most popular player to wear pinstripes, recently shared his inspiration via Twitter: "So grateful that I got to spend time with Landis Sims today. A true inspiration." #RealCourage #ThankYouLandis
You've likely never heard of Landis. The youngest Yankee is a 10-year-old from Elizabeth, Indiana, born with no hands or lower legs.
RELATED: Hilarious Little League sign reminds overbearing parents: Relax!
Nonetheless, there he was last week at Yankees camp in Tampa, Florida, smacking singles around the field while Yankee first baseman Mark Teixeira and baseball legend Reggie Jackson looked on.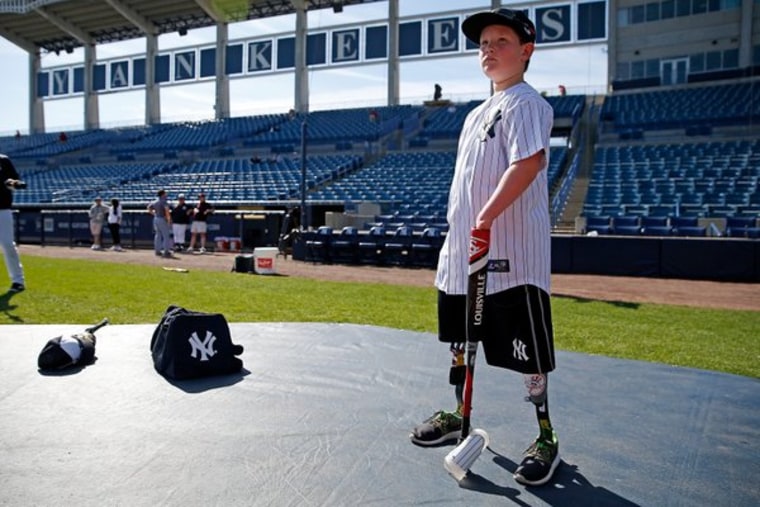 "I think he's overcome extraordinary obstacles to be the kid that he wants to be," Yankees manager Joe Girardi told TODAY.com via email. "That's special. That's a lesson for all of us."
RELATED: White Sox slugger retires after team puts limits on son's visits to clubhouse
Pitcher CC Sabathia helped Landis "negotiate" his one-day minor league contract, which included perks like his own personal locker and hanging out with his heroes, including Rodriguez, who signed a bat bearing the words: "to a great teammate."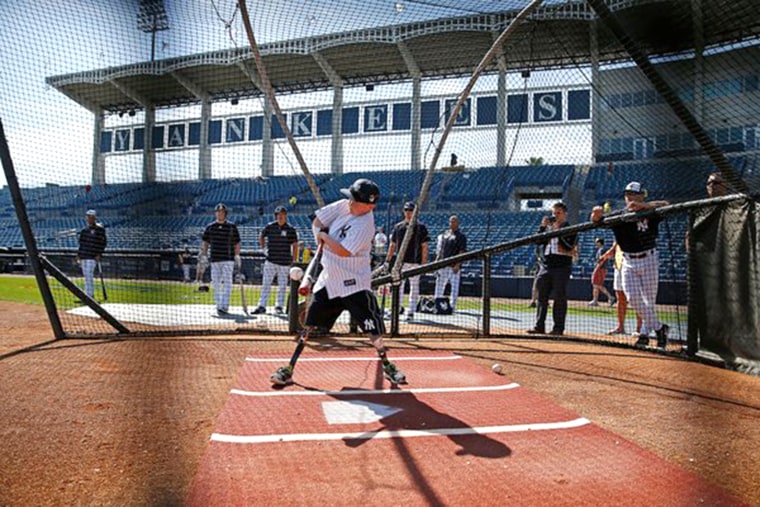 "He 100 percent feels God made him exactly the way he's supposed to be," Amanda Haag, Landis' mom, told TODAY. She described her son's day with the Yankees as life-changing. "It showed him anything is possible," she said.
Playing ball since the age of 2, Landis wears prosthetic legs and uses special equipment similar to a plastic cup to swing a bat. Throwing has always been an area of concern for him, since he throws with two hands. So Landis' family devised a catapult-like throwing style resulting in a surprisingly accurate heave.
RELATED: College basketball team honors cancer survivor, 9, by wearing mismatched shoes
Sure, Landis could've picked a sport far less arduous for someone with his condition, but in his mom's words, her son "hated" soccer. "As soon as he got ahold of a bat (a gift from grandma when he was 2) he was absolutely determined to hit!" she told us.
Landis dreams of becoming the first Yankee born with no hands or legs. The first steps — or swings — in that journey are being documented by filmmaker Eric Cochran, who told TODAY.com that "baseball is just a metaphor."
He added, "Landis' story should inspire others…he doesn't think he's any different than anyone else."
RELATED: This Milwaukee Brewers player has the best laugh in baseball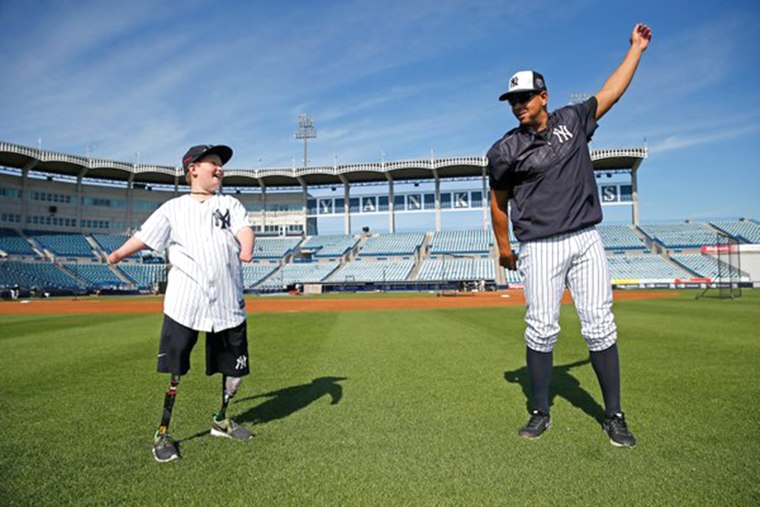 Truth is, this 10-year-old is very different than most of us — not because he has not hands or lower legs, but because of determination, and his optimism in the face of adversity. Yankees pitcher Jacob Lindgren seems to agree, tweeting: "Got to love a kid who pursues his dream no matter what obstacles stand in the way!"