Lady Gaga, who performed a moving rendition of her song "Til it Happens To You" at Sunday night's Oscars, has revealed that she had previously kept her status as a survivor of sexual assault a secret from her own family.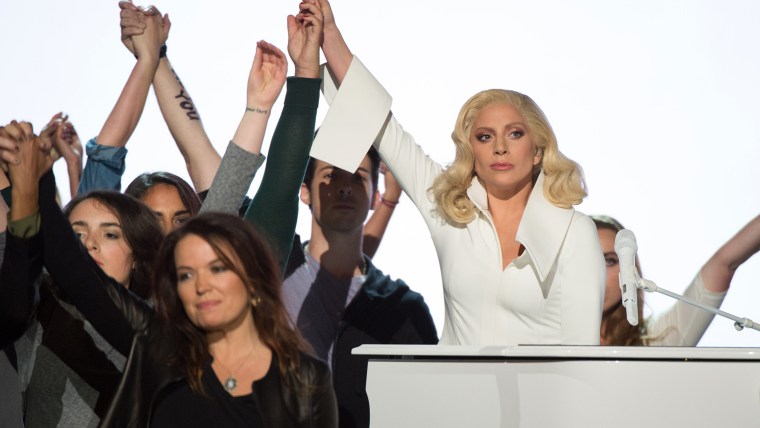 The song has been lauded as an anthem for survivors of sexual abuse and assault, though it's likely been a comfort to many other types of victims and survivors as well. Gaga made no effort to downplay this powerful element of the song on Sunday, with dozens of assault victims walking to the edge of the stage to join her toward the end of her performance.
RELATED: Lady Gaga delivers powerful Oscars performance of ''Til It Happens To You'
In an Instagram post Wednesday, Gaga said that it was also a moment of truth for her entire family. The day after her performance, she received a phone call from both her grandmother and aunt "because [she] never told them [she] was a survivor."
"I was too ashamed. Too afraid," she wrote in the emotional caption accompanying the photo of her family. "And it took me a long time to even admit it to myself because I'm Catholic and I knew it was evil but I thought it was my fault. I thought it was my fault for 10 years."
RELATED: Lady Gaga, Justin Timberlake grace Vanity Fair's Oscar series
"The morning after the Oscars when I talked to my grandmother Ronnie, with tears in her eyes I could hear them welling through the phone she said to me 'My darling granddaughter, I've never been more proud of you than I am today.'"
Gaga's sweet caption ended on an inspiring note as she urged all survivors to never hide from their past in an attempt to appease others.
RELATED: Instagram's most-liked Oscars pictures feature Kevin Hart, Lady Gaga and more
"Something I have kept a secret for so long that I was more ashamed of than anything — became the thing the women in my life were the most proud of. And not just any women, the ones I look up to the most. #BeBrave #speakup #tilithappenstoyou"