For months, Sarah Killion didn't pay much attention to her red, swelling breast. When she finally expressed some alarm, her doctors assured her it was probably a simple infection because she was so young.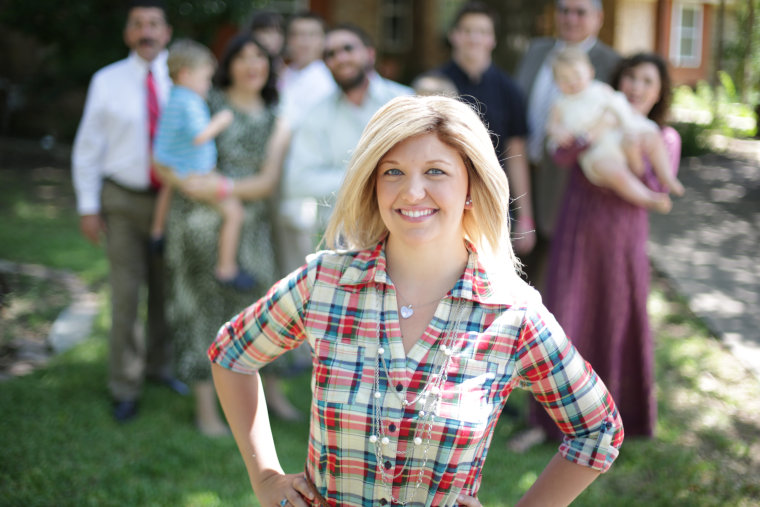 But a biopsy eventually revealed that Killion, a newlywed from Fort Worth, Texas, had inflammatory breast cancer, a rare killer that often eludes diagnosis.
The cancer had spread to Killion's liver and bones. She was only 27.
"I believe this disease is not as rare as everyone says it is — it's just misdiagnosed all the time," Killion told TODAY. "The aggressiveness of this cancer cannot afford to be put off or just a wait and see what happens."
Now, Killion is in clinical trial and wants to educate others about this fast-spreading cancer, which is often missed in typical breast cancer screening.
"It's been rough," said her stepmother, Suzanne George, 52, of North Richland Hills, Texas. "Frankly, I had never even heard of inflammatory breast cancer."
Neither have many doctors. Because symptoms differ from typical breast cancer, it is harder to diagnose, according to the American Cancer Society.
Symptoms and treatment of IBC
Inflammatory breast cancer, or IBC, affects about 4,000 Americans a year and, compared to other more common breast cancers, strikes at younger ages, according to the National Cancer Institute.
Its symptoms are unique: an inverted nipple; or skin can be red and hot to the touch, or have ridges or appear pitted like orange peel because of the build up of fluid in the breast.
Cancer patient's photo of dimpled breast goes viral
Often there is no lump, so the cancer can be missed by a mammogram. A doctor may suspect a infection like mastitis and waste precious time prescribing antibiotics as the cancer spreads.
More: Many women confused by new mammogram guidelines
IBC is rare — only 2 to 4 percent of all breast cancers, but has an unusually high mortality rate, according to Dr. Naoto Ueno, executive director of The University of Texas MD Anderson Cancer Center Morgan Welch Inflammatory Breast Cancer Research Program and Clinic.
"The breast is red, engorged and sometimes painful," said Ueno, who does not treat Killion. "Most people think it's an infection or mastitis. Nobody thinks about breast cancer."
Misdiagnosed rash
Treatment is also challenging and has to be done "in a sequential manner" for the chance of a cure —chemotherapy, then a modified radical mastectomy and then radiation.
Even after treatment, these cancers tend to "come back," he said.
"I am not trying to scare people, but knowing about this cancer can make a big difference."
Sometimes it's the dermatologist who first makes the diagnosis.
Karyn Pagano, a physician's assistant at Schweiger Dermatology Group in Long Island, lost her mother to IBC.
"My mother was misdiagnosed initially," she told TODAY. "She was 48 and had this rash on her breast. Her primary doctor treated her with topical medications, thinking it was an allergic reaction."
When the rash didn't go away, her mother was told she had mastitis and endured two rounds of antibiotics. Her mammogram was "absolutely normal," said Pagano.
A dermatologist eventually performed a biopsy and found the cancer, but it had already spread to her lymph nodes.
Now, Pagano always asks patients if she can examine their breasts and has even picked up a case.
"I try to make it part of the normal exam," she said. "It's something so important to me."
As for Sarah Killion, she got a second opinion at MD Anderson's IBC clinic. After 15 rounds of chemotherapy, her tumors no longer show significant cancer.
"IBC is dangerous but it's not an automatic death sentence," said Killion, who has found support from family and friends. "You are more than a statistic, and this can be beat."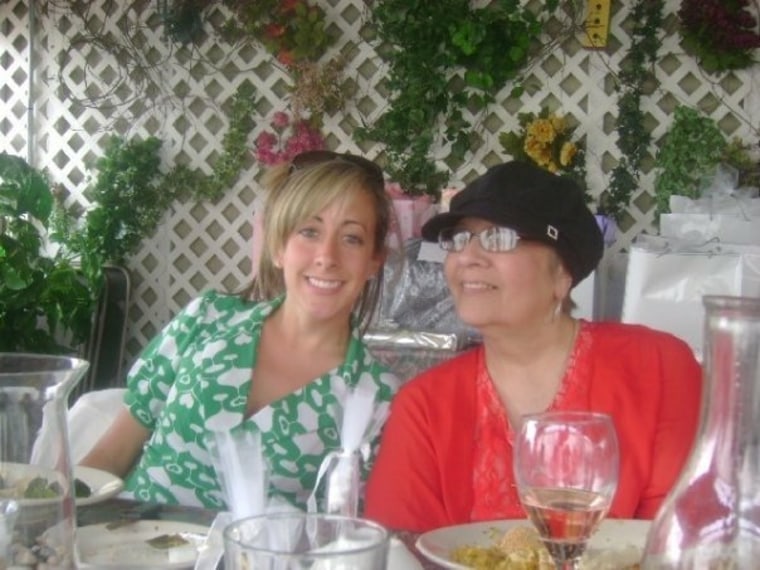 Killion also has her stepmother's employer to thank. American Airlines has funded the foundation's IBC research since 2008.
"It makes me grateful, because it's a really scary disease to face when it's someone you love," said Suzanne George. "Now that research may benefit Sarah if we have to battle this monster again."