Parents used to warn kids that caffeine would stunt their growth. These days, they're more likely to take them out for frappuccinos.
But new research hints at worrisome effects of coffee and soda for kids. Even low doses of caffeine — equivalent to what you'd find in a half to a full can of soda or a cup of coffee — had an effect on kids' blood pressure and heart rates.
And, interestingly, researchers found that the stimulant had more potent heart and blood pressure effects in boys than girls after puberty. The results were published Monday in the journal Pediatrics.
It's those kinds of cardiovascular effects that most worry experts, with some going so far as to say that they think caffeinated drinks should be eschewed until children hit their late teens.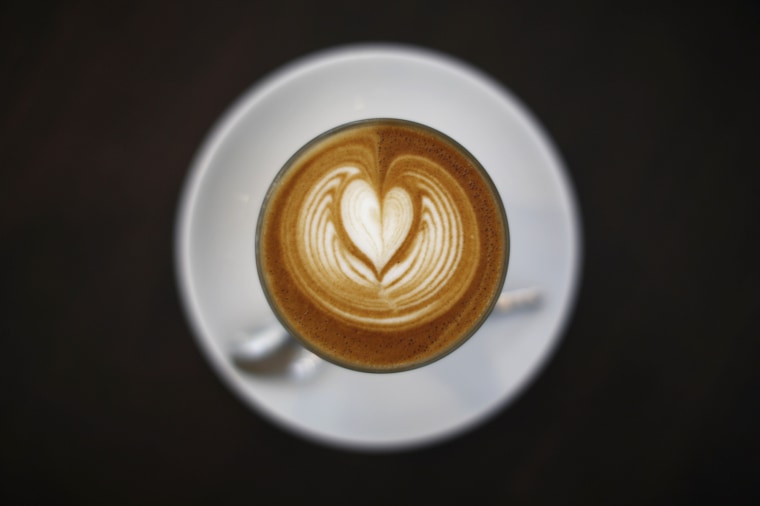 "There are lots of things we can't do because we're not old enough or mature enough," said Dr. Kevin Shannon, a professor of pediatric cardiology and director of pediatric arrhythmia at the Mattel Children's Hospital of the University of California, Los Angeles. "Caffeine should probably be added to that list."
The new study examined the effects of low doses of caffeine in 52 children aged 8-9 and 49 children aged 15-17. In the younger kids, gender made no difference. But in the older group, the stimulant's effects were felt more strongly by the boys.
Caffeine slowed heart rates and increased blood pressure in all the children. Though the slowed heart rate might sound counterintuitive, it's not a new finding, said the study's lead author Jennifer Temple, an associate professor at the University of Buffalo's School of Public Health and Health Professions.
At low doses the heart slows down to compensate for rising blood pressure, Temple explained. At higher doses, the heart speeds up.
"This study shows that what we would consider to be a low dose of caffeine — what some might not think twice about giving to an 8-year-old — is having an effect on the cardiovascular system," Temple said. "And right now we don't have enough data in kids to know what the long term effects of repeated exposure to caffeine would be."
That, along with the fact that the stimulant has no health benefits, may mean that the best choice for parents is to keep caffeine away from their kids, Temple said. Besides, "I know I don't need my kids to be any more awake or active than they already are."
Still, that may be easier said than done, given that caffeine has become one of the most popular drugs in the country, said Jessica Lieb, a registered dietician at the Children's Hospital of Pittsburgh of the University of Pittsburgh Medical Center. A recent report found that 17- and 18-year-olds are drinking almost double the amount of caffeine from coffee compared with a decade earlier. Teen soda consumption has declined, but researchers fear kids are replacing soda with coffee and energy drinks.
"I think there is no place for caffeine in a child's diet until they become young adults, at age 18," Lieb said. "And even in adults, it's important to be really careful. As in all things, caffeine should be consumed in moderation." 
Coffee, at least when it's consumed in moderation, seems safe for adults, and maybe even beneficial.
With the rising popularity of caffeinated drinks, children are getting less of the fluids they should be consuming: milk and water, Lieb said. "These caffeinated beverages are lacking in nutrients and a lot of them have added sugar," she added. "Some of the coffee drinks blow soda out of the water with the amount of sugar added to them."
Particularly worrisome is the proliferation of energy drinks, said Dr. Steven Lipshultz, the pediatrician in chief at the Children's Hospital of Michigan and chair of pediatrics at the Wayne State University School of Medicine. People don't realize that at high doses caffeine can bump blood pressure into the danger zone and spark life-threatening heart arrhythmias, Lipshultz said. It can also trigger neurologic symptoms, including seizures.
Lipshultz and his colleagues have determined that a full 50 percent of reports to the National Poison Data System about energy drinks were in children younger than 6. "They didn't go out to the store and buy those drinks themselves," he said. "They found them in the house."