As Christine Blasey Ford and Brett Kavanaugh addressed allegations of sexual assault in front of the Senate Judiciary Committee Thursday, a distraught 76-year-old woman called CSPAN. It reminded her of her own experience being sexually abused when she was in second grade, she said.
"Thought I was over it but it's not. You will never forget it," Brenda from Missouri admitted through tears on air.
She is not alone. For many, the hearings brought back feelings about their own experiences of sexual assault or abuse. RAINN, the Rape, Abuse and Incest National Network, reported that the National Sexual Assault Hotline helped 201 percent more people on Thursday than it normally does.
"It's not that 201 percent more sexual assaults happened yesterday," Dr. Thea Gallagher, clinic director at the Center for the Treatment and Study of Anxiety at the Perelman School of Medicine at the University of Pennsylvania, told TODAY. "It is more like 'Oh my gosh, I want to talk about my experience.'"
Hearing details of allegations against Kavanaugh or at Bill Cosby's sentencing can cause a visceral reaction.
"We are all touched by this whether or not we have been sexually assaulted. Our empathy gets touched," Christine M. Nicholson, a private practice therapist outside of Seattle told TODAY. "If you have been a victim, it is hard."
Nicholson is not surprised more people are reaching out to the hotlines. She and other therapists have been helping more patients grapple with their own experiences with sexual assault and abuse recently. Asking for help is an important part of coping.
"People need support," Nicholson said.
Often people feel ashamed. But experiencing a variety of feelings when hearing about sexual assault is perfectly normal.
"It definitely triggers similar feelings because you remember how you felt," Gallagher said.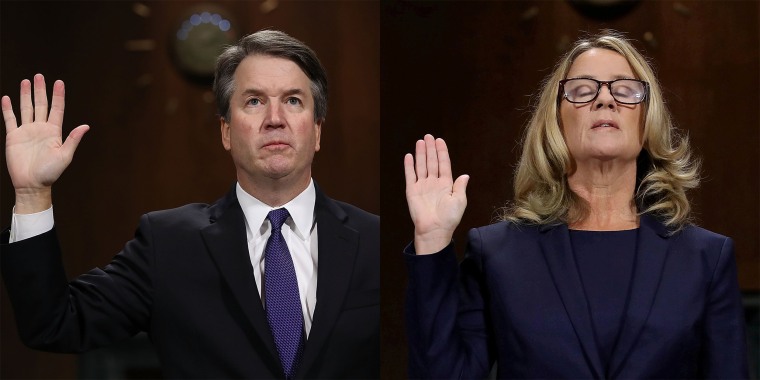 When these feelings arise, the experts recommend self-care and offer advice for working through feelings.
Talk with someone
While calling a hotline or talking to a therapist can help, even reaching out to a loved one can make a difference.
Be with yourself
"You have to kind of sit with your feelings a bit and cry," Nicholson explains. "Because when people are not in touch with their feeling … oftentimes behavior takes over and we act out and that can be negative."
Remember what makes you feel good
After accepting your feelings, people should do something they enjoy, such as talking a walk, talking with a friend, reading a book or playing with a pet.
Remind yourself there are good people
Think of people who have been kind to you or help make the world a better place.
For people who want to support loved ones who have been sexually assaulted or harassed, Nicholson suggested that they say, "Just tell me about it."
It's important not to let people become consumed with negative self-talk. Many victims of sexual assault and harassment feel embarrassed or guilty and fixating on it can be unhealthy. When Gallagher has patients that blame themselves, she asks them to imagine how'd the address a loved one.
"Think of what you would tell your best friend," she said. "Would you ever say they were deserving of these experiences?"
Then she counsels them to be just as kind to themselves.
Nicholson said it is important for people to remember they are not to blame for sexually assault or harassment.
"You can't always avoid bad things," she said. "Sexual assault is not a sexual thing, it is an aggressive act. It is not a loving act. It is not an intimate act. It is dominant aggressive act."
People needing support can call the National Sexual Assault Hotline at 1-800-656-4673 or visit online chat.