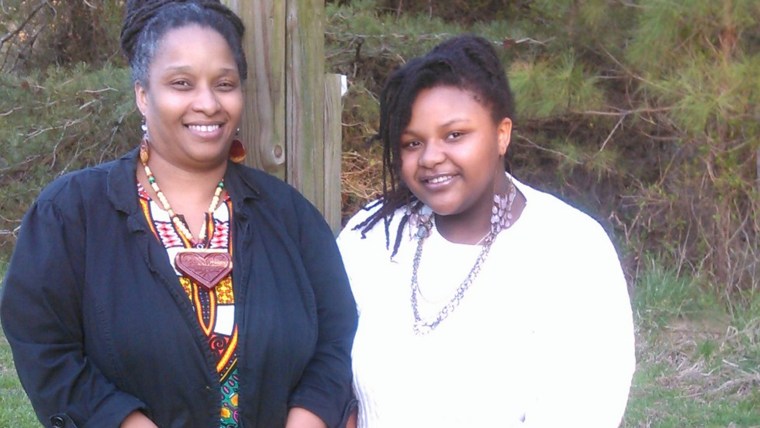 As more adults use juice cleanses to try to lose weight or improve their health, another trend has emerged. Their children want to "juice," too — but experts are urging caution. 
When 14-year-old QueenAsia Croxton of Lancaster, Va., wanted to shed some pounds, she and her parents, Barbara and William Croxton, considered a juice cleanse. They found Dherbs Children's Cleanse, a line of extracts for children, ages 2 to 12, meant to be taken with juices, teas, and vitamin water and supplemented with a raw foods diet.  
For 10 days, QueenAsia drank the extracts in tea and vitamin water and ate raw fruits, vegetables, and nuts, causing a 12-pound weight loss. The teen hopes to lose 50 pounds.

"She was actually excited about it," Barbara says. "Once she started, she stuck to it and it was really an amazing thing … it made her feel different."
QueenAsia continues eating raw foods and losing weight slowly; she plans on completing another cleanse this summer.  
While it seems QueenAsia's eating habits improved, experts warn that juice concoctions can be risky for kids.

"[Juice cleanses] will initially help you lose weight because they are very low in calories," says Ann Condon-Meyers, a registered dietitian at Children's Hospital of Pittsburgh of UPMC. But believes that juice cleanses for children may reinforce bad behaviors. 
For example, toddlers prefer to drink rather than eat because it is easier and juicing means the children don't practice chewing. And, juice cleanses send the wrong message about eating.

"You are not teaching them to enjoy new foods," she says. "They are not learning how to make healthy choices."
Dr. Wendy Anderson Willis says she would not recommend a juice cleanse for any child.
"What we're dealing with is lots and lots of carbohydrates and sugars [and that] is going to cause diarrhea," says Anderson Willis, a clinical associate professor of pediatrics at Nationwide Children's Hospital in Columbus.
Juice cleanses can also disrupt electrolyte levels and lead to a condition called hyponatremia, which occurs because of a sodium deficiency. This can cause alarming neurological and heart problems.
"Healthy food and exercise and lots of sleep are important in terms of keeping kids well," Anderson Willis says.
But using juices sparingly, as part of a well-rounded diet, can be healthy, she adds.
While supplementing might be okay, Anderson Willis recommends moderation; children should only drink 4 to 8 ounces of juice and teens should only drink 8 to 12 ounces, daily.

"We just don't want to give children the impression that juices are the way to fix everything," she says.
Many juice cleanses claim to rid the body of toxins, but the science doesn't show that.
"There is really no evidence whatsoever that a juice cleanse works … to remove toxins," says Anderson Willis.
Condon-Meyers says she has no idea what people mean when they use the word toxins or why people think they need to be cleared from the colon. Both Condon-Meyers and Anderson Willis agree that the liver and kidneys process toxic substances.
"If you are talking about foods that have preservatives and are not organic … the logical way to eliminate those from your diets is to eat foods that are organic," says Condon-Meyers.
If parents and children are considering a diet change, Anderson Willis advises them to meet with a nutritionist or dietitian.
"Just from seeing the good intentions of people trying to take on a new lifestyle … they don't fathom that this could be dangerous in any way or they are missing certain nutrition," says Anderson Willis.