This list provides the ingredients you'll need to follow the Drop 10 Meal Plan. Before heading to the store, be sure to review the food plan (breakfast, lunch and dinner) and figure out which meals and recipes you will — and will not — be eating so you can cross off unnecessary items. Enjoy!
Personalize this list by adding your favorite snack and non-starchy vegetable options.
RELATED: Join Drop 10 TODAY!
Vegetables:
Bell peppers, green, red and yellow
Broccoli, frozen or fresh
Carrots, baby and traditional
Cauliflower, fresh, frozen, and/or rice-form
Cucumbers
Corn, fresh or frozen
Gingerroot
Green beans, fresh or frozen
Lettuce/Mixed greens of choice
Onions
Peas, fresh or frozen
Potatoes, sweet and white
Scallions
Spinach, baby leaves
Spinach, fresh or frozen
Sugar snap peas, fresh or frozen
Tomatoes, traditional and cherry/grape
Tomatoes, canned-diced, no salt added
Additionally, add your favorite veggies from the unlimited non-starchy vegetable list here.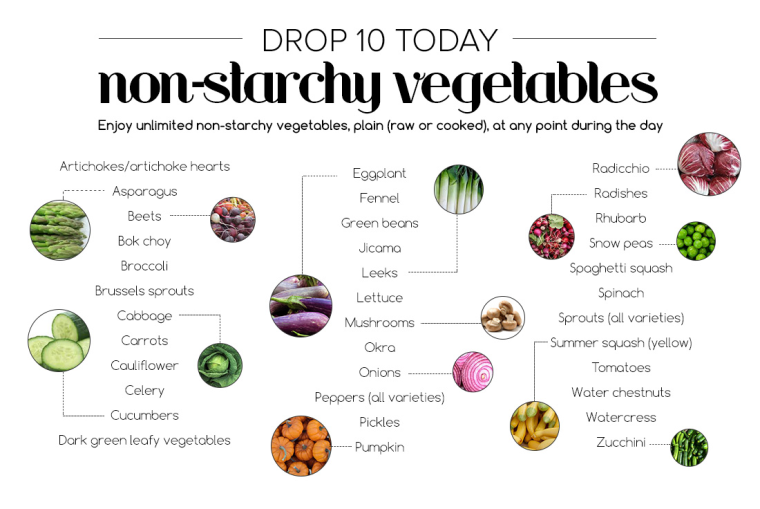 Fruit:
Apples
Applesauce, natural/unsweetened
Avocados
Bananas
Cantaloupes
Berries, fresh and frozen
Grapefruits
Lemons or lemon juice
Oranges
Strawberries, fresh or frozen
Nuts and legumes:
Beans: black beans, chickpeas, kidney beans, white beans or any other preferred variety
Edamame, frozen and shelled
Nuts: walnuts, pecans, peanuts, almonds or pistachios
Peanut butter or peanut butter powder
Protein:
Chicken breast
Eggs and/or egg substitutes
Fish
Ground turkey (at least 90 percent lean)
Pork tenderloin
Shrimp
Sausage, chicken or turkey
Tofu, extra-firm
Turkey
Dairy
Cottage cheese, light
Cheddar cheese, reduced fat and shredded
Greek yogurt, low fat/nonfat (plain or flavored)
Milk, skim or 1 percent low-fat cow's milk, soymilk, light coconut or unsweetened almond milk
Mozzarella cheese, part-skim and shredded
Sour cream, light
Swiss cheese, reduced fat
Whole grains:
Bread, whole grain
Granola
High-fiber cereal
Hamburger buns, whole grain
Pita, whole grain
Rice, brown or wild
Rolled oats, old fashioned and quick-cooking
Quinoa
Spices, seasonings:
Chili powder
Cilantro, fresh
Cinnamon, ground
Cumin
Curry powder
Nutmeg, ground
Garlic, ground and/or cloves
Oregano, ground
Parsley, fresh
Red pepper flakes
Taco seasoning
Turmeric
Condiments/miscellaneous:
Barbecue sauce
Butter or soft tub spread
Chia seeds
Cocoa powder
Honey
Hot sauce
Hummus
Ketchup
Lentil, black bean or veggie soup
Maple syrup
Marinara sauce
Mayonnaise, reduced fat
Mustard
Oil spray
Olive oil
Salsa
Sesame oil
Soy sauce, low-sodium
Vegetable oil
Vegetable broth, reduced sodium
Vanilla extract
Vinegar (preferred varieties)
Snacks:
Enjoy one to two snacks each day — and add your favorites to this list.
For more diet and fitness advice, sign up for our One Small Thing newsletter!