Looking for frozen treats that taste too good to be healthy? Check out these three delicious desserts, which are sure to please both you and your kids. Each one is under 170 calories and packs a nutritional punch, along with amazing flavor. Try them all!
WATCH: Chocolate yogurt pretzel pop: Too good to be healthy?
Frozen crunchy bananas (from Sandra Leal)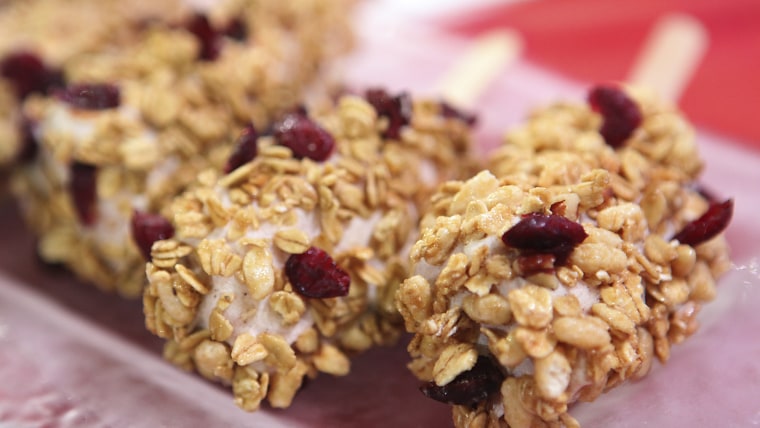 Ingredients: 
3 bananas, cut in half and skewered with Popsicle sticks
1 container honey-flavored 0% fat Greek yogurt 
1.5 cups toasted granola
2 tablespoons cinnamon 
1 teaspoon nutmeg

Directions:  
Once the bananas are skewered, roll them in cinnamon and nutmeg. Then roll them in Greek yogurt, followed by the granola. Wrap in plastic and freeze for about 4 hours. Enjoy!

Makes 6 servings; each serving contains 132 calories, 4 grams protein, 3 grams fiber.
Cool down with Joy Bauer's blueberry-nectarine freeze pops
Yogurt-chocolate pretzel pops (from Isabel Minunni)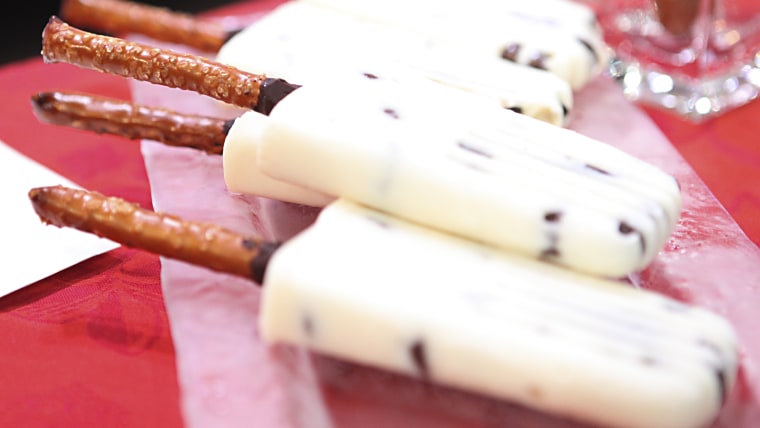 Ingredients: 
1 cup dark chocolate chips, divided
14 pretzel rods
3 cups plain, unsweetened yogurt
1/4 teaspoon vanilla extract
1/3 cup honey

Directions:
With a double oven, melt 1/2 cup chocolate chips. Coat one end, halfway up, of each pretzel with melted chocolate. Place on foil or parchment paper to harden.

Meanwhile, in a large bowl, thoroughly mix yogurt, vanilla, honey, and remaining 1/2 cup chocolate chips. 
Scoop yogurt mixture into 14 desired pop molds. Place in the freezer for about 30 minutes. Place a pretzel in each mold, with the chocolate-coated side into pop, and place back in the freezer to completely freeze — about 6 hours. 
Place ice pop mold's tips in warm water to remove yogurt pops. Serve and enjoy! 
Makes 14 pops; each serving contains 167 calories, 4 grams protein, 1.5 grams fiber.

Joy Bauer's healthy recipe for banana ice cream 
Grilled pineapple sorbet (from Jennifer P. Egan)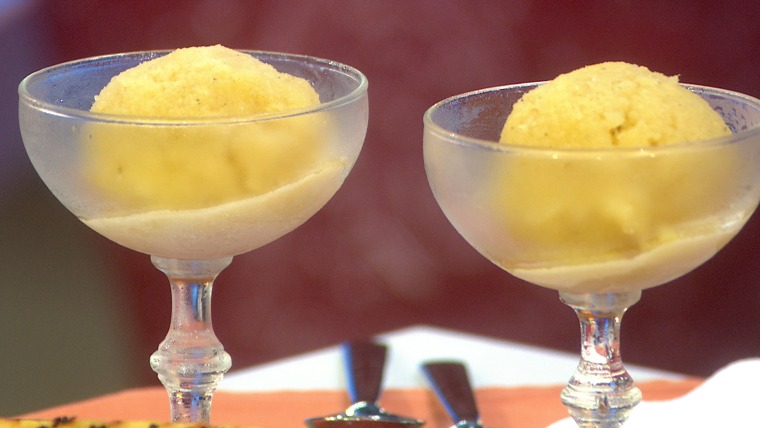 Ingredients: 
1 fresh pineapple peeled, sliced in rounds and grilled
1/4 cup agave nectar or honey
1/2 cup water
1/2 cup rum (for kid-friendly version, substitute 4 tablespoons fresh-squeezed lemon juice)
1 tablespoon coconut oil for a more piña colada flavor (optional)

Directions: 
Combine grilled pineapple, sugar, water, and rum (or lemon juice) in a food processor. Blend all ingredients until smooth.

Pour mixture into an ice cream maker and blend until thick, frozen and creamy. Alternatively, pour mixture into freezer-safe dish, place in freezer and stir thoroughly once every half hour until sorbet is set. Serve, smile and enjoy!
Makes 4 servings; each serving contains 168 calories, 2 grams protein, 4.5 grams fiber.

Yum! Joy Bauer's cheery-vanilla-chocolate ice cream sandwich
For more delicious recipe ideas follow Joy on Twitter, Facebook and Pinterest. 
For more fit tips, sign up for Jenna Wolfe's weekly fitness newsletter!