John Stamos may be best known for bringing his charms to "Full House," but for the past 15 years, he's been delivering cheer to children with serious illness.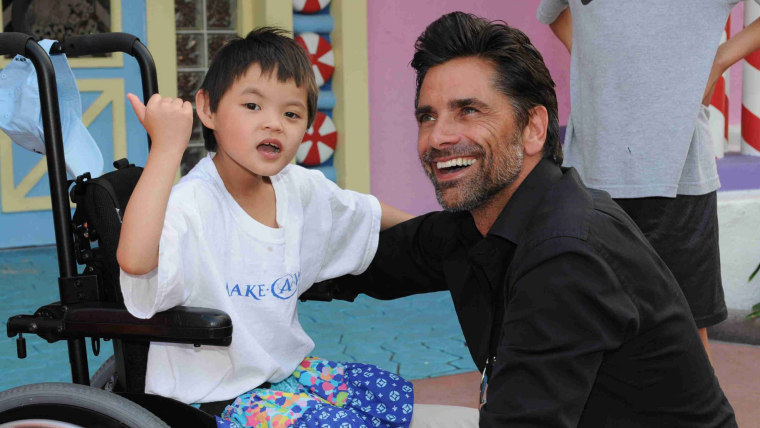 The actor, now starring in the Netflix sequel "Fuller House" and the Fox comedy "Grandfathered," has been a longtime volunteer for Give Kids The World, a Kissimmee, Florida, nonprofit resort that provides free week-long vacations to the families of seriously ill kids.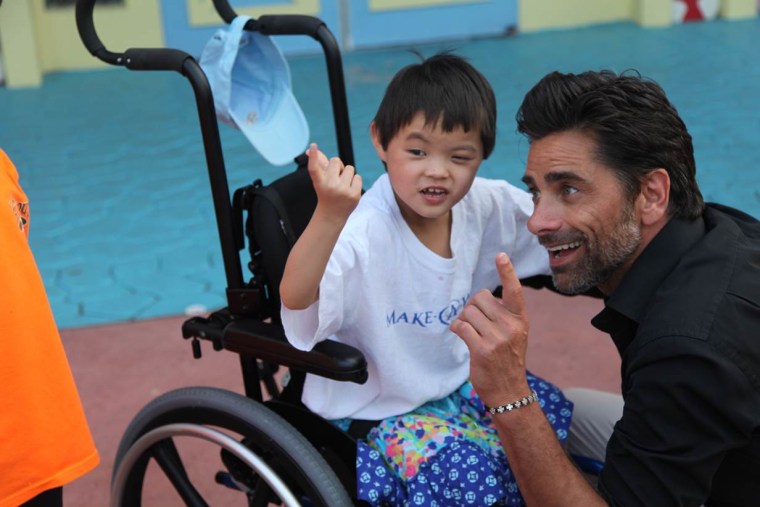 During last Friday's visit to GKTW's resort, Stamos bonded with kids, including a 6-year-old Alabama girl named Faith. Her father, Shannon Keith Ginn, told TODAY.com via email Monday that she's "usually shy around strangers but she instantly connected with John Stamos and was eager to interact with him."
Adopted from China when she was 3, Faith is non-verbal but "very quick to smile and giggle despite all of her medical issues," which include a brain injury at birth and a subsequent malignant brain tumor, Ginn wrote. "She has completed 26 rounds of chemotherapy with at least 16 additional rounds scheduled," he added.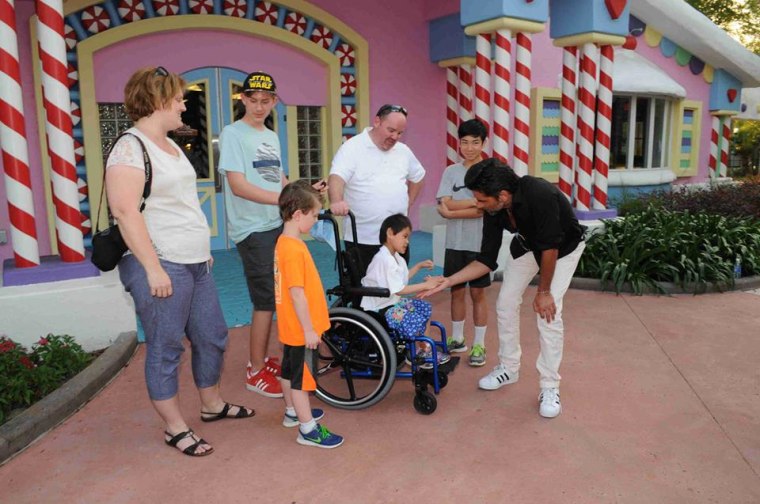 On a Make-A-Wish vacation that included trips to SeaWorld and Walt Disney World, Faith and her family had a chance to focus on fun. And while Faith might not have recognized Stamos, Ginn's sons did. "Our youngest son, Riley, immediately recognized him as 'Uncle Jessie' and repeatedly referred to him by his 'Full House' character name during the conversations with him," Ginn wrote.
"My perspective as a father was that John Stamos was sincerely interested in meeting the children at GKTW and their families," Ginn added. "He was not at all in a hurry and we got the sense that he wanted to be there that evening. He made a point to speak with each member of the group."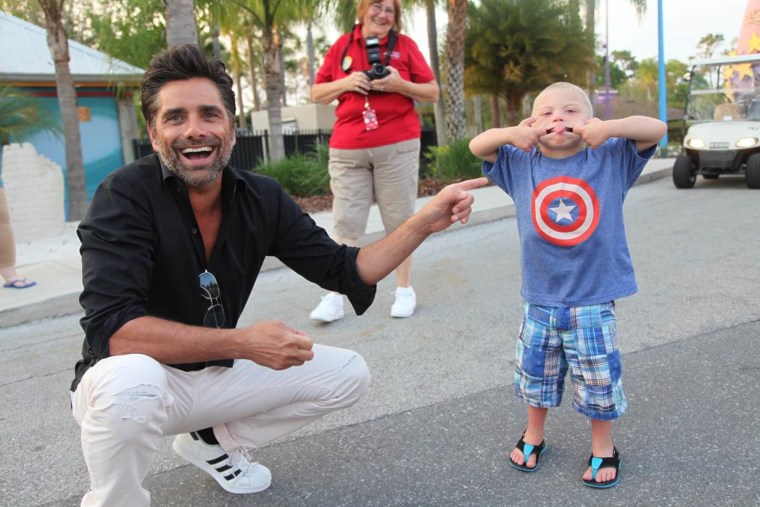 That didn't come as a surprise to Pamela Landwirth, the president of Give Kids The World. "He's just amazing with the kids," she told TODAY.com on Monday.
MORE: Netflix turns into ultimate John Stamos fan site for April Fools' Day prank
What began as a single visit at least 15 years ago, she added, has become a more routine occurrence. "When he would come back into town on vacations, he would call and say, 'Is it OK if I come out [there]?" Landwirth added. "He's just such a wonderful person. He's very authentic, very down-to-earth."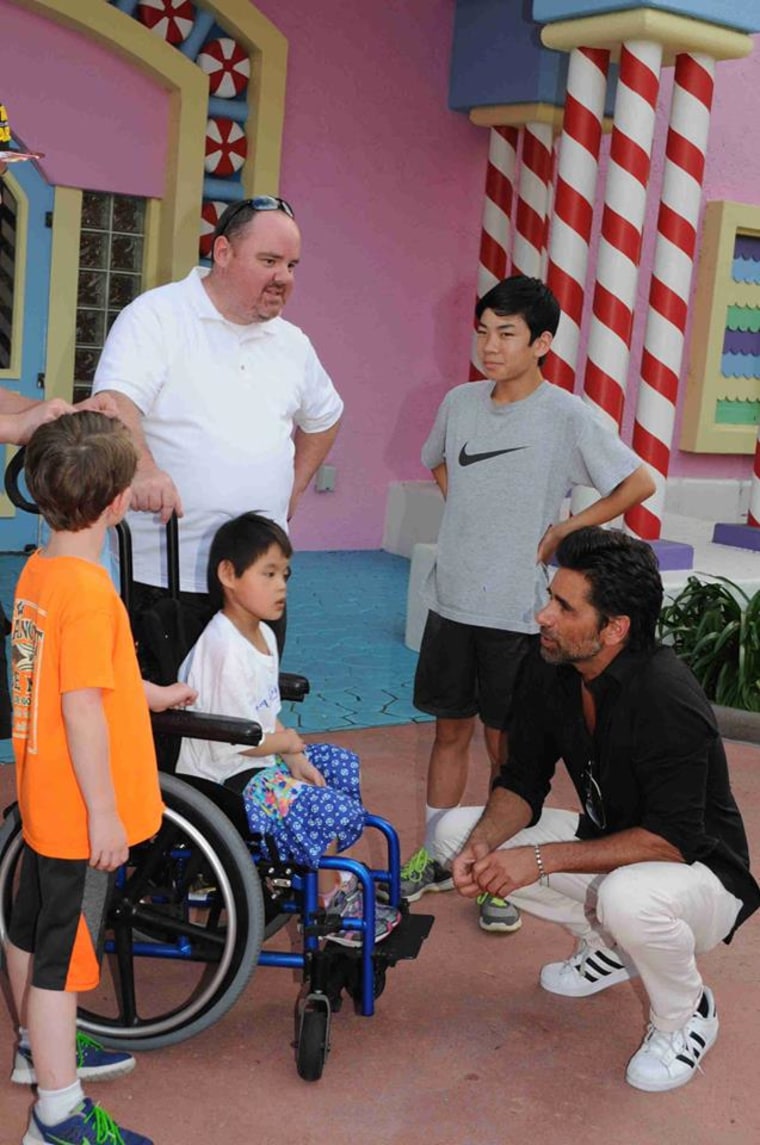 Ginn considered Stamos' visit to be a lasting memory.
"It's not every day that a girl from small-town Alabama by way of China meets a celebrity!" he wrote. "We were also amazed at how many volunteers were at GKTW and all of the places that those volunteers had traveled from to help serve the families of these children facing life-threatening illnesses. It was a magical week of much-needed respite to focus on our family and to temporarily set aside cancer, chemo, and all of the things that go with her diagnosis."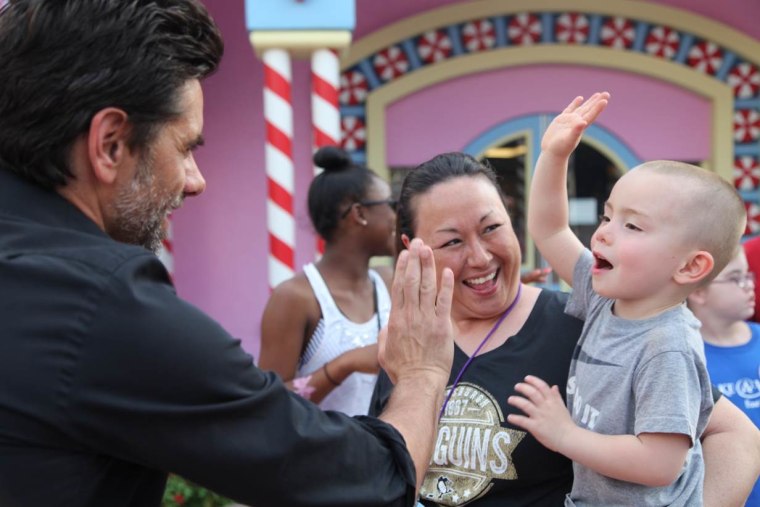 Give Kids The World has donated its services to more than 145,000 families over its 30-year history, including an estimated 8,000 families this year, Landwirth said.
Stamos' early-evening arrival on Friday came with plenty of buzz. "It didn't take long for word to spread that John was here," Landwirth said.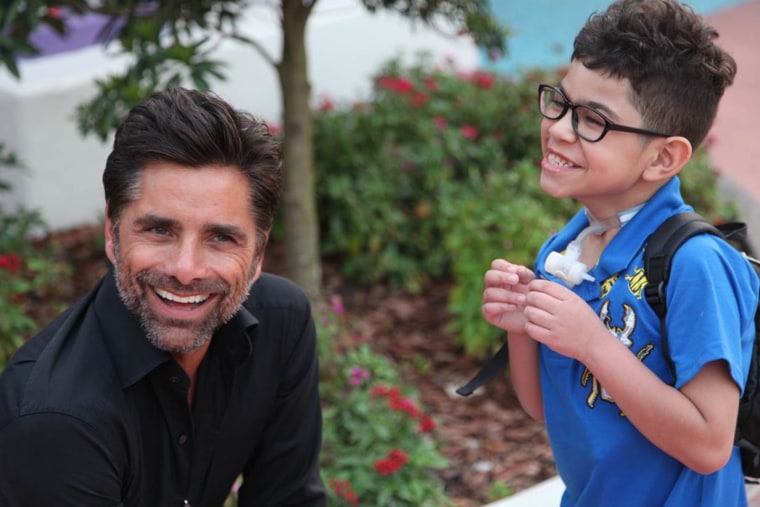 The positive interactions he's made with kids and their families can make a big difference emotionally and psychologically, she said.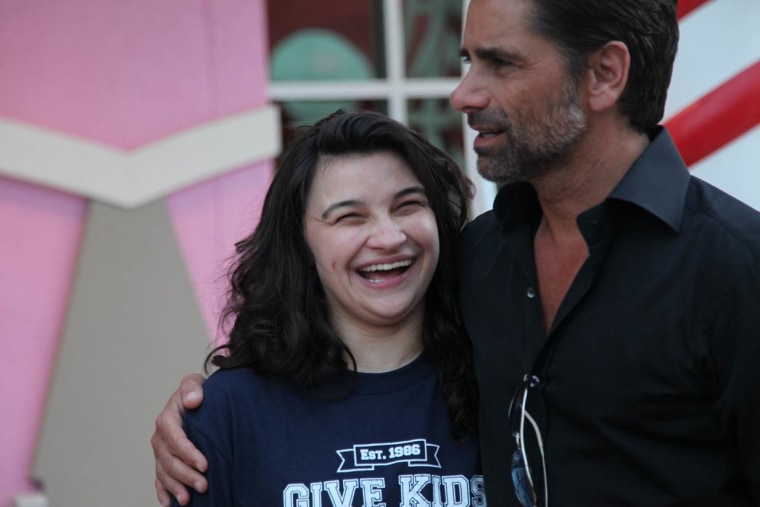 "He always knows the right thing to say to make kids feel at ease," Landwirth added. "One time, a child said to him he was in remission or that he'd just finished treatment, and John was commenting on that and was giving him high-fives, and telling him, 'Congratulations!' It's just giving them that little spark that helps them go back and renew their battle against their illness."
Follow TODAY.com writer Chris Serico on Twitter.