We like John Goodman so much we take him as we find him: hefty or slim, funny or creepy. And these days, he's walking around having dropped a lot of weight ... and showing up in a new film, "10 Cloverfield Lane," giving off a surprisingly effective scary vibe.
TODAY's Savannah Guthrie got to the bottom of both things Wednesday, despite the distraction of unrelated show guest Sacha Baron Cohen walking around off-camera, handcuffed to Matt Lauer.
First off, as we noted last week, Goodman is looking great after losing a bunch of weight (he won't say how much) recently. But he's a little self-deprecating about whether it will stay off (something we can definitely empathize with).
"Just wait another six months and I'll be back to normal," he noted. "That's the way it usually goes. I have no idea how much I lost. I didn't weigh myself. Clothes fit nice and I can go to nice clothing stores and buy too much stuff."
MORE: Lookin' good, John Goodman! Actor continues to look slim thanks to new diet
Meanwhile, there's another recent change in Goodman — that is, his dark turn in "10 Cloverfield Lane," where he plays a survivalist who may or may not have kidnapped a woman into his bunker under the guise of saving her from a mysterious threat.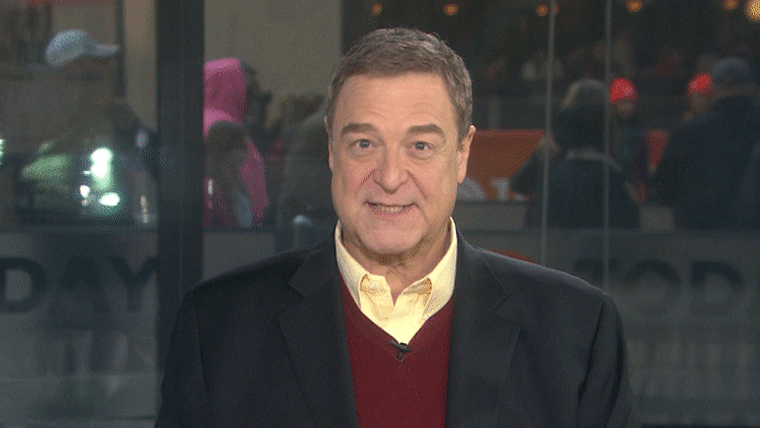 "I tuned down my natural creepiness a little bit for this movie," he noted, offering up some "creepy guy eyes." "I can't get away with nothin'."
So if he were stuck in a bunker, what's the one thing Goodman would want to have on hand? "Preparation H," he joked, then laughed. "It's just the first thing that popped into my head. My iPod. I gotta have my music."
MORE: John Goodman and Matt Lauer bond over baldness and teddy bear talk
We completely understand!
"10 Cloverfield Lane" opens in theaters on March 11.
Follow Randee Dawn on Twitter.