Not even hospice can get Joey Feek too down. Now bedridden, the country singer asked to lead her husband and band-mate, Rory, in a dance at her mother's home.
"A few days ago, on the last day Joey walked, I took her in my arms in the living room and once more put her hand in mine and we danced," Rory wrote on their blog, This Is Life, Sunday. "She steadied with her cane and I softly moved her across the room singing George Strait's 'You Look So Good In Love' in her ear."
Rory wrote that in the middle of the song, Joey asked if she could lead.
"And I followed her lead as we slowly two-stepped on her mama's living room floor," Rory said.
RELATED: Country singer Joey Feek opens up about 'finding peace' with dying in candid interview
In his heartfelt essay, the latest in a series devoted to his wife's battle with stage IV cervical cancer, Rory noted that Joey can no longer get out of bed, but that neither of them feels convinced this is the end.
He described the experience of hospice as a "roller coaster," adding:
"One moment her light is very dim and she sleeps all the time and is struggling with the simplest of things. And we (along with the doctors and hospice) believe that the time must be very near…And then, she'll awaken one day and start talking and we'll see that familiar spark in her eye. And she will be so crystal-clear with her thoughts, we will gather in the next room and say, 'maybe, just maybe…?'"
Rory's essay is filled with candid photos of Joey in hospice. In all of them she is smiling with confidence and personality.
"With all she's going through, I only want her to be seen in a good light. So, though I'm only an amateur with a camera, I try to use my lens and words to lift Joey up," Rory wrote. "Like any woman, my wife is self-conscious about what cancer has done to her. Who she sees in the mirror these days looks like someone else… not the woman that she feels like she is inside. And it hurts her deeply. I know that."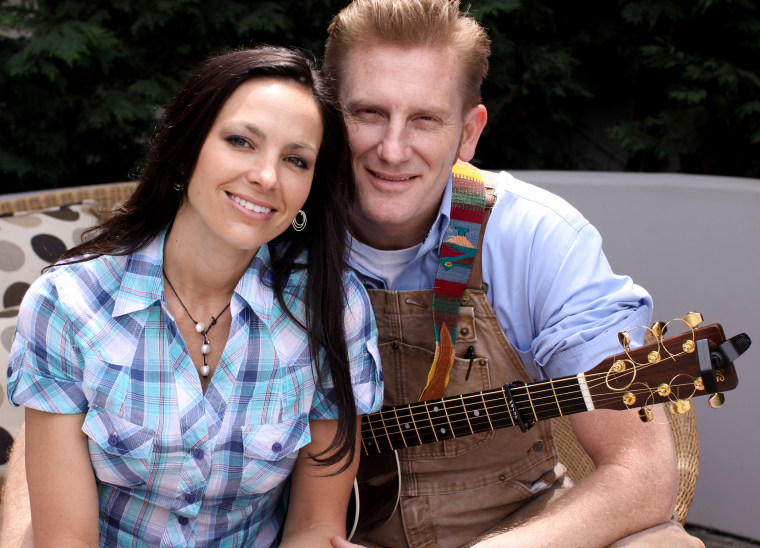 RELATED: 'Joey is at peace': Singer enters hospice, spends last days showering baby with love
"So, I carefully choose what I share. It would break my heart to have the thousands of 'before' photos out there of her looking beautiful and healthy all these years… be replaced in people's minds and hearts by a single 'after' photo of what cancer has done," he wrote. "She wants to be remembered as a singer of songs. A devoted wife. A loving mother. Not a cancer patient."
He said that they will continue to share their most personal journey with the public because "sharing what we're going through with others is really all we have to give."