We're kicking off Breast Cancer Awareness Month on Oct. 1 on the TODAY plaza — and Joan wants you to join!
If you have undergone treatment, please join us for what we hope will be an empowering moment for women. Email todaypinkpower@gmail.com for more information.
The latest issue of People magazine features a bald and beaming Joan Lunden, the beloved newswoman currently battling a rare and aggressive form of breast cancer.

Lunden, 64, has completed several rounds of chemotherapy and, Tuesday, underwent surgery to remove a tumor.
Lunden will join TODAY as a special correspondent during National Breast Cancer Awareness Month in October as part of a series on the disease. She joined Wednesday's broadcast by phone to discuss her decision to appear bald in magazine photos for People.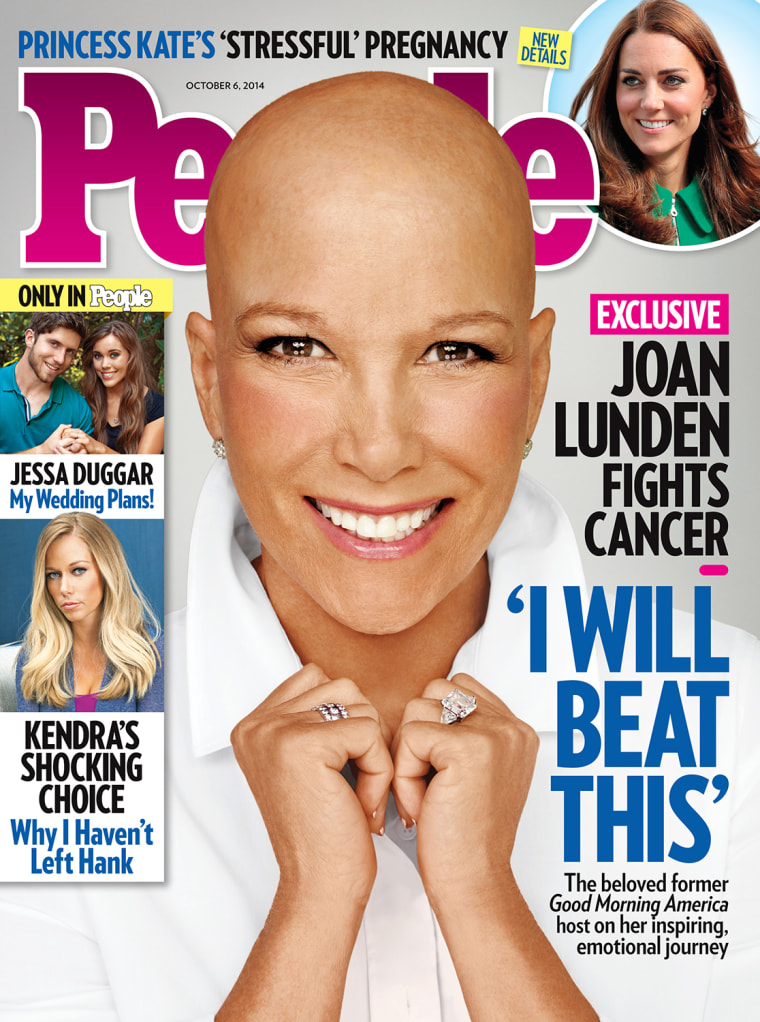 "It was such a tough decision. As a parent, I worried how my kids would think," she said. "And it wasn't the comfortable decision — knowing you were going to be seen by everyone in such a vulnerable way — but I know it was the right decision."
It the end, she wanted to help other women going through the same ordeal.
"I knew I could be a voice for a quarter of a million women who are diagnosed every year with breast cancer, and I wanted to show that your health is more important than your hair," she said. "Your hair grows back after you stop chemo, and then you have your life."
The former "Good Morning America" host recently spoke to Hoda Kotb, a breast cancer survivor, about the magazine shoot, explaining how she first asked her children about whether to wear a wig or not for it.

"This was just theoretical, like, 'What do you think guys think? Should Mommy do this picture without hair?'" she recalled. That's when her 11-year-old son, Max, immediately raised his hand.
"'Definitely do it without hair,'" he said. "I said, 'Really?' 'Absolutely. You can make a difference and save lives. You have to do it that way.'"
Lunden first revealed she had cancer in June. The disease was caught after she went in for an annual mammogram and ultrasound.
Follow TODAY.com writer Eun Kyung Kim on Google+ or on Twitter.