Cindy Stowell had always dreamed of being a contestant on "Jeopardy!" and winning money to donate to cancer-related organizations.
Tragically, the science content developer from Austin, Texas, died from colon cancer on Monday, eight days before the Jeopardy! episode featuring her will air.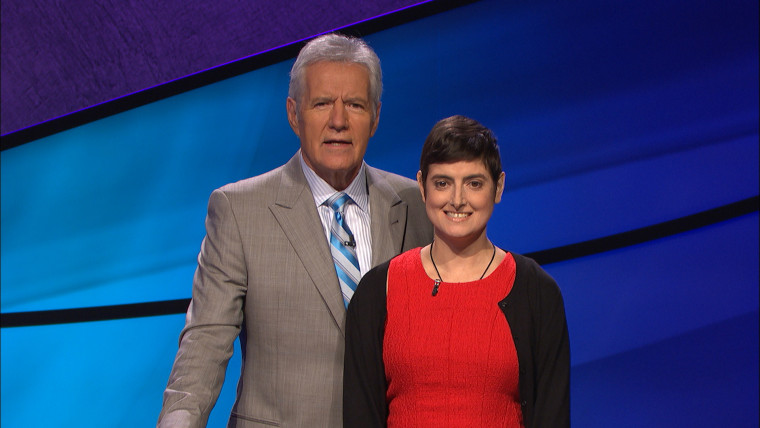 Her boyfriend, Jason Hess, tweeted the news of her death while encouraging others to watch her episode when it airs on Dec. 13 and donate to the Cancer Research Institute in her memory.
Stowell had Stage IV cancer and was on painkillers during the taping of her episode on Aug. 31. She also was battling a fever that turned out to be a blood infection, according to Hess.
RELATED: Contestant delivers hilarious — and completely wrong — 'Jeopardy!' response
"Competing on 'Jeopardy!' was a lifelong dream for Cindy, and we're glad she was able to do so. All of us at 'Jeopardy!' offer our condolences and best wishes to her family and friends,'' "Jeopardy!" host Alex Trebek said in a statement.
Other former "Jeopardy!" contestants are also encouraging people to watch Stowell's episode in her honor.
She had passed the online contestant test in early 2016 and then went for an in-person audition in Oklahoma City. Only Trebek and a select group of staff members knew Stowell had cancer during the taping.
"Cindy came on 'Jeopardy!' to play the game she loved and in doing so, she was able to make a contribution to cancer research in the hopes that no one else would have to go through what she did,'' Hess said in a joint statement along with Stowell's parents, Greg and Carole Stowell.
Stowell had initially reached out to "Jeopardy!" contestant producer Maggie Speak with a heartfelt message about her hopes to be on the show.
"Do you have any idea how long it typically takes between an in person interview, and the taping date?" she wrote. "I ask because I just found out that I don't have too much longer to live. The doctor's best guess is about six months. If there is the chance that I'd be able to still tape episodes of 'Jeopardy!' if I were selected, I'd like to do that and donate any winnings to charities involved in cancer research. If it is unlikely that the turnaround time would be that quick, then I'd like to give up my try out spot to someone else."
Follow TODAY.com writer Scott Stump on Twitter.