Jane Fonda wants her fans to know that she's doing just fine now — despite the fact that she's been seen with bandages on her face this week.
During a BUILD Series interview on Monday, the actress and activist revealed that she had a cancerous growth removed from her lower lip.
"I just want to explain the bandage," she said. "I just had a cancer taken from my lip. I thought it was going to heal in time before I came before you, but it's fine. I just want to explain it. I don't normally go around like this."
And she doesn't want to make a big deal about it. That's because, in addition to getting a clean bill of health, she thinks there are far more important things going on for her and others to focus on.
"Well, the world is falling apart, what's a lip?" the 80-year-old shrugged, later adding, "Yeah, they did (biopsy it.) I'm going to be fine, thanks."
Fonda was joined by her friend and "Grace and Frankie" co-star, Lily Tomlin, during the chat and again later, as they posed for photos together.
In one shot Fonda shared on Instagram, she's seen covering her mouth with her hand, as though she's sharing a secret with her pal.
"I've found a clever way to disguise my lip bandages from removal of cancer," she wrote in the caption.
Not that she needed to disguise it. The always-glam star still looks picture perfect, bandages or not, as we saw for ourselves when she and Tomlin stopped by TODAY Tuesday morning.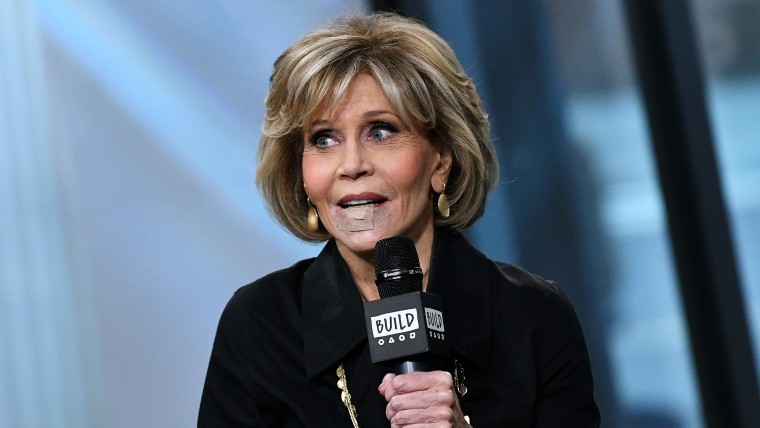 When the topic of her procedure came up, Fonda simply said, "I had a little cancer," and then she waved her hand in the air, as if to emphasize that she's over it — physically and otherwise.
Now her thoughts, as well as those of Tomlin, have turned to the fourth season of their Netflix hit, which comes out Friday.