On the five-year anniversary of being diagnosed with multiple sclerosis, Jack Osbourne has reached a positive conclusion.
"MS is not a death sentence, ultimately,'' Osbourne, 31, told TODAY. "Not anymore. There's hope, there's absolutely hope."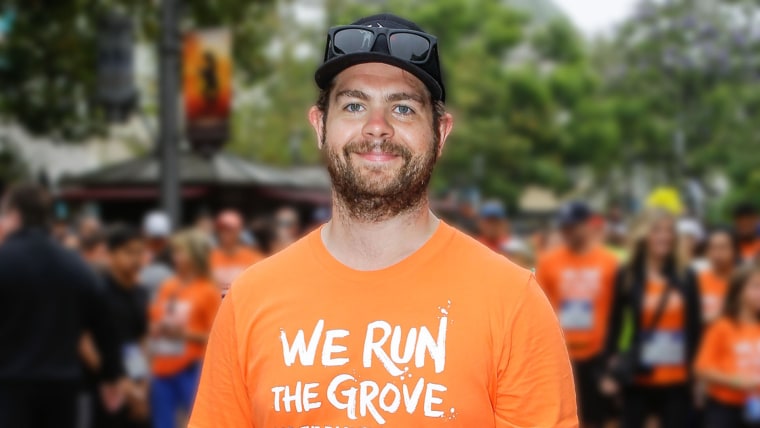 The reality television star and son of rock legend Ozzy Osbourne has become an advocate for the MS community with his "You Don't Know Jack About MS" campaign in conjunction with Teva Neuroscience. It features information about the disease and webisodes giving people a glimpse into his life of living with MS.
The newest webisode, released on Tuesday, shows Osbourne reflecting on his life since being diagnosed in 2012 when he was 26.
"I kind of look at the diagnosis as a huge silver lining to be honest with you," said Osbourne, who has two daughters, Pearl, 5, and Andy, 2, with wife Lisa Stelly.
"Before this, I would just be a typical 20-something-year-old and lounge around and just kind of kick it when I could. I don't do that anymore," he said. "I hate wasting days. I'm always doing something and trying to accomplish something, whether it's work, something social or doing something active. So for that, I'm appreciative of it."
Multiple sclerosis is an unpredictable disease that can cause a variety of symptoms, from mobility and walking issues to numbness and speech difficulties, according to the Multiple Sclerosis Association of America.
Osbourne's MS journey began when he was paying for gas after coming home from a movie and noticed a black dot in the center of his vision in his right eye. He soon developed optic neuritis, an inflammation of a nerve in his eye that is a potential symptom of MS, and became about 90 percent blind.
"Next thing you know, I feel like I'm an episode of 'House,' and they give me the news that I have MS,'' he said. "I had no idea what MS is, so it was really quite freaky to be honest."
He was put on intravenous steroids, which restored the vision in his right eye, but said it has never fully come back.
Osbourne researched MS online and spoke with a family friend who ran an MS charity in order to learn about the disorder.
"Initially, friends were kind of walking on eggshells,'' he said. "They were more worried than I was. They were almost overly sensitive to it."
"It took a while for them to realize, I think he's gonna be OK," he added. "I told some friends and they were like, 'What does that mean?' They hadn't even heard of MS. I was like, 'How does this affect millions of people, yet most people don't know what it is?'''
One of Osbourne's biggest challenges with MS has been mental rather than physical.
"Depression is the most common symptom among people with multiple sclerosis,'' he said. "For me, depression is one of those things where I have had these little slumps, and I have to pull myself out of it."
When the blues hit, he forces himself to get active.
"I choose to combat it with contrary action. When I'm feeling like I don't want to go out of bed and I don't want to do anything and want to shut the world out, I just kind of force myself to go do something."
Osbourne has not suffered from any severe physical symptoms in the five years since being diagnosed. He follows a three-times-a-week treatment plan, goes to the gym three to four times a week, and focuses on a healthy diet. He also has competed in multiple endurance races.
While advocating for MS, he's met many others with much more debilitating physical symptoms.
"(You think) that sucks, your heart breaks, and then selfishly you kind of go, 'Is that's what's going to happen to me?''' he said. "It's a bit of a roller coaster. I try and stay positive. The thing about the MS community that I've learned is that everyone has such an amazing outlook on things."
Living with MS has ultimately transformed Osbourne's outlook on life.
"I feel more of an urgency,'' he said. "The doctors don't know how specifically it's going to affect me in the long term. It took me a while to figure out my baseline, and I really came to the conclusion that I kind of have to seize every opportunity I can because I don't know what next year's going to look like, two years, three years."
"That's probably the most frustrating thing to me," he added. "I kind of flip it on its head and I pound that frustration into many opportunities to do things that I want because I can right now."
Follow TODAY.com writer Scott Stump on Twitter.