At 6-foot-5 and 290 pounds, it's rare that J.J. Watt can enter a room unnoticed, but he used a disguise to give kids at Texas Children's Hospital a Halloween treat this week.
The Houston Texans' star defensive end dressed up as Batman for a surprise visit to the children's hospital in Houston Tuesday afternoon. Watt signed autographs, painted pumpkins and even broke out his Batman voice as part of the hospital's Spirit of Halloween event.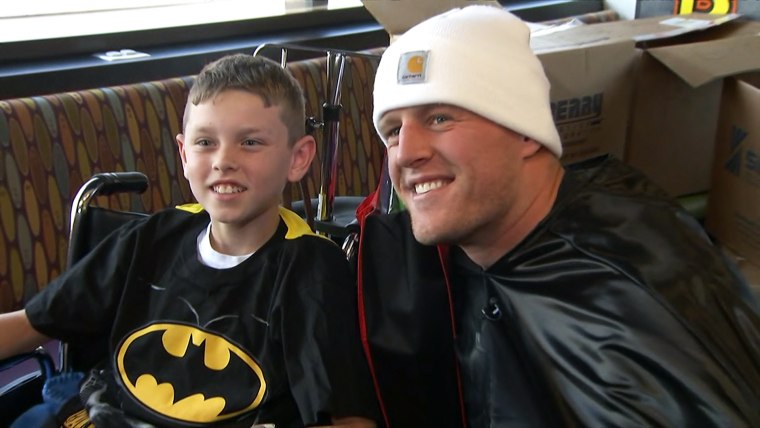 The team released a video of his visit, and the full segment will air on Weekend TODAY on Sunday.
The two-time NFL Defensive Player of the Year frequently visits hospitals during his spare time, and he spoke with TODAY's Janet Shamlian about his dedication to causes off the field.
RELATED: Luke Bryan visited children's hospital in Atlanta to lift patients' spirits
"I know what it's like to be a fan,'' Watt said. "I know what it's like to be a kid who looks up to football players, and I just want to be that guy that parents can point to and say, 'He does it the right way.' To be able to come in here and see these kids' faces and smiling, it's pretty awesome.''
Follow TODAY.com writer Scott Stump on Twitter.