Stock image photographers show us how easy and carefree it can be to raise a child. Most toddlers love eating vegetables, and keep their high chairs and (white) clothing pristine while doing so. Pumping breast milk is an effortless process best done while taking important business calls or lounging in lingerie. Parents who plan the best family outings dress their kids in the latest fashions for a day of petting farm animals or playing soccer along the seashore.

Wait – what?

After becoming a mom and realizing the pure absurdity of the portrayal of parenting by advertisers and stock image producers, Sara Given created It's Like They Know Us, a Tumblr blog mocking these unrealistic photographs and letting new moms and dads know they're not alone in their messy parenting efforts. Given, a member of the Facebook group of The Longest Shortest Time podcast, says she and other group members began by jokingly posting stock images and snarky captions, a pastime which morphed into the creation of It's Like They Know Us — a blog that now receives hundreds of thousands of views daily, going viral since its launch in mid-September.
While shocked at the success of her blog, Given is happy that so many people identify with and enjoy her posts. 

"I think we've all looked at these pictures at one point or another and thought, 'Ha! Is that serious?' It's cathartic to poke fun when we all know what parenting really looks like," said Given.
The relatable nature of Given's posts has inspired hilarious tweets and Facebook comments from parents around the globe, all of whom relate to the message that parenting is anything but clean, pristine and organized. 
Greg Pembroke, whose Tumblr blog Reasons My Son is Crying spawned a book of the same name, recently shared It's Like They Know Us with his Twitter followers, calling the blog his new favorite. The reason for its success, according to Pembroke, is Given's honesty about the reality of parenting.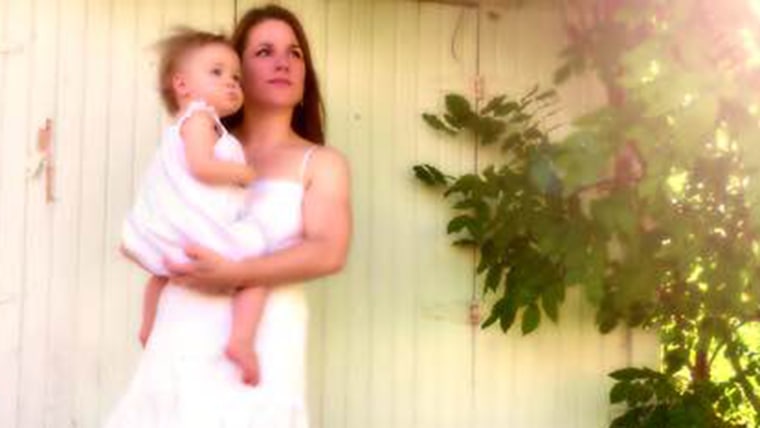 "Before having kids, these stock photos of parenting are our only window into what life with kids might be like, and I think we accidentally grow to actually expect life will be like that in some way. Magazines and advertisements show smiling faces with perfect hair and immaculate clothing, cuddling through every moment of the day — Sara's blog reminds us just how false these images are, and that it's OK not to be perfect," said Pembroke.

Glennon Doyle Melton, author of Carry On, Warrior and founder of online parenting community Momastery, says she shared the site with her followers for similar reasons.

"I just want to find the creator and hug her and say 'Thank You.' The brilliance of this blog is that it says, 'Listen parents, it's not you — it's them!' The truth with a touch of humor is always such a relief," said Melton.
Melton added that one of her favorites is "White Couch Feeding," a post that's created the nickname 'White Couch Warrior' for Given.
Given says one of her favorite posts is the photo of a child staring off into nothingness while eating his salad (in stock-photo land, children find salads irresistibly delicious), captioned, "Don't go towards the light, Johnny. Stay here with your salad."

"A few (posts) are my own very personal airing of grievances, but all of them I've enjoyed writing, and they still make me giggle when I go back and read them," said Given.

"There is so much pressure to get mothering 'perfect' that it makes every decision feel like it defines your success as a parent. In the first few months of my daughter's life, I was starved for anything that made me laugh and feel like I wasn't alone. I hope that parents wondering if their struggles are 'normal' can go to this blog and find comfort," said Given.