We all try to pay close attention to what we eat, but the little bites and nibbles we take through the day add up. Most of us don't think those calories "count" because they're not a meal or a snack.
But one of the most common reasons weight-loss plans stall is because of these little "tastes." Take a look at our top little bites. If you only tasted one of these every day for a year, you'd gain a whopping six pounds!
1. A bite of pancakes with butter and syrup = 60 calories
While you're at the diner eating your egg-white omelet, it's hard to resist a big bite of your pal's pancakes. Instead swap that little bite for one cup of cut up fruit, or a half a slice of cinnamon-raisin toast.
2. A few sips of a leftover fruit smoothie = 50 calories
While often nutrient rich, these calories add up quickly, especially if you didn't make it yourself. Many have a lot of added sugars. Swap those few sips for a real fruit like a small apple, large peach or two plums.
3. One slice of bacon = 45 calories
Cooking up a batch for sandwiches or a casserole, it's easy to grab a slice just for fun. That slice is equivalent to seven almonds, two slices of white meat turkey or a small handful of shelled and salted edamame pods.
4. Crust from one half of a grilled cheese sandwich = 60 calories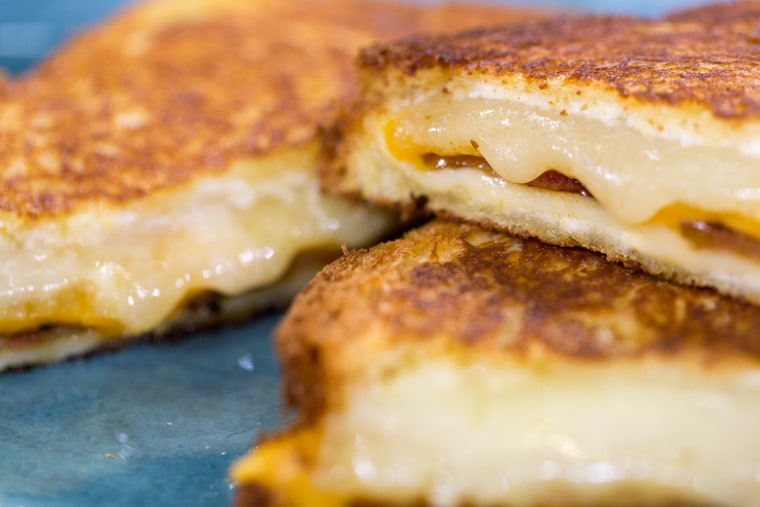 Many kids avoid the crusts, but for some adults it's the best part of the sandwich. The crust from just half a sandwich can be swapped for a reduced-fat mozzarella stick or a rice cake covered with a slice of reduced fat cheese.
5. Broken cookie from the cookie sheet = 45 calories
Every baker is familiar with this temptation, and it's hard to resist. Try a half of a small banana with a drizzle of sugar-free chocolate syrup.
6. One teaspoon of chocolate hazelnut spread or peanut butter = 40 calories
A teaspoon doesn't seem like much, but for high-fat spreads the calories add up fast. Try a half cup of plain, non-fat Greek yogurt mixed with a teaspoon of cocoa powder, or three thin slices of avocado for similar calories.
RELATED: 5 tips to deal with hunger
7. One pizza crust = 50 calories
While skipping a whole slice is often a smart choice, it's easy to grab an extra crust (or two). Equivalent calories are found in a thin slice of rye bread or two cups of air-popped popcorn.
8. A handful of French fries = 80 calories
Maybe the most tempting of all, it's easy to grab a handful. You can eat a half of a medium baked potato for the same calories, along with a boost of fiber (skip the butter and sour cream and top with chopped chives).
RELATED: Eating healthy? Here are the best ways to organize your kitchen to stay on track
9. Licking the brownie batter spoon = 60 calories
It's hard to resist scrapping the bowl and enjoying the last of the batter while the brownies are baking. Remember that batter expands in size while baking, and those licks add up quickly. Try ½ cup of low-fat chocolate milk, or a 6-ounce, low-fat, sugar-free hot chocolate for a similar taste and calories.
Follow Madelyn on Twitter: @drfernstrom
For more diet and fitness advice, sign up for our One Small Thing newsletter.