For the knot of children hovering around Cyrus, a small mixed breed dog born with no front legs, the message is clear: Life can be happy and healthy even if you are different.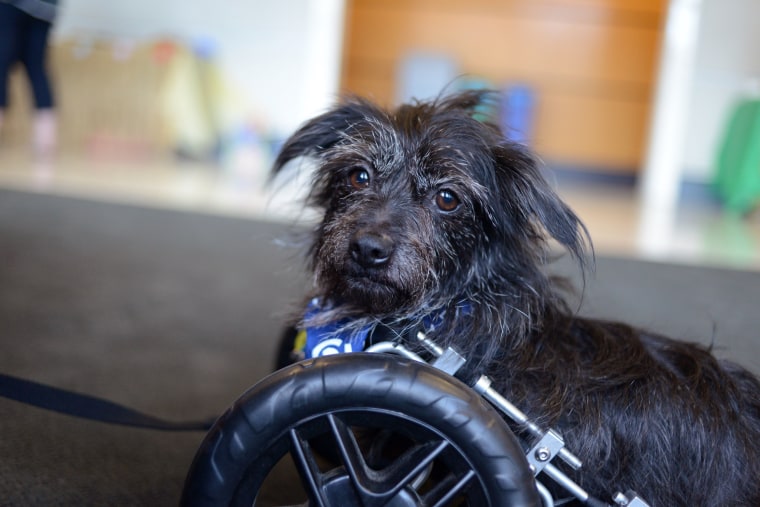 The scruffy little grey dog cheerfully motors around the room with his custom made set of wheels, greeting anyone who comes up to him, completely oblivious to facial anomalies that might make a human stare.
"Because he's different and because it's obvious that he also has some challenges that he had to overcome, the kids are drawn to him," says Domenick Scudera, 50. "I also take him to the Bryn Mawr Rehab Hospital where he meets a lot of amputees. They also connect with him in a special way."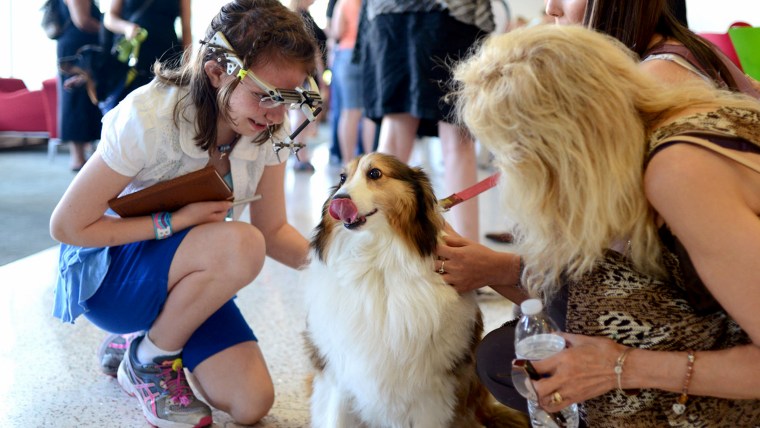 It's exactly what the doctors and veterinarians of the University of Pennsylvania had in mind when they organized the "Best Friends Bash" on July 22. The children all have been getting surgery for craniofacial conditions, such as cleft palate, as have many of the dogs.
It's a chance for the children to see that "different is good," says Dr. Alexander Reiter, chief of dentistry and oral surgery at Penn Vet. "Watch these children and how they approach the dogs and how they are touching the faces of the dogs. And the dogs seem to somehow know exactly what they are doing and why they are here. They enjoy it."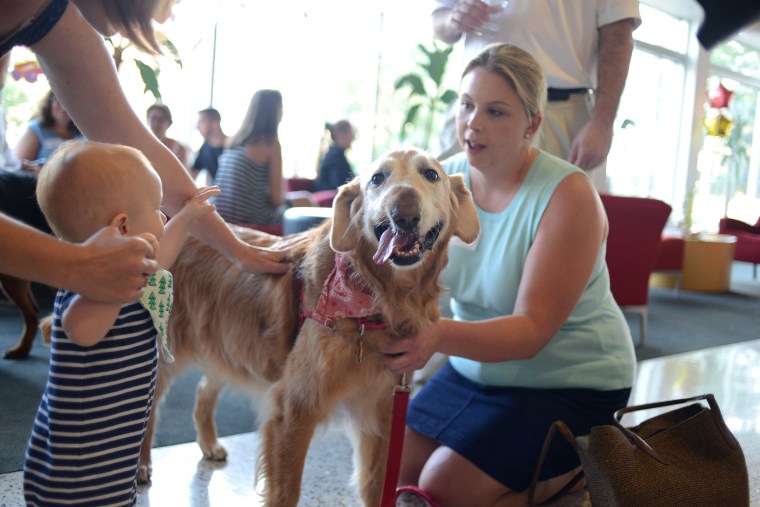 Olivia Saguache, 8, strolls around the room stopping to visit with the various dogs, petting and hugging them. "All the dogs are special," she says. "They've had surgery, too."
The dogs, Olivia says, "make me happy."
Olivia was born with a bilateral cleft lip and palate and has already undergone three surgeries with more to be scheduled in the future. "She's always done well with it," says Shannon Hunt, Olivia's mom. "She's a trooper. I'm amazed every day by her and how she can get through life and overcome obstacles."
Meeting with the dogs "inspires her," Hunt says. "She sees it's OK to be different and that even animals can have similar problems. It makes her more comfortable."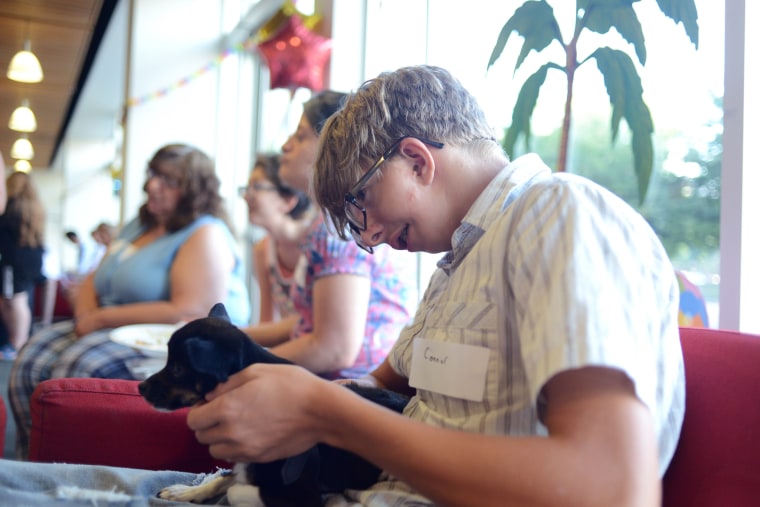 There's no doubt that there is a special connection between the dogs and the children, says Erin Johnson, 37, who has brought her dog, Emma, from their home in Reading, Pennsylvania. Four years ago, veterinarians discovered a tumor growing on Emma's upper jaw and removed a good portion of the bone in a life-saving surgery. Emma looks very different now, but that hasn't affected her friendly nature one bit.
"There's something that happens between a person and an animal," Johnson says, "no matter whether it's children or adults. Emma is not going to judge anybody. She doesn't look, react or treat anyone differently. I think this is especially important for these children who have been through so much. "
The children are amazed at how well Emma is doing, Johnson says. "The kids were saying, 'Wow she can still catch a ball.'"
Meeting the dogs can be empowering to the children, says Leanne Magee, a pediatric psychologist at the Children's Hospital of Philadelphia who specializes in working with children with appearance differences.
"What's so cool is the kids get to see dogs who've gone through the same thing they are going through," Magee says. "They meet happy, wagging-tail friends that are cute and cuddly. The kids talk to the dog owners about their surgeries. Last year, I heard a kid comforting one of the owners of a pet that had surgery."
And it's not just the kids who benefit, McGee says.
These kinds of events "bring families together and help them connect with one another," she explains. "They can often go through life feeling like they are the only ones going through this. This way they can swap stories. Also, seeing other kids who look different can be very reassuring."
Sarah Graham, 19, understands the power of the pets. She's come to help out and to show the younger kids there is a light at the end of the tunnel. She had the last of her nine surgeries three years ago. She remembers how comforting it was when a therapy dog was brought into her room at the hospital.
"Everyone coming into my room was a doctor or a nurse," Graham, a college student from Washington Township, New Jersey, recalls. "And they were all asking how I was doing. The dog came in and hopped up on my bed and laid down. It was almost as if the dog knew about my pain. He made me smile."