Joan Lunden has plenty to celebrate these days.
The veteran television journalist, who was diagnosed with stage 2 triple negative breast cancer last year, has been in remission for more than five months now. Her book, "Had I Known: A Memoir of Survival," is out, and she's just welcomed her first grandson.
"What a difference a year makes," Lunden told Matt Lauer and Hoda Kotb on TODAY Tuesday.
"A year ago my daughter, Lindsay, gave birth to Parker," Lunden recalled of when her granddaughter was born.
"It was one of the sickest days. I was in the middle of chemo. I just wanted everything to be wonderful that day. I didn't want anybody to know how bad I felt.
RELATED: Breast cancer survivors, bring your loved ones to the plaza on Oct. 2
"Here a year later, little Mason was born, a beautiful little boy, two weeks ago today and I'm strong," she added of her new grandson. "I'm through the journey. I survived."
Now cancer-free, Lunden has made it her mission to help other women facing breast cancer.
RELATED: Joan Lunden is bald and beautiful on the cover of People magazine
She's sharing her cancer journey in her new book, and recently launched a streaming network dedicated to breast cancer and women's health and wellness called "Alive with Joan Lunden."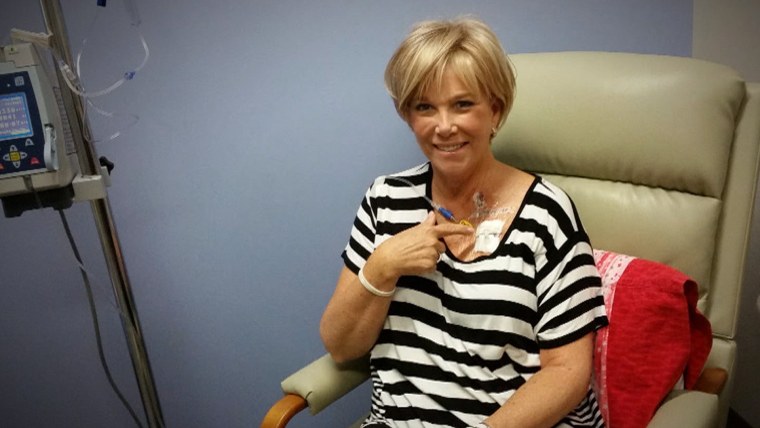 Her life now is purpose-driven.
"It's hard for someone to understand how a survivor can say that cancer was actually a gift," Lunden said.
"One would think it would be a year I would want to forget. But it was really very memorable, and it changed the trajectory of my life and my career.
"It's all good," she added. "I like the fact that it propelled me and put me out in front of this."
Lisa A. Flam, a regular contributor to TODAY.com, is a news and lifestyles reporter in New York. Follow her on Twitter.