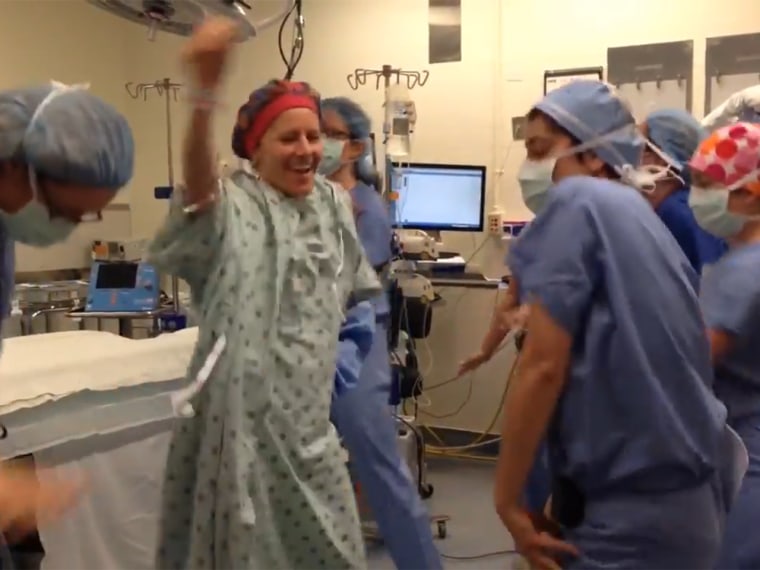 A breast cancer patient who got her groove on to some Beyoncé before her bilateral mastectomy has inspired other women to smile in the face of similar situations. 
In a video that has gone viral, Deborah Cohan dances with her doctors and nurses to a Beyoncé song before going under anesthesia for her surgery at UCSF Medical Center at Mount Zion in San Francisco, according to her Caring Bridge page. Cohan is also an OB-GYN at the hospital, and she wanted to have family and friends dancing with her in the minutes before her surgery on Tuesday, asking them to play the Beyonce song and dance any time during the day. Even Beyonce herself posted it on her Facebook page, writing, "Deborah, you are awesome!" 
Deborah's enthusiasm in the face of breast cancer impacted TODAY followers who shared their own stories on our Facebook page. 
"I'm having a double bilateral mastectomy in Jan 2015,'' reader Lindsay Murphy wrote. "I've had 4 surgeries in 15 months. My surgeons don't even let me chew gum before my operations lol. This video was fun to watch. Very inspiring. It gives me strength for my upcoming surgeries. I may just ask my docs at Stanford to dance with me."
"Good for her!! I will be getting my boogie on in 5 days before my double mastectomy operation!!" Vanessa Mendivil wrote. "She is a wonderful inspiration ;)) Go Women!!!" 
"I gets mines (sic) done tomorrow,'' Yesenia Rivera wrote. "Trust me I'll be dancing just like her."
Women who have undergone mastectomies also remembered their own positive outlook when they had their surgeries. 
"I wrote jokes on my chest before going in for my mastectomy!" Patty Cornell-Badger wrote. "The nurses and doctor loved it and it lightened the mood for everyone. A dance definitely would have been a better choice!" 
"I had a double mastectomy at the age of 27,'' Amanda Deamron-Scott posted. "When i woke up from my operation if i could have danced i surely would have! Life is very precious and dancing is therapy!"