When he opened his eyes, Dan Nevins was lying on the ground, looking up at the lingering flames upon his military vehicle. Only four kilometers from the dismount site in Iraq, an IED had detonated directly under his feet.
Nevins' life changed that day. Before deployment, he described his legs as his "best quality." But on Nov. 10, 2004, doctors were forced to amputate his left leg.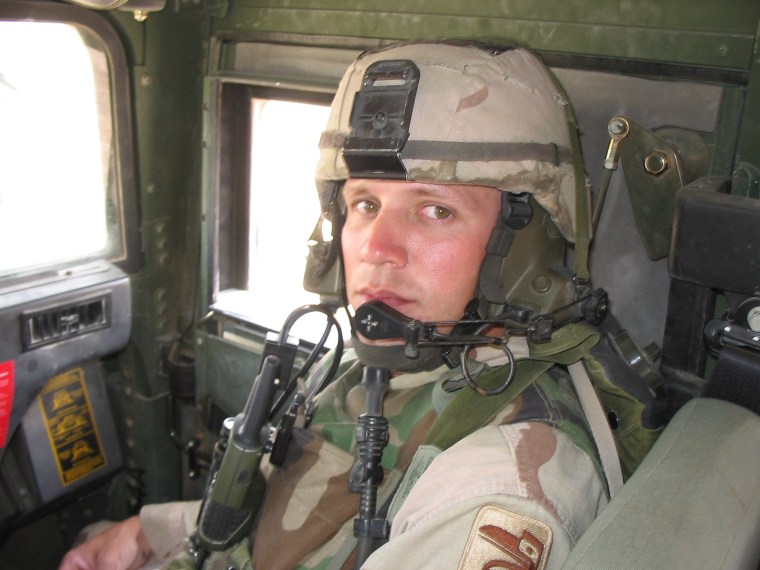 Now, after many years of struggle, Nevins is helping other veterans heal as well as himself, as a yoga instructor and motivational speaker. His new life has brought him opportunities around the world, including a chance to teach on the White House lawn during the annual Easter Egg Roll.
But his path has not been easy. The 43-year-old resident of Ponte Vedra Beach, Florida, has undergone 36 surgeries, suffered numerous infections, and struggled with post-combat stress.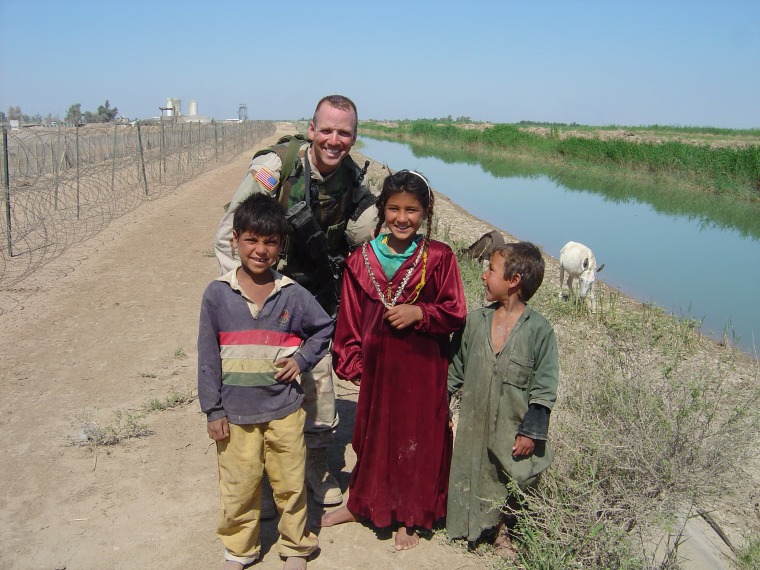 The Army staff sergeant was moments away from death that fateful day in Iraq, and he knew it. Though he was in and out of consciousness, he remembers a sickening knot in his stomach, the taste of blood in his mouth, his face burning, his vision blurring, his ears ringing. Along with losing his legs, he suffered traumatic brain injury from the concussion waves of the blast.
RELATED: WWII vet on flying to Australia to reunite with wartime girlfriend: 'I'm numb'
"I couldn't believe I was alive," Nevins told TODAY.com. "I was just reacting from trying to make sure I stayed that way."
With death close, he saw what he describes as a "slideshow of what life was going to be" without him. And then he made quick decisions that changed the outcome of his life.
He reached down to find irreversible shrapnel damage to his left leg. With every beat of his heart, arterial blood was spurting uncontrollably. He did what he could to slow the bleeding, but his femoral artery was in bad shape.
"I made a fist and pressed it inside the wound against the piece of shrapnel that was lodged next to my femur," Nevins recalled. That bought him enough time for a medic to arrive.
On Nov. 11 — Veterans Day — Nevins went into emergency surgery at Landstuhl Regional Medical Center in Germany. When he awoke, he learned that doctors had managed to save his right leg despite severe damage.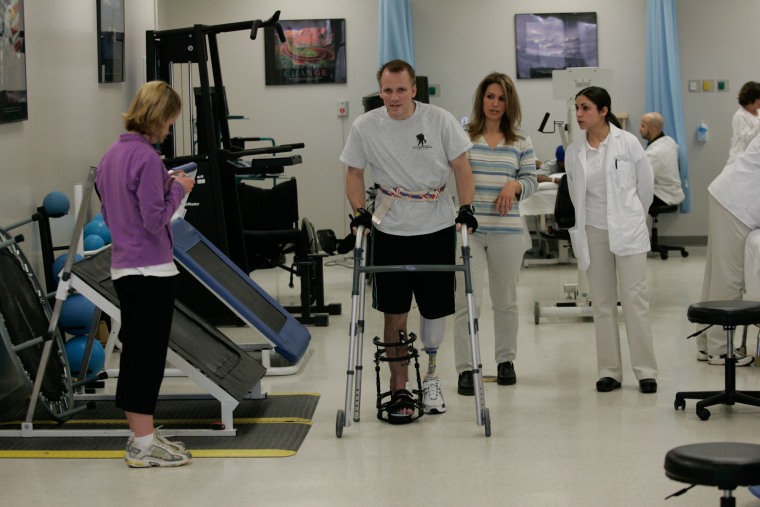 But his left leg was gone, bringing overwhelming feelings of self-doubt. It didn't help that his uniform was gone too.
"They cut that manhood away from me," Nevins said. "I wasn't a soldier anymore, just this broken pitiful mess in a crappy hospital gown, where just the day before I was about to lead men in combat."
Nevins was transferred to Walter Reed Army Medical Center in Washington, where he was greeted by members of the Wounded Warrior Project, who presented him with a backpack full of toiletries, clothing and cards thanking him for his service.
Two weeks later, they asked him to go on a skiing trip. Nevins was appalled; something he had once done easily would now be a struggle with a prosthetic leg. But they promised that if the hospital cleared him to go, they would get him down the mountain.
RELATED: All U.S. military combat roles now open to women, Pentagon announces
"That moment kind of reshaped my thinking, my life," Nevins said."My disability didn't define me, and I got to define what the rest of my life was going to be like. I got to write the next chapter."
The Wounded Warrior Project reignited Nevins' passion for sports. Throughout his two years of rehab at Walter Reed, he snowboarded, kiteboarded and kayaked, among other activities.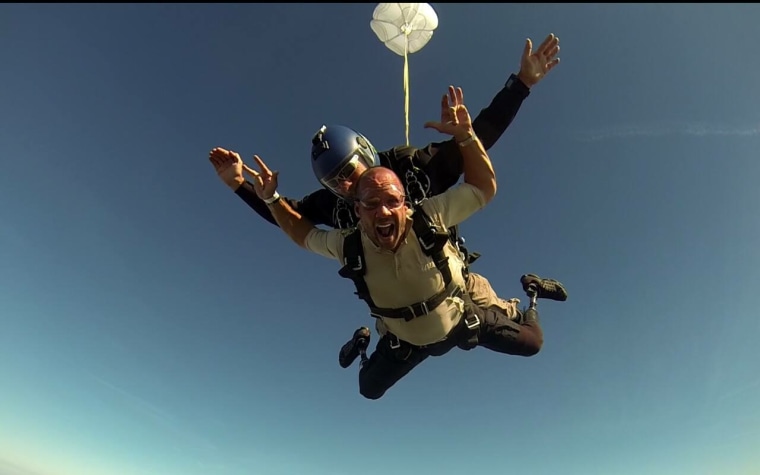 In August 2006, Nevins retired from the Army and went back to his job in pharmaceutical sales. But he wasn't happy. He went through a series of career moves, but realized it was his time with the Wounded Warrior Project that brought him most joy.
Then in November 2007, Nevins suffered a severe bone infection in his right leg. Two months later, he made the decision have it removed.
Before then, Nevins had never understood why there was such a high suicide rate for veterans. (According to a report from the Department of Veterans Affairs, 22 veterans a day committed suicide in 2010.) He says he had been "self-medicating with achievement": Beating guys with legs at golf and riding his non-adapted road bike harder than people with legs had helped him avoid developing post-traumatic stress disorder.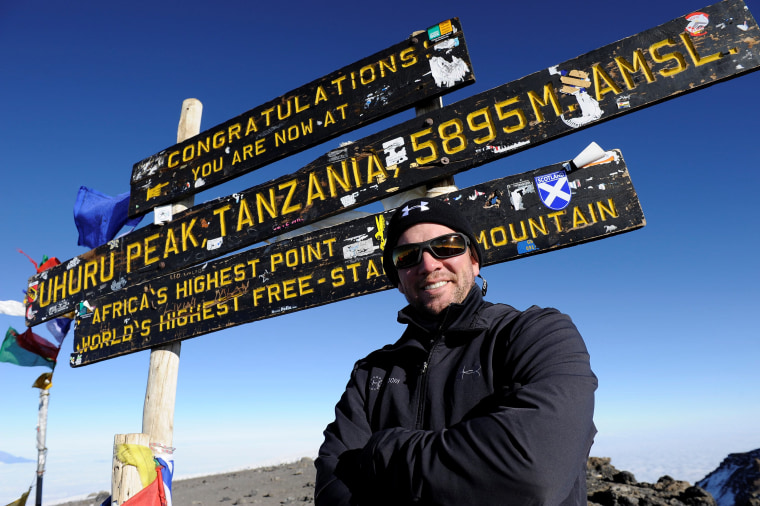 But Nevins was starting to have negative thoughts of his own — the result of a surgery he had in 2013, a few years after his right leg had been removed.
By 2014, he didn't know where to turn. He called a close friend named Anna who happened to be a yoga teacher. She said, "Dan, you need some yoga in your life."
Nevins laughed and said, "Dudes don't do yoga."
RELATED: Sluggish at midday? Try Kathryn Budig's 10-minute yoga routine
But after much convincing, he agreed to try meditation. Though he struggled with the concept at first, he soon banished his pessimistic thoughts, improving his quality of life drastically.
Anna joked that Nevins now owed her some yoga, or at least ought to try it. So he committed to three sessions with her.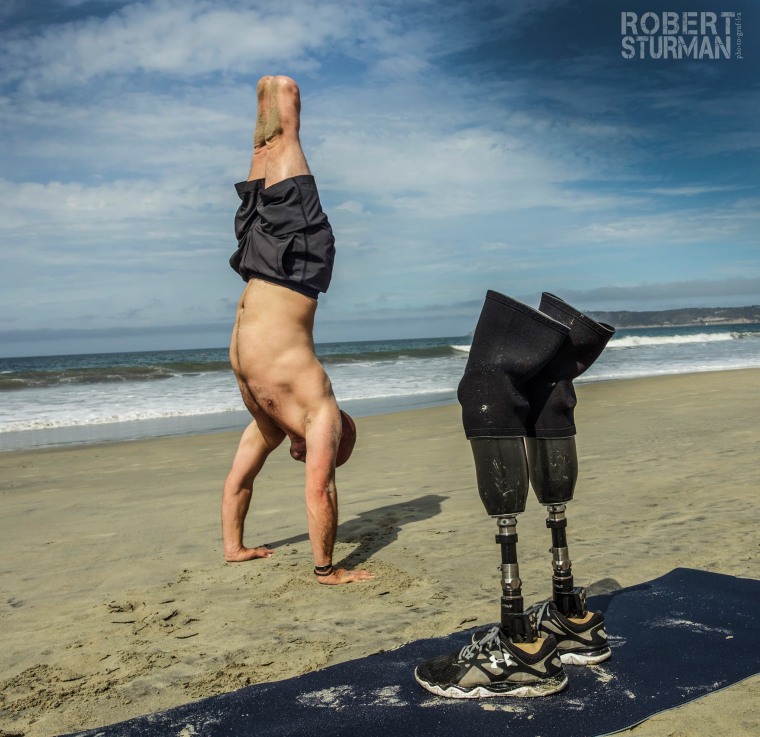 The first was difficult. Nevins recalls telling Anna: "You're asking me to spread my feet apart on legs that I don't feel." Frustrated, he considered removing his prosthetics, even though few people had ever seen him without them.
"Back before I got hurt, my legs were the best part of my body," Nevins explained. "And then they were gone, and what was left was the opposite of how I felt about my legs." (Adjusting to prosthetics had been difficult too, but Nevins tried to accept his lot with humor: When children asked about them, he would tell them he was "half Transformer.")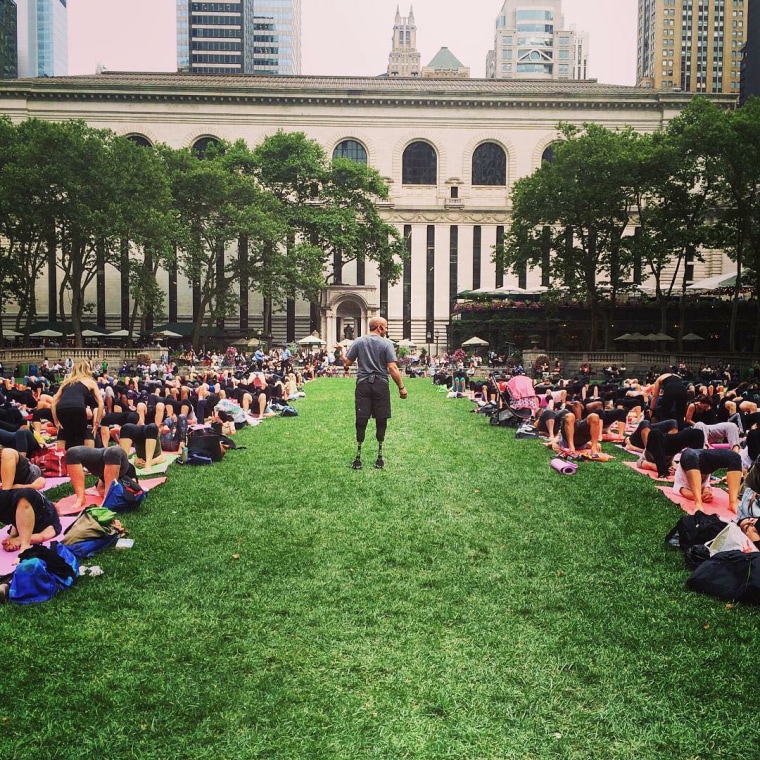 So removing his prosthetics in front of Anna was a big decision. And it led to a major breakthrough: When Anna said "root down, rise up," Nevins fully imagined his legs doing that — and experienced feelings that had gone astray.
"In that moment, intense energy shot up from the earth through my body and lit me up," Nevins said. "It was like I got struck by lightning from the earth and it didn't hurt. And it's like the earth was saying to me, 'Dan where have you been for the last 10 years?' What I came to realize was that lack of connection to the earth was keeping me from being connected to other people."
RELATED: Stuck in a yoga rut? Add core and cardio training to up your workout
In January 2014, Nevins was invited to yoga teacher training in Hawaii. It was enticing only because of the location, he joked, but he still committed to level one training in an attempt to "take a bold step and try something new."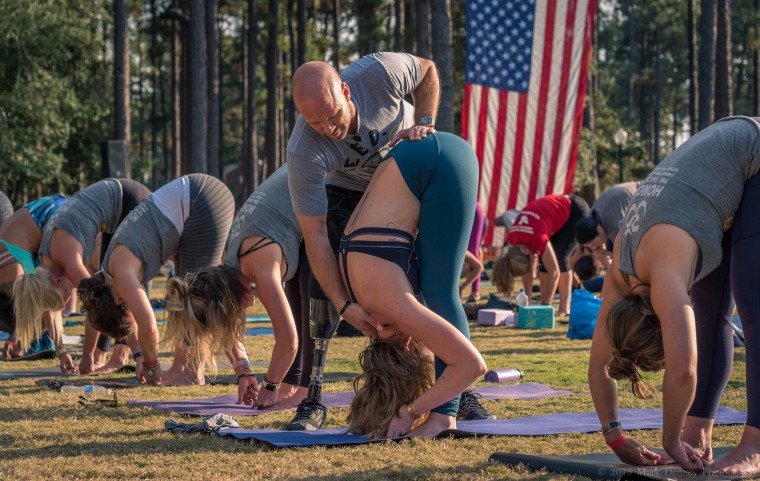 But he knew before attending training, Nevins had to familiarize himself more with the practice. So he attended his first group yoga class after completing three sessions with Anna.
It turned out to be the hardest thing Nevins had ever done — harder than all his dozens of surgeries, his two divorces, even combat — because he had take off his prosthetics in front of people, and strangers at that. "I couldn't move, couldn't breathe, my vision was getting blurry and it was like I was getting blown up again."
Nevins thought his classmates were staring at him because of his psychological struggle. It was only later that he learned that it was actually because he was inspiring them. Many asked to practice next to him.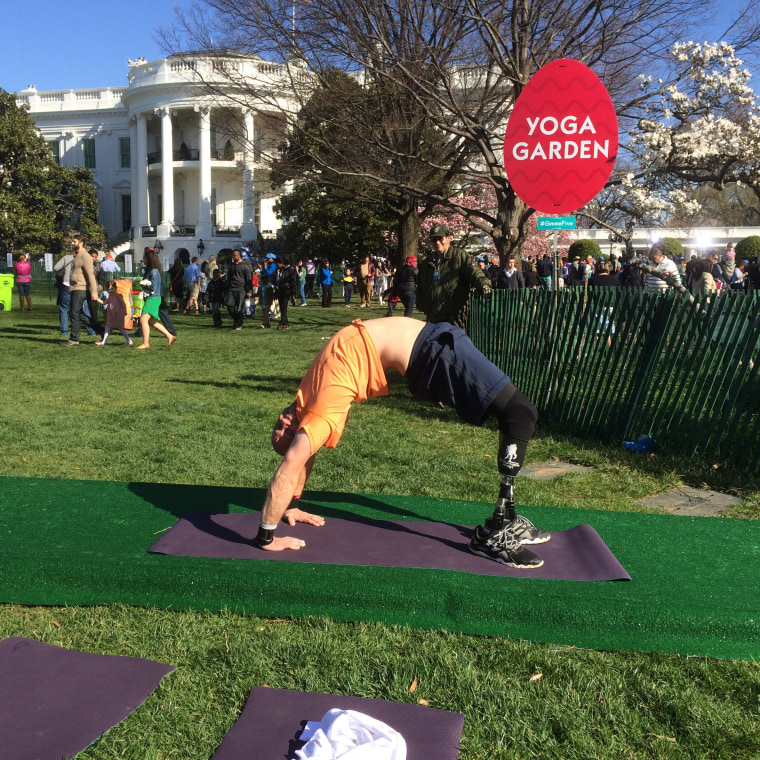 "I realized that you don't have to be wounded in combat to have these invisible wounds," Nevins said. "We all have places in our lives that we have to take our legs off."
That day Nevins began to find his destiny as a yoga instructor. As he did, everyone around him began to notice changes in his spirit and personality, and they wanted to know more.
At a Wounded Warrior Project event that June, a close friend expressed feelings of depression. The only words Nevins could find were, "You need some yoga in your life."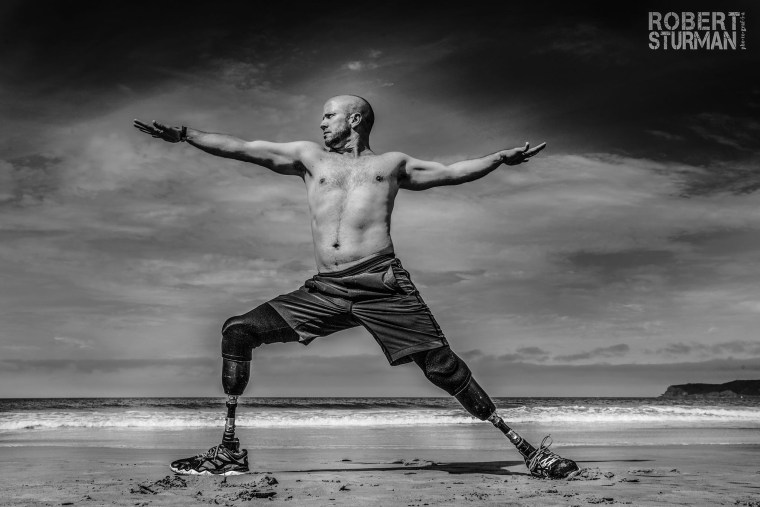 Nevins went on to higher levels of yoga training. Today he wants to help everyone, veterans and non-veterans alike.
"I had this realization that the most life-saving part for me was not being in a class full of veterans, but no longer feeling like I was different because I was a veteran."