Susan Spencer-Wendel, the Florida writer who focused on living with joy and relishing adventures with her family and friends while battling Lou Gehrig's disease, died early Wednesday morning at her West Palm Beach home. She was 47.
She died surrounded by the loved ones she had buoyed with her exuberant spirit ever since her 2011 diagnosis with the disease, also known as ALS. Feeling she had no time to waste, the longtime journalist orchestrated trips all over the world with the most special people in her life. And as she lost mobility, Spencer-Wendel chronicled each adventure by using her right thumb to write on her iPhone.
The end result was the 357-page memoir "Until I Say Good-Bye: My Year of Living with Joy," which was published in March 2013. The book describes her trip to the Yukon with her lifelong friend Nancy, the cruise she took with her sister Stephanie, the 20th wedding anniversary she celebrated in Budapest with her husband John, and the special trips she arranged with each of her three children.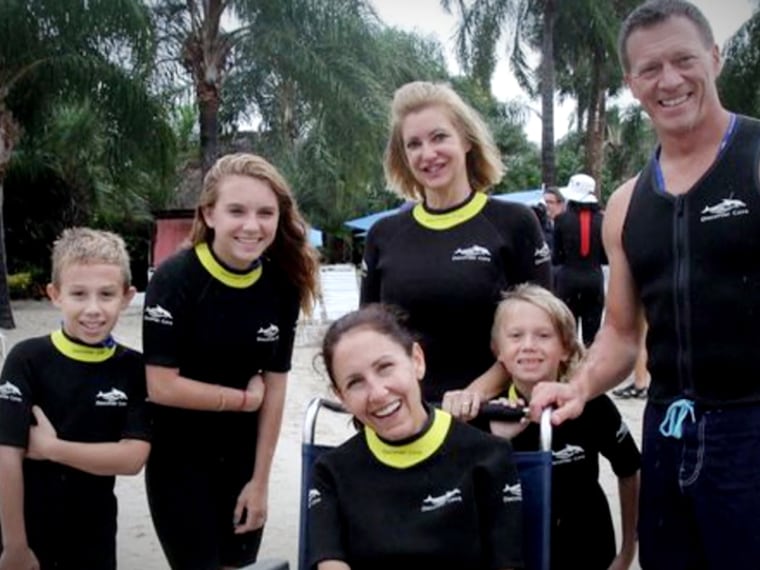 She took her son Wesley swimming with dolphins for his birthday and went to Sanibel Island in Florida with her son Aubrey. She also took daughter Marina, who was 14 at the time, to New York City to try on wedding dresses at Kleinfeld Bridal.
"I wanted to see my beautiful daughter on her wedding day," Spencer-Wendel wrote in her book. "I wanted to glimpse at the woman she will be. A moment I will never share."
Mom of 3 with ALS lives out bucket list with joy
Nancy Maass Kinnally, Spencer-Wendel's friend since the seventh grade, said her longtime pal kept doing thoughtful things for others no matter how sick she got.

"She never stopped seeing the beauty that surrounded her and the love that surrounded her, and she never stopped putting love out into the world," Kinnally told TODAY.com on Wednesday. "Part of the secret of living with joy is to put the people you love ahead of yourself. And she was just so generous — her spirit was so generous. It was all the way up the end."
Spencer-Wendel and her family appeared on TODAY in 2013 and spoke with Natalie Morales about their approach to the ALS diagnosis. Spencer-Wendel's husband John Wendel opted to care for his wife around the clock.
"She's sort of my inspiration," he told Morales. "I take cues from her. Every day I wake up, and I think, 'This is just horrible.' Then I go in, and I'll see her wake up, and I'm like, 'Oh, you're smiling? I probably should be, too.' That's what's getting me through."
Spencer-Wendel's sister, Stephanie Harwood-Parlamento, stressed the importance of the "Until I Say Goodbye" memoir.
"The message in the book is to live every day like it's your last, because you don't know," she said. "And ... to live it with joy."
A former Palm Beach Post reporter and a lifelong writer, Spencer-Wendel reached an impasse last year when her mobility became so limited that she could no longer use her thumb to write. She had access to a writing tool called the HeadMouse Extreme, but using it was a laborious process.
Her friend Nancy Maass Kinnally said her attitude perked up, though, when she got something she hadn't had in a while: A writing assignment with a deadline. Spencer-Wendel wrote a first-person essay about the healing power of her dog Lenny in her life for TODAY.com.
"She was a journalist at heart and she needed an assignment," Kinnally said. "That gave her the inspiration to get that technology working."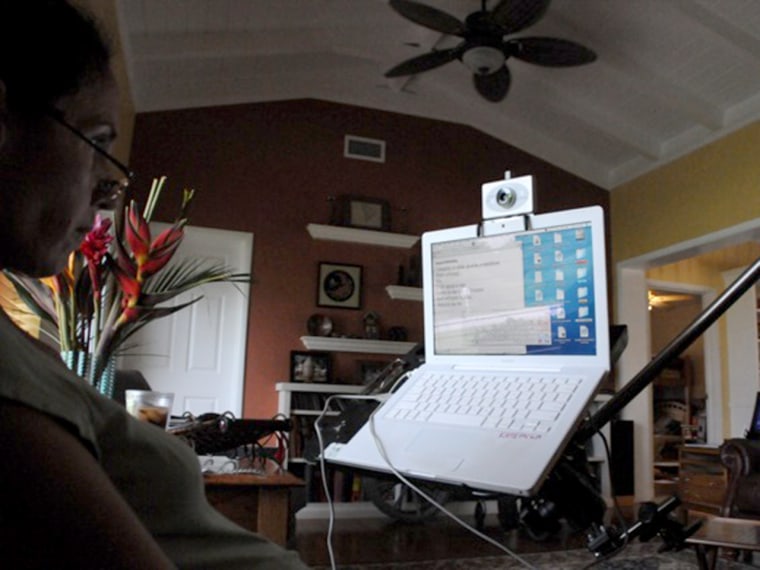 After completing the Lenny essay, Spencer-Wendel began using the HeadMouse Extreme to text her family and friends. They were grateful for the barrage of communication from her since she could no longer speak.
Spencer-Wendel also used the tool to reach a wider audience. She posted updates on her Facebook page and sent out messages about her role as honorary chairwoman of the ALS Association's Walk to Defeat ALS. Her humorous emails had subject lines like "GD'ed ALS" and "Hello Loves!" and they let people know that she was "still here tap, tap, tapping with my nose trying to shake the trees for Walk to Defeat ALS donations."
Spencer-Wendel kept on writing until she could no longer hold up her head.
"I got my last text from her on Memorial Day," Kinnally said. "It said, 'I love you and miss you so.'"
Connect with TODAY.com writer Laura T. Coffey on Facebook, follow her on Twitter and Google+ or read more of her stories at LauraTCoffey.com.