Orthopedic surgeon Dr. Kenneth G. Swan Jr. is expecting a batch of men of a certain age to show up with football related injuries to visit his office on Monday. It happens every year; as much a Thanksgiving tradition in the sports medicine business as turkey with stuffing.
Swan won't admonish his 40-something patients for taking risks by playing in those holiday pickup football games, best known as Turkey Bowls. After all, he's been on that same operating table himself.
"Two years ago, I played in a charity flag football tournament at our local high school (in Basking Ridge, New Jersey) with a bunch of 40-something dads," Swan recalled to TODAY. "What we didn't know was much of the competition were younger, faster, stronger and probably better looking than we were.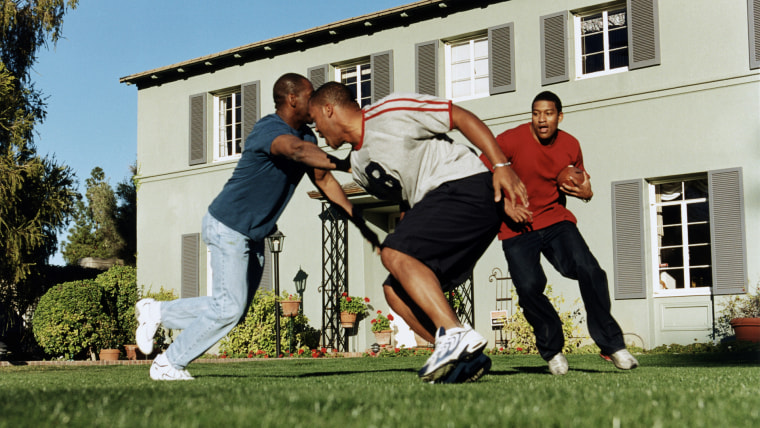 "I fractured my foot during the first half of the first game, but I didn't realize it at the time and I kept playing," Swan said. "Then I broke my clavicle in the second half, and I definitely couldn't keep playing.
"Let's just say it was a very difficult and uncomfortable Thanksgiving for me," said Swan, whose partners at the University Orthopedics Associates in Wall Township operated on his shoulder a few days later.
According to the United States Consumer Product Safety Commission, there were an estimated 1,400 emergency room visits associated with football last Thanksgiving, an uptick from the 2016 average of roughly 1,000 a day.
But that covers all levels and age groups in the sport. There are no separate statistics for the weekend warriors who land in the hospital from the pickup games they play as a holiday rite. There are also no stats for those who seek treatment at physician offices.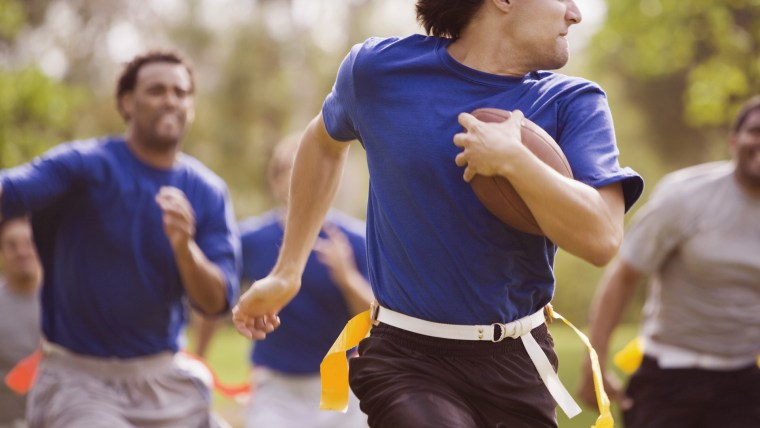 Doctors, though, have plenty of anecdotal evidence to share.
"Pickup football games can be a source of significant injury over the Thanksgiving holiday," said Dr. Robert Glatter, spokesman for the American College of Emergency Physicians and a former sideline physician for the New York Jets.
"We typically see head injuries and concussions along with various orthopedic injuries — from wrist and ankle fractures, to ruptured Achilles' tendons, dislocated fingers and knee sprains. Lacerations may occur as well."
NBC Medical Correspondent and veteran ER doctor Dr. John Torres said the risks are magnified when players hit the gridiron trying to relive their glory days.
"As guys gets older, you'll see a lot of knee injuries, such as meniscus tears," explained Torres. "Especially for people who might be overweight, who might be out of shape, who haven't done that much exercise of this type and all of a sudden go on the field and try to relive their youth.
"Then when you get together with family, everyone wants to one up each other, and what starts out as touch football ends up as tackle football. We've all been there."
Then there are the cases which are considerably less universal. During a holiday shift working in the emergency room at New York's Lennox Hill Hospital a few year ago, Glatter treated the ultimate Turkey Bowl cautionary tale: a dazed player brought in by ambulance who needed to be cut out of his full-sized turkey mascot costume.
"It was kind of an interesting Thanksgiving shift," Glatter said. "His friends couldn't keep a straight face and he had relatively minor injuries, a mild concussion and bruised ribs.
"But you really shouldn't be playing a sport in a costume where your vision is obscured — or running around in floppy bird-feet shoes."
Fortunately, there are other tips doctors have to minimize the injuries for all those armchair quarterbacks who leave their armchairs on Thanksgiving.
Glatter recommends five to 10 minutes of stretching before games, particularly if the weather is cold enough to make muscles stiffen up. Wearing some padding is also a good idea.
"It's also a good idea to have things on hand, to have ice people can use to ice down anything they strain or sprain," said Torres.
For those who make their Turkey Bowl an annual event, "you probably have to work all year round to stay in better shape," added Swan.
He should know. Though his Turkey Bowl career ended with that broken collarbone two years ago, Swan is still dreaming of a comeback at the age of 46.
"As of right now my final play is landing on my shoulder, so I'd like to go out on a more positive note, with a catch," he said.