The first time a physical education teacher asked Tessa Embry to calculate her body mass index, or BMI, the Indiana eighth-grader was informed she was obese. A few weeks later, her teacher asked students to make the same calculation for a different take-home assignment.
But this time, Tessa didn't provide her teacher with a BMI. She gave her a piece of her mind instead.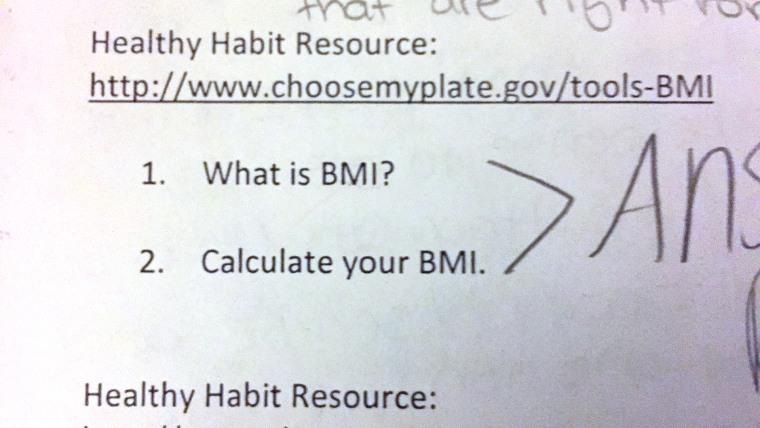 So the 14-year-old wrote a handwritten essay in response to the homework, letting her teacher know that BMI is "an outdated way of defining normal weight."
RELATED: People living alone are thinner and have a lower BMI, study finds
The figure is a measure of a person's weight compared to his or her height. But Tessa pointed out, as many health experts and nutritionists have, that BMI fails to take into account what portion of a person's weight is fat — and what is muscle.
"Now, I'm not going to even open my laptop to calculate my BMI. And I'll tell you why. Ever since I can remember, I've been a 'bigger girl' and I'm completely fine with that," wrote Tessa, a softball player on two teams who attends a practice nearly every night. "I'm strong and powerful. When you put a softball or a bat in my hand, they are considered lethal weapons."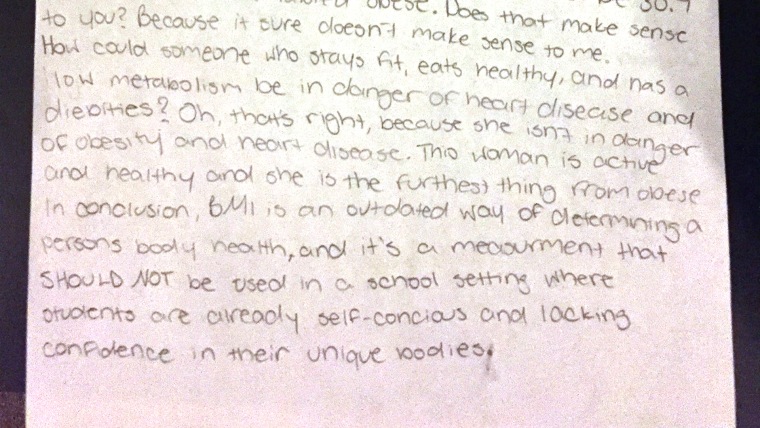 Mindi Embry, Tessa's mom, recalled how distraught her daughter was at being categorized as obese, about a month ago after being weighed in PE class as part of an assignment that first required students to calculate their BMI. So Embry made a call to Tessa's doctor, who gave her an exam and ran tests, including checks on her blood sugar and cholesterol levels.
RELATED: Belly fat raises risk of death even if weight is 'healthy'
"The doctor told her, 'You have a good diet, you're very active, you're very strong. You're good to go. I give you a clean bill of health.' And that empowered her," Embry told TODAY.com. "I think she thought, 'I've got my doctor behind me. I've got my parents behind me, that (BMI) really doesn't matter. "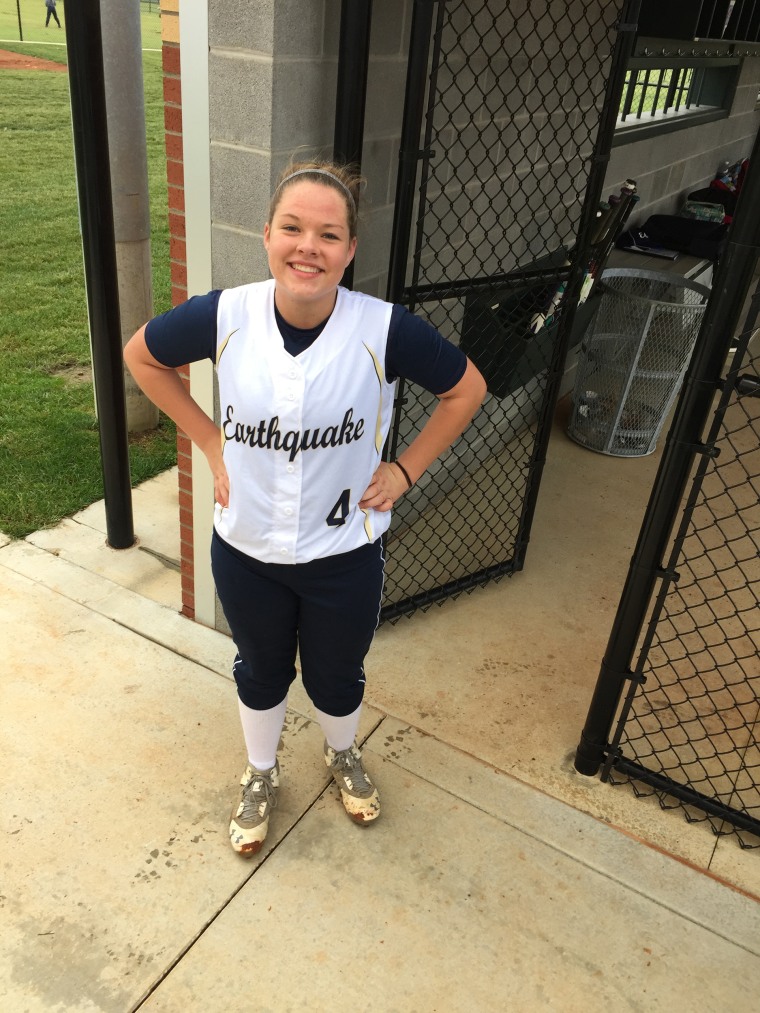 So when Tessa received an assignment a few weeks asking her again to calculate her BMI, she refused.
"She said, 'I'm not going to do that. I'm not going to put up with this,' and she asked me, 'Mom, is it OK if I get an 'F' on this assignment?' And I said absolutely," Embry recalled.
RELATED: Reporter slams critics who called her overweight: My 'job is not to wear a swimsuit'
Despite repeated attempts to reach her daughter's school counselor and assistant principal to learn more about the class assignment, and discuss the message it sends to vulnerable young girls, Embry did not get her calls to the school returned until after the story received national attention.
"I felt furious that they were doing this, that they were placing a number value on these girls, on these kids," she said.
RELATED: Ideal to real: What the 'perfect' body really looks like for men and women
In a statement provided to NBC News, North Junior High School said that "all of our students are taught healthy habits in an effort to provide a foundation for a healthy lifestyle." It also said the "question regarding BMI was part of a larger assignment."
Embry said it shouldn't rest on a teacher to determine whether a student is healthy, a sentiment echoed by her daughter in her note to her teacher.
"My BMI is none of your concern because my body and BMI are perfect and beautiful just the way they are," Tessa said.
The teen told TODAY she hopes the attention her assignment has received will help other students her age "be more educated and wary about the way some people may want to use BMI to label us." She recounted how, on the day everyone had their weight recorded to help calculate BMI the first time, some of the larger girls in her gym class left looking visibly upset.
"Some girls in my class had been labeled obese and overweight when they really weren't, including me. And I knew I wasn't obese," she said. "I just felt that she shouldn't be letting us feel that way about ourselves when it's totally inaccurate."
Embry feels the same way.
"These girls who are considered overweight — they know where they stand against all the other girls who are size 2 in the school. They know where they fit in," she said. "When they walk into Macy's, they know where they keep the smaller dresses and they know they keep the bigger dresses upstairs. They already know what they look like and they're already self-conscious about it."
Embry said she didn't expect what happened to be shared beyond the people she told through a Facebook post. But one of her friends, a local university professor, shared it with his followers, including a reporter who wrote about Tessa's note.
"I had no idea it would get this big," Embry said. "I just posted it to my personal Facebook page because I'm really proud of her."
Tessa said there hasn't been much tension with her gym teacher since her essay has gone viral.
"People are always going to see flaws in themselves obviously, but I'm comfortable with my body, and I've kind of let the whole gym teacher-labeling-me-as obese thing kind of go in one ear and out the other," she said.
Follow TODAY.com writer Eun Kyung Kim on Twitter.