Remember how easy it was in high school to fall asleep while reading classic novels like "Tess of the D'ubervilles" and "Moby Dick"?
For many of us, just seeing the name Steinbeck on a book spine brings on more yawns than Ambien.
Is there something about reading literary classics that makes us so sleepy?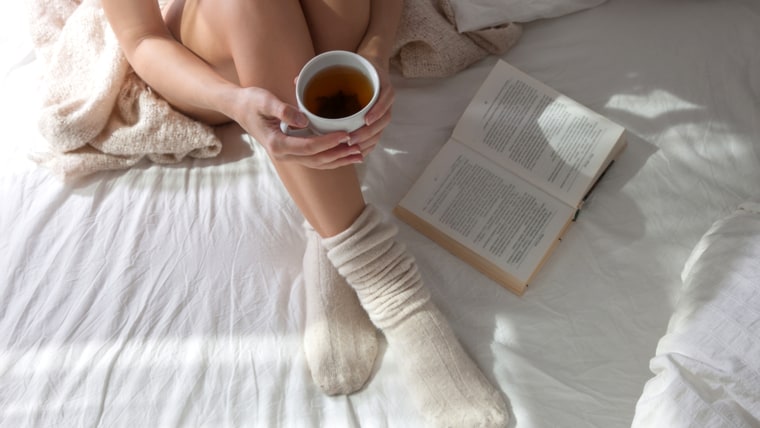 Not exactly, says J. Todd Arnedt, director of the Behavioral Sleep Medicine Program at the University of Michigan Medical School.
"It's not that reading triggers something in the brain," says Arnedt. "It's just that [reading is] a quiet, sedentary sort of situation where the existing sleepiness … exerts itself."
However, if people want a book to help them sleep, they should opt for something dull.
"Pick something boring," Arnedt says, adding that a boring book creates the "perfect conditions for sleepiness to manifest."
Related: Lucid dreaming can be fascinating and enjoyable. Here's how to do it
While he hasn't read it, he suspects the long sentences in the 26-page children's book "The Rabbit Who Wants to Fall Asleep" help kids to doze off.
That's partially true, says the book's Author Carl-Johan Forssen Ehrlin. He tells TODAY that he wrote the book in a way that specifically encourages kids to fall asleep.
"By introducing a goal to the child, which is to fall asleep, I then use words and sentences that keep the child focused on the goal all the way from the first page to the last one," the author writes via email.
Related: If you want better sleep, maybe you should bring the dog to bed
Of course, the books that cause people to snooze differ from reader to reader. But, as anyone who teaches high school or college literature classes can attest, there's no shortage of books that others consider to be seriously dull.
"There are a ton of novels where nothing seems to happen," says James Jaap, a senior lecturer in English at Penn State University's Greater Allegheny campus.
"Many people read modern novels to be entertained and if we are not entertained, we are not enjoying it. If readers are struggling and have to work to understand [a book] then it becomes boring."
While Professor Jaap stresses that boring books are a matter of taste, his students give him some idea of which ones make the dullest list.
Which books are the biggest snoozers?
Based on informally-observed student complaints, books by these authors are considered the most sleep-inducing:
William Shakespeare
Ernest Hemingway
William Faulkner
Herman Melville
James Joyce
Fyodor Dostoyevsky
Thomas Hardy
Herman Melville
John Steinbeck
Joseph Conrad
If these writers don't get you snoozing, check out the website Goodreads, which keeps a running list of the most boring books. Top sleep-inducing titles?
"Atlas Shrugged," "Life of Pi," "Twilight," "Catcher in the Rye," "Great Expectations," "On the Road," "Gone with the Wind," and "To Kill A Mockingbird."
Truly, a subjective list.