When identical twins David and Dr. Jason Carmel were growing up in New York City together, they enjoyed a friendly rivalry — even wrestling on the floor at home. But after an accident left David Carmel paralyzed, both of their lives changed forever.
In April 1999, Dr. Jason Carmel was two years into medical school at Columbia University and David Carmel was living in Mexico before starting an MBA program at Stanford University.
"We were playing soccer on the beach and we decided to run into the water to cool off," David Carmel recalled during an interview with NBC News correspondent Kate Snow on The TODAY Show.
"I did a shallow dive and there was a sandbar. So I hit the top of my head and broke my neck," he explained. "Luckily, I had a couple of friends were there and they were able to drag me out of the water. But I was instantly paralyzed and couldn't move anything or feel anything from my chest down." 
David Carmel was rushed to San Diego where he received two emergency surgeries to stabilize his spine. He then flew back to New York City for more than three months of inpatient rehabilitation, which helped him regain movement in his hands and "learn to live life in a new body," he said.
Dr. Jason Carmel became emotional when thinking about seeing his brother in the ICU. "You see all the tubes and... with the neck brace on and everything else... It was a hard moment," he said.
As David Carmel recovered and went through with his plans at Stanford, Dr. Jason Carmel decided to focus his studies on nerve regeneration, becoming both a neuroscientist and neurologist at Columbia University and NewYork-Presbyterian.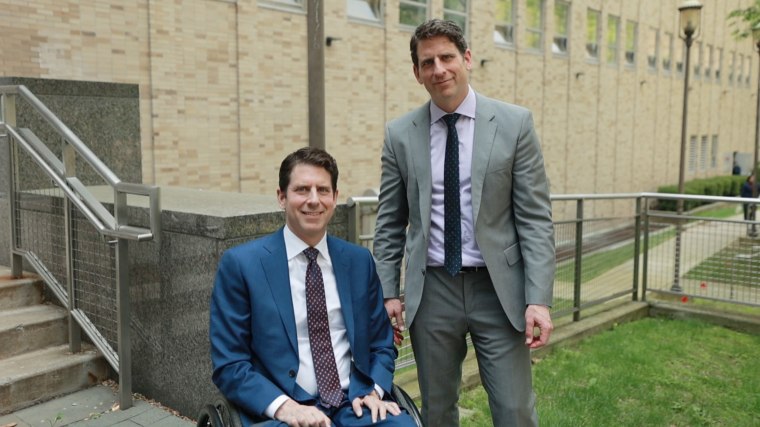 Dr. Jason Carmel told Snow that his brother's injury was "the reason" why he decided to specialize in this area. Their father is also a neurosurgeon and their stepmother is a radiologist, Dr. Jason Carmel said. "If there's a Carmel family business, it's the brain business," he added.
Today, the twin brothers work together to raise awareness of and encourage funding for spinal cord injury research. And Dr. Jason Carmel's lab continues to investigate new ways to help people recover from nerve injuries.
That includes the development of a new type of highly flexible electrode that can aid in spinal cord stimulation without getting in the way when people move their necks, Dr. Jason Carmel explains. The team has tested the technology in about 100 people so far and hopes to do a full-scale trial in the coming years, he said.
One day, this kind of innovation might even help his brother live a more functionally independent life, he added.
Through their advocacy, the Carmel twins are able to combine their skills. "It's been great to have this double-sided coin where I'm the rabble-rouser and the money guy, and he's the scientist and physician," David Carmel says, adding that he admires his brother's deep sense of empathy.
And Dr. Jason Carmel admires his twin's endless "relentless optimism," he said. "Without a doubt, the glass is more than half full."