Whether it's a shelf or two in your kitchen or a walk-in space, a smartly stocked pantry can save you time and money, and help you eat healthier.
A pantry is not about stock-piling sale items from the supermarket or big box store; it's all about keeping the basics on hand for easy meals, snacks and baking.
Your first step is to rotate what you already have. Check the "use by," "best by," or "best if used by" date for some guidance. These terms are not regulated and only a voluntary effort from food companies based on optimal taste and flavor, not food safety.
Swap your "older" cans and boxes to the front to use quickly. Foods that are past the date are not unsafe to eat, but will lack flavor and may taste stale. If you're not comfortable with foods a few days beyond the stamped date, try donating them to a food pantry.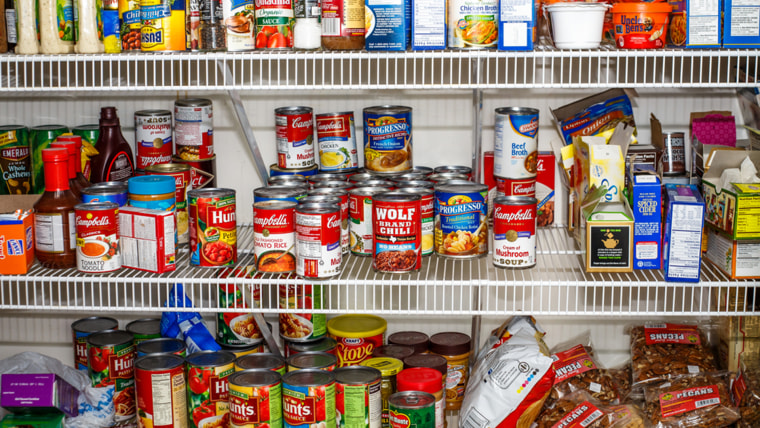 Arrange your foods in similar groupings — canned goods, baking supplies, oils and spices, cereals and grains — to keep things organized.
Check out the basics for a healthy pantry. And always personalize your pantry foods with family favorites.
Related: 5 things I learned from my TODAY fridge makeover
Canned goods
Always good to keep on hand, canned goods have a long shelf life — often around two years — and can provide a full array of nutrients.
Canned goods often get a bad rap for the high salt content, so choose reduced- or low-sodium products when you can. While fresh or frozen vegetables have a crisper texture than canned versions, canned veggies are economical in a pinch and can be used as a side dish, in soups, stews, and pasta dishes.
Canned beans are a great source of protein, and ready to use, compared to dried versions that must be soaked and cooked much longer (great if you have the time!).
Related: The beauty of storing products in the fridge
Beware of major dents in cans, and toss or return any can with a dent in the seam where the lid joins the can.
Tomatoes and tomato paste: Tomatoes are rarely in season, while canned versions are flavorful and nutrient rich.
Tuna: Choose water-packed for calorie control, or oil-packed — white albacore or chunk light. Or try the ready-to-eat pouches without liquid. A great source of concentrated protein.
Beans: The many available varieties include kidney, cannellini, black, white, chick peas or other versions. A ready-to-eat fiber and plant protein-rich choice.
Seasonings and oil
The basics of salt and pepper go a long way to simple seasoning. When you start with unsalted products, adding salt yourself controls the sodium content. Remember: The salt shaker contributes only about 10 percent of your daily salt intake.
Try combining dried herbs to both save space and use more quickly. Oils can be stored at room temperature for up to one year without becoming rancid, but store any specialty oil not used often in the fridge to avoid spoilage. It solidifies, but returns to the liquid state at room temperature.
Here are some basics to store:
Olive oil
Safflower (or other unflavored oil)
Vinegar (regular and balsamic)
Salt
Pepper
Italian seasoning
Herbs de Provence
Cereals and grains
Stick with mostly whole grains — oats, whole wheat, and brown rice for optimal fiber and nutrients. Try some "grain-like" products like quinoa, that are grain-free, but fiber rich. Buy what you need, and avoid stockpiling to keep your inventory fresh. Those huge double boxes of cereal are appealing in the big box stores, but resist if your family is not full of daily cereal eaters.
Keep foods fresh by storing after opening. Use a bag clip, clothespin or black office clip to keep bags sealed well. Even better, put the contents of the box (cereals, crackers, rice) in a resealable plastic bag, and put back in the original box. If you're short on space, place the contents in a resealable bag and cut, then tape the nutrition, cooking, and freshness information right on the bag.
Whole wheat pasta
Non-grain pasta (like chick pea pasta - Banza)
Brown rice
Oatmeal
Low-sugar whole grain cereal – like oats
Panko Breadcrumbs
Quinoa
Baking supplies
Freshness is key here, especially for flour. After using, close the flour with a clip or clothespin, and place in a resealable bag. Buy small amounts of sugars, and leavening like baking power and baking soda. Keep them together on your shelf, for ease of use.
Whole wheat and white flour
White and/or brown sugar
Honey
Baking powder
Baking soda
Cornstarch
Other staples
Include some of your family favorites — from snacks to soups to teas.
Reduced sodium boxed or canned soups
Try some broth with added vegetables for a quick soup, or a base for a stew. The lower sodium soups are great for a snack, or to start a meal.
Tea bags or loose
Peanut Butter —make sure to refrigerate the "natural" version – with oil floating on top; these are preservative free.
Popcorn —ready to eat bags, kernels or microwaveable
Madelyn Fernstrom is TODAY's diet and nutrition editor.