There is usually a good reason why a person would decide to run miles and miles. For Natalie Morales and Erica Hill, those reasons are tucked close to their hearts.
The two anchors are co-hosting the MORE/FITNESS/SHAPE Women's Half Marathon in New York City on April 19 — and to kick things off, Natalie and Erica are opening up and sharing the reasons behind why they run. And whether you're a marathon runner or a running rookie just starting out, we want to hear your own reasons for running, too.
"I love my running sisters": How women have inspired Erica to run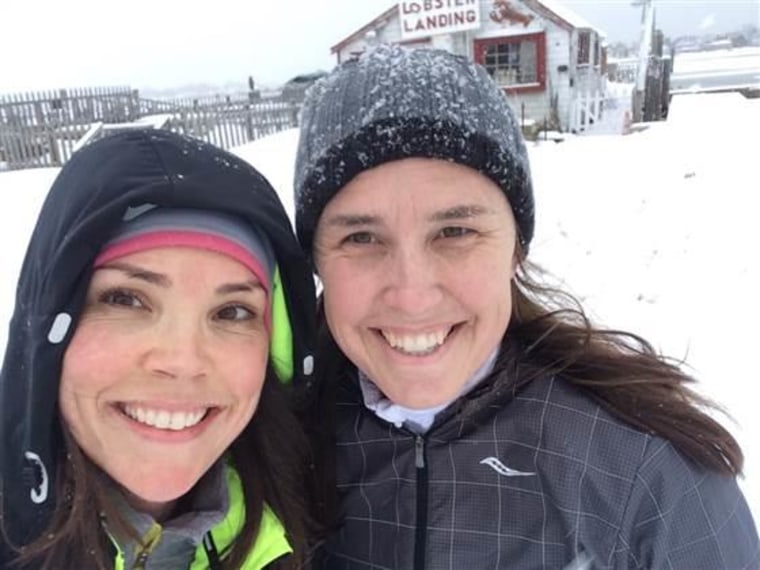 In the more than 20 years that I've been running, I've hit the pavement for myriad reasons: health, strength, weight loss, mental clarity and raising money for charities and causes close to my heart. Yet if I had to pick one thing that keeps me going, it isn't anything on that list.
My biggest motivator is the pack of women I have run with over the years. They are my sisters — the women who inspire me, push me, pick me up and help keep me grounded.
What began in college as a way to sneak in some quick exercise after work with Nell and Kate became regular outings along the Charles River in Boston with Charlie. In San Francisco, my sister, Whitney, and I tackled the hills along with Gina and the entire MFG group (what we named our San Francisco AIDS training team), including Liam and Ted, both honorary "sisters."
Mary brought me back to running in Atlanta, while a different Kate helped me get back on track in New York City. These days, it's Rebecca's dedication that inspires me to suit up at 5 a.m. on a bitterly cold February morning.
I am so grateful for each of these women, and for so many more.
I thank Nicole and Liz for helping me to find that confidence, and my cousin, Dana, for reminding me there is always a way to fit in a run.
As much as I love the sense of accomplishment I get from solo miles, which can be 60 to 90 seconds faster per mile, they are never as fulfilling as those share with my sisters. Our joys and struggles have grown and matured over the years, and so have our conversations. My sisters can get me through anything and will inspire me in a way no skinny jeans ever can. They know my strengths and my weaknesses and love me unconditionally. They are always there to cheer me on, and are the best therapy.
What I run for TODAY — and every day — is the chance to spend time with the women I love, my running sisters.
"I found myself": How running helped Natalie Morales discover her strength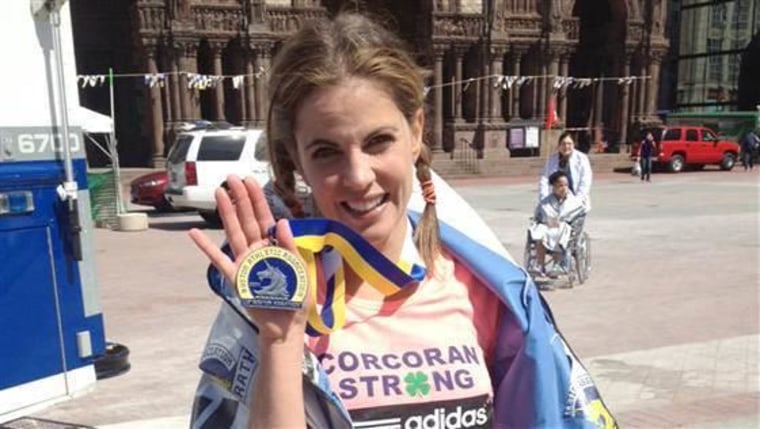 Running is my meditation, my therapy, my time to rock out and even my time to pray. With the rhythm of my stride —one...two...one... two... — I often think my best thoughts, clear my head, discover answers to problems that have beleaguered me and find my inner cheerleader who is always pushing me to my last breath. This is why I run.
I found myself through running my senior year in high school. My dad was transferred in the Air Force from Madrid, Spain to Dover, Delaware. I had a hard time moving a year before graduation. I had to start all over again, make new friends, learn the ropes and how to get into the groove of an all-American high school after some culture shock. It was a tough year to say the least.
So I put on my running shoes, got my latest mixed tape going in my Sony Walkman (that always skipped...kids don't know how lucky they have it now) and off I would go. As long as I was running, I was strong, powerful, in control of my own destiny and happiness.
I know that sounds crazy — but there is something to the adrenaline high after all. You don't need millions of studies to tell you when girls do sports they are more confident, have higher self esteem and do better in school. What was an outlet for me at first became my salvation.
In college, I kept up with it a bit but it really wasn't until I moved to New York after graduation that I found inspiration at the finish line of the New York City Marathon in 1994. I vowed I would do it the following year. During that time, I met a boy who I convinced should run with me. If you train together and run a marathon together, I guess we were destined to put in many miles over the years ( five marathons and many half marathons together). My husband, Joe, became a convert too because there is no better way to travel and see the sights. We have run through Rome, Venice, London, Paris and Spain. Even while pushing a baby carrier.
I hope you find yourself through running, too. As with all new healthy habits, it takes patience and practice. People will often tell me they absolutely hate running. If you are new to it, don't worry if you start slow or hate it at first. Find that breath, look around and find something to appreciate, or find a friend who can help inspire you along the way.
It's not how you start or even how you finish, it's really about how you feel as you go! And if you've been at it for a while, keep finding new challenges, maybe a 10K, next a half, then maybe a full marathon. What you thought was impossible suddenly seems so doable!
Join us in helping empower runners everywhere to lace up their shoes and hit their stride!